The DVD Isn't Dead… At Least Not Yet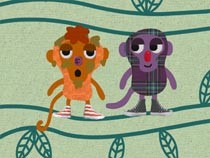 With a call for shorts for Independent Exposure 2008 open through the end of the month, The Independent wanted to talk strictly shorts with Microcinema's founder, Patrick Kwiatkowski. But when the inevitable question of the future of distribution came up, Kwiatkowski made it clear: He still believes in DVDs and he thinks indies should, too.
Kwiatkowski met fellow short film devotee Joel Bachar in the early 1990s. "We wanted to form our own label, like a record label," says Kwiatkowski, to put artists they knew on DVD. They founded Blackchair Productions in 1996, which is now a DVD imprint for Microcinema, which they launched in 2000.
While shorts are still an area of interest, the bulk of Microcinema's sales come from longer format (often art-related) DVDs. The genres they cover are widespread: animation, design, comedy and satire, erotic, and horror are just a few areas to search within their product line. Every Microcinema DVD has tabs for film synopsis, production details, reviews, similar items, and screenings. Microcinema sells to individuals, educational institutions, museums, and cultural organizations. And like all indie distributors, Microcinema is facing tough questions about film distribution's unknown frontier.
The Independent caught up with Kwiatkowski just as he was on his way to SXSW to moderate a panel, "ABCs of DVDs."
What are the three most important things a filmmaker needs to know about getting a short distributed at this moment?
They need to know what their goals are in distribution. Are they trying to get seen or are they trying to make money? They are kind of mutually exclusive. For example, we'll accept a short film and we'll want to put it online, but [the filmmaker] says they can't because then festivals won't screen them. Or, someone may pay 5k for your short, play it a few times, then it's gone.
Forget about the word exclusive — throw it out of your vocabulary — unless they are putting money on the table. And I mean good money. I think you need to be offered $5,000 to get exclusivity.
The third most important thing: once you do get distribution, limit the rights you give. Don't give everybody the rights for World, DVD, VHS, the next thing after DVD, whatever they will play on the Starship Enterprise [laughs]. Online companies ask for all of these rights, and yet they are online only.
Get nonexclusive rights for a limited time, like three or five years. Give rights to a distributor for what they are good at doing; if they are not working in Europe don't give them European rights. I try to get those rights too — I am just doing my job, but I know what I'm good at.
What is Microcinema good at?
We are good at the distribution of DVDs — that's our specialty right now. We distribute DVDs all over the world to DVD markets. We are expanding in Europe, opening up a warehouse there. We put on a good short film festival. We are not good at and trying to get better at video on demand. We're working very hard on that so we don't wake up and find ourselves out of business.
But the bottom line is that no one is making money online, people can make a lot more money selling 1,000 DVDs.
How are short filmmakers making money right now?
They're not [laughs]. That's not necessarily true. There are companies out there right now that are taking short format films and licensing them for broadcast, and some companies that put out short compilations. For our shorts festival we pay people a very small honorarium, $100.
Right now the way to make money is through television sales, airline sales, licensing of that nature. It's still not that much money. As far as the Internet, iTunes is what, paying 99 cents for a short film – the filmmaker gets 10 cents per view? (I don't have exact figures.) A percentage of a very small amount of money is a very small amount of money. To have a smash, you need like 20 million hits.
What is your selection process like? How does a filmmaker attract your attention?
We primarily seek out titles. We have an acquisitions team. People do seek us out, and I encourage people to do that. We won't look at anything online. We want to see something on a DVD.
We have a niche focus. We focus on cultural DVDs, art, independents, but we are crossing over to independently produced documentaries. People who like art tend to like our market.
So we go to museums, we talk to curators…we are most curious about up and coming artists. I find a lot of older artists who have been involved in video art who have never been published on DVD because when they were making their art, there wasn't DVD. William Wegman is doing stuff with us now.
People just need to send us their stuff, just like always.
Independent Exposure is your festival of shorts, 15 minutes or less in length. In what other ways does Microcinema serve the shorts market?
We are going to start putting out DVDs of Independent Exposure, and once in a while we curate short film compilations…but that's not the main part of our business, if you look at our 500 titles, 10 percent are short film compilations. We are doing one now called Slant, films by Asian American directors.
Short films are very difficult to sell on DVD. Netflix won't take anything under 30 minutes long, no matter what it is, in fact getting it's getting closer to 45. How many people do you know buy short stories? People would rather buy novels; it's kind of similar.
What kind of sales does a DVD need to be a success with you?
If we can sell 5,000 units, that's pretty remarkable. I think people should be happy with 1,000, that's more realistic. Just the nature of the DVD market.
Who is buying?
We sell our retail products to individuals; we sell to educational institutions, and to a lot of art museums. We try to focus our marketing efforts depending on title, for Slant we will reach out to Asian American cultural magazines or blogs. We try to do most of our marketing online, it's pretty expensive to get press.
How much of your content is American made? What percentage of your DVDs is sold within the US and how much in foreign markets? Where is the growth?
As for our titles, about 20-30 percent is not from the States.
In sales, about 10-15 percent is in Europe. I'd like to get to 50-50 and I think we can do it. Europe's a better market for our titles — more museums, more cultural outlets, more public money available. We are seeing better sales there. For shorts, there are more broadcast opportunities, more theatrical screenings. People are more aware of short films there and the most important festival in the world for shorts, Clermont-Ferrand (http://www.clermont-filmfest.com/index02.php), is there. It's an area of growth that I'm excited about.
You are heading to SXSW for a panel, "ABCs of DVDs." What kinds of questions do you anticipate?
The industry posture is that the DVD is going to die or if it doesn't die that the growth is decreasing. But for independents, I see more people putting out DVDs.
So many people have projects they want tot put on DVD! I don't think it's dying at all. I think major studios focus on their numbers.
I will do a little poll in the crowd, but I am guessing the main issue for independent filmmakers is: Will the video industry go the way of the music industry? No one knows. It's not happening yet. YouTube is wildly successful, but it's is user-generated distribution. A lot of people don't have the time to filter through YouTube. Things do surface to the top but it's not always what you are looking for — you don't necessarily find the most compelling film about art, or something that's not funny. So there's always a need for a distributor, aggregator, whatever you call them.
In other words, someone who can hand pick the right content for the right viewer?
Our company has decided to focus on art, like a radio station. We're also developing digital abilities to bridge that gap as it widens or evolves.
The majors are doing [digital distribution] but they have large budgets. And I feel they are still going for a large market. We do not want a site that caters to everybody. We feel that the internet and digital delivery will be important for things that are hard to find, not just things that are easy to find, as it is now.
Related links:
Microcinema (http://www.microcinema.com/)
Independent Exposure is accepting submissions (http://www.independentexposure.com/) through March 31, 2008.
---