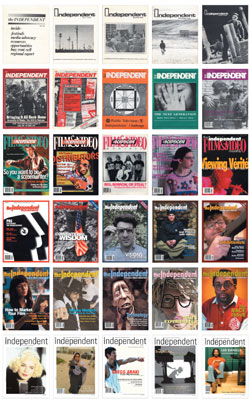 Since 1976, The Independent has been the leading source of information for independent, grassroots, and activist media-makers, providing inspiration and information for their films and video projects, as well as creating connections to the larger independent media community.
Founded as a nonprofit organization in 2007, Independent Media Publications inherited the rights to the Association of Independent Video and Filmmakers' (AIVF) publications, including the 30-year archives of The Independent Film & Video Monthly and several books. Since then, the organization has relaunched the magazine online with more than 13,000 subscribers and published its first book The Independent's Guide to Film Distributors. An updated second edition came out in 2014 and can be purchased here.
In 2020 the publication found a new home at Emerson College. The college will continue the work of keeping readers informed on the independent and activist media-makers. We also hope to keep strengthening the connections of the larger independent media community.
Thanks to your support, Independent Media Publications is in the process of digitizing and posting online all the articles dating back to the first issue in 1976, as an effort to preserve this invaluable historic resource for the independent film community. Ongoing efforts include launching investigative initiatives on behalf of independent media-makers, and continuing to bring readers The Independent online.
For more information about the transition see "The Independent is Back!" and "A Q&A With Our Readers".
Feel free to reach out and contact us.