The Doc Doctor's Anatomy of a Film: "The Longing"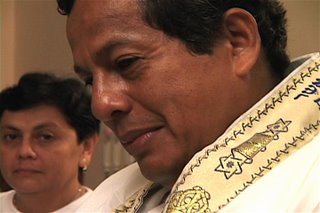 About this new column: Many filmmakers ponder in anguish, How do other people—celebrated people—do it? Am I taking too long to make this documentary? Does everybody spend as much money as I am spending, or am I spending too little? And when filmmakers share their lessons learned in interviews in the glossy trade magazines, their tales seem to follow the arc of otherworldy heroes rather than real documentary makers, i.e. human beings like you and me. So each month, the Doc Doctor will go out into the world (this real world) of filmmakers who are successful and find out how they made it. The "Anatomy of a Film Column" is a chance to learn from filmmakers' hits and misses in real life examples. —Fernanda Rossi, story consultant a.k.a. the Documentary Doctor
Attention New York City filmmakers: The Doc will be presenting her signature workshops on story structure and trailer mechanics in New York in April 12th and 19th. For details, go to Documentarydoctor.com.
Case Study No. 6
The Longing: The Forgotten Jews of South America directed and produced by Gabriela Böhm
Running time: 75 minutes
Film Vitals
Logline: A group of 'crypto Jews' in Ecuador and Colombia —descendants of those forced to convert to Catholicism during the Spanish Inquisition — seek to convert to Judaism under the instruction of an American Rabbi. But in a cruel turn of events, the Jewish communities in Ecuador and Colombia rebuff them.
Location: Böhm shot the film in Ecuador, Colombia, Brazil, and Argentina.
Length of shoot: The film was shot in three installments, over a total of 2 months.
Length of editing: The first rough cut was completed after 5 months of on-and-off work. The finished film, including mixing and titles, took another 5-to-8 months to complete.
Length of time from pre-production through locking the picture: 4 years.
Time in distribution: 10 months and counting.
Money talk:
Total budget: Just under $100,000, excluding expenses related to publicity, marketing, and festival outreach.
Source of funds: Böhm mostly self-financed the film, with some additional support from private individuals as well as some in-kind donations. Most of the budget money was spent on post-production, Travel expenses and crew and gear costs were the next largest line items. Böhm hasn't paid herself yet.
Filmmaker's History
When Böhm was a student at New York University she became interested in the subject of Crypto Jews after she heard a segment on NPR about a community in New Mexico. She decided to visit the segment producer and people. Back then, the project seemed too big for her to tackle, so she let it sit dormant for a few years. When she revisited the idea, she considered making it a historical documentary with re-enactments et al, until she found out about the conversions in Ecuador, and saw the opportunity to tackle the topic in a contemporary context.
Film school: Böhm received her BFA from New York University. She majored in film production, and minored in religious studies.
Other studies: Böhm attended art school in Israel.
Beyond academia: Born in Argentina to parents from Eastern Europe who had survived the Holocaust, Böhm spent her teenage years in Israel and stayed there to serve the compulsory two-years in the army and then attend art school. She was a member of the International Documentary Association awards selection committee for several years and is currently completing her MFA.
Survival strategy: Böhm is also a massage and Shiatsu therapist, and says that throughout the process of making this film, she strove to avoid being hard on herself.
Previous films: Passages, a feature length personal doc, and Voiceless, a short, experimental film.
Smart Move
Documentarians are warned not to lose focus, but in this case, Böhm's sense of the topic changed during filming, and she allowed a new, more personal point of view to emerge. The filmmaker had prepared for months to make a historical documentary, where she played the part of a dispassionate observer recording her impressions as they unfolded. But the deeper she got into the project, Böhm became emotionally engaged — even outraged — by the conflict between her subjects, the Crypto Jews, and the existing Jewish community that eschewed their efforts to convert. "Maybe I lost perspective or maybe that gave me the new point of view that the film was lacking" she says. "In any case, I shifted the approach midway and that surprised me."
Mistake she'll never make again
Böhm now thinks she spent too much time researching dry facts rather than looking for compelling subjects. That meant that she ran through funds before she actually discovered what her film would be about. "Next time, I will plan ahead in order to budget well and take my time to apply for financing," she says.
Film's successes so far
The Longing premiered at the New York Jewish Film Festival in January 2007 and since then has played at more than 20 film festivals in the U.S., Canada, and overseas. The film won the award for the Best Latino Film at the Santa Fe Film Festival. Filmakers Library is distributing the film to the U.S. educational market.
In terms of additional outreach, Böhm is now developing a workshop to further the conversation of what makes a Jew a Jew and explore the relationship between would-be converts and the Jewish community.
Most memorable moments
Böhm says that what she will remember most about the film was the way it elicited audience members to share their feelings about how the subjects' "longing" reflects their personal struggles to be accepted into a community, whether it be a religious group, the gay community, an immigrant neighborhood, or something else.
Will the filmmaker relapse?
Of course, and soon.
Doctor's Credentials:
Story consultant Fernanda Rossi helps filmmakers craft the story structure of their films. She has doctored over 150 documentaries, fiction scripts, and fundraising trailers including the 2007 Academy Award-nominated Recycled Life by Leslie Iwerks. In addition to private consultations, lectures, and seminars, she has served as a festival juror and grant panelist. Ms. Rossi also writes the bimonthly column "Ask the Doc Doctor" published by Film Arts magazine, and is the author of the book Trailer Mechanics: A Guide to Making your Documentary Fundraising Trailer.
Related Links
The Doc's previous "Anatomy" columns revealed the stories behind the successful documentaries I Was a Teenage Feminist and 51 Birch Street.
Visit the filmmaker's website, and her distributor
(Fernanda Rossi, 2008. All rights reserved. This article can be reprinted in its entirety for educational purposes only, as long as no charges of any kind are made. Partial reproductions or modifications to the original format are strictly prohibited.)
---
---
Regions: Latin & South America