The Doc Doctor's Anatomy of a Film: "Sync or Swim"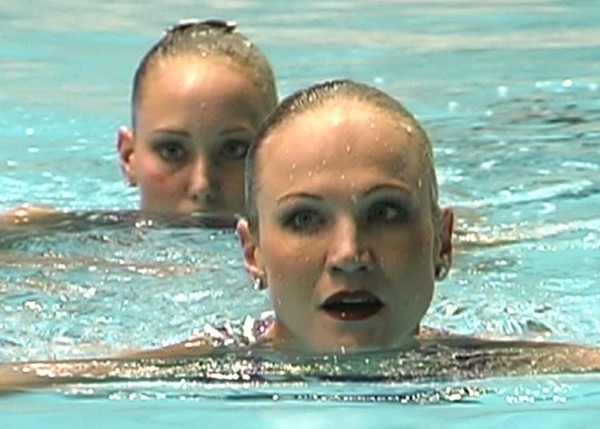 About this column: Many filmmakers ponder in anguish, How do other people—celebrated people—do it? Am I taking too long to make this documentary? Does everybody spend as much money as I am spending, or am I spending too little? And when filmmakers share their lessons learned in interviews in the glossy trade magazines, their tales seem to follow the arc of otherworldy heroes rather than real documentary makers, i.e. human beings like you and me. So each month, the Doc Doctor will go out into the world (this real world) of filmmakers who are successful and find out how they made it. The "Anatomy of a Film Column" is a chance to learn from filmmakers' hits and misses in real life examples. —Fernanda Rossi, story consultant a.k.a. the Documentary Doctor
Case Study No. 10
Sync or Swim, produced and directed by Cheryl Furjanic
Running time: 90 minutes
Film Vitals
Logline: A splashy look at a marginal sport, this film chronicles the experiences of America's top synchronized swimmers, as they endure rigorous training and overcome unthinkable obstacles to compete for Olympic glory.
Location: Shot in Santa Clara, California; Athens, Greece; Seattle; and in New York City and on Long Island.
Length of shoot: Roughyl 60 shooting days over two years
Length of editing: Approximately 11 months
Length of time from first day of shooting: 5 and a half years
Money Talk
Have fiscal sponsorship through Center for Independent Documentary. Film funded through lots of small tax-deductible donations from lots and lots of people and several small grants. Personal money spent by director including loans, credit cards, and NYU teaching salary. She received a grant recently from the United States Synchronized Swimming Foundation to support distribution/outreach.
Filmmaker's History
Cheryl was a walking TV Guide as a child. She always knew what shows were on –time and channel, even if she didn't watch them.
Film school: Considered becoming a doctor but liked a Film History class better than Chemistry and Biology at Binghamton University. Also took an experimental Super-8 class with Ken Jacobs, who after hearing she'd transfer to NYU Film School warned her, "You know they make movies there." Cheryl took every documentary class that NYU offered and graduated with a BFA in 1998.
Other studies: Cheryl worked for Judith Helfand on her film Blue Vinyl. That was school, too!
Beyond academia: Joining a monthly doc support group of fellow teachers/filmmakers.
Survival strategy: Cheryl has been teaching documentary video production in NYU's Anthropology Department since 2000. Having to articulate how has significantly improved her filmmaking.
Previous films: Short doc A Good Uplift, co-director. While in film school DiMassimo to the Rescue and Take This Hammer. She has also make a handful of short comedy fiction films as well.
Smart Move
"Pitching at DocuClub and showing some scenes. It definitely made me re-think my approach," says Cheryl. She credits her success to having known when to call an editor in, after trying to edit her own rough cut for a year, she eventually called talented Michael Culyba (co-editor of Shut Up and Sing).
Finally, it was key during production to send regular updates about screenings of her previous short films and the production of Sync or Swim. This helped to build interest, an audience, and ease the fundraising process.
Never again
"Some people go to school, then get a job, then make a movie, I did all three at the same time," says Cheryl, who also thinks it's the reason graduating and finishing the film took three times longer than if she's done them separately. However everything fed into everything else in terms of material gain, knowledge and networking. "It's all connected now and I can't imagine having done it another way," says Cheryl.
Film's Successes So Far
Sync or Swim premiered at the Slamdance Film Festival in January 2008, after which she went back to the cutting room and with her editor took another 14 minutes out. This "much better final version" of the film has since screened at SilverDocs 2008, and is scheduled to screen at San Francisco DocFest, Hot Springs Documentary Festival, and the New Orleans Film Festival. She's now looking for a broadcaster, planning a DVD release for the fall/winter, as well as looking to book the film on college campuses and one-night theatrical screenings in the Spring.
Most Memorable Moments
"Being at the Athens Olympics was a pretty phenomenal experience. My crew and I worked really hard for 10 days, but we also had an amazing time," shares Cheryl and adds: "I cried when they won the team medal."
Recently there was a NYC premiere of the film at McCarren Park Pool (an old empty NYC pool that's now used as an event space) in Williamsburg. Big crowd, beautiful weather and in the company of friends and relatives who heard everything about the film but have never seen it. Now she's building momentum for the next phase.
Will Relapse?
Cheryl is still teaching full-time and working on distribution for Sync or Swim. She will be graduating from her Masters program in May. Her thesis work will focus on fan campaigns and fan engagement for broadcast television.
Her next film will probably be a sports documentary – most likely about sports mascots. And although she's a proud member of the independent film community, she intends to find someone else to pay for her next film.
The Doctor's Credentials: Story consultant Fernanda Rossi has helped filmmakers craft the story structure of their films. She has doctored over 200 documentaries, fiction scripts and fundraising trailers including them the 2007 Academy Award® nominated Recycled Life by Leslie Iwerks. In addition to private consultations, lectures and seminars, she has served as a festival juror and grant panelist. Ms. Rossi also writes the bimonthly column Ask the Doc Doctor published by Film Arts magazine (formerly Release Print) and is the author of the book Trailer Mechanics: A Guide to Making your Documentary Fundraising Trailer (link to www.documentarydoctor.com/tmbook.html).
Related Links:
The Doc will be presenting lecturing in Seoul, Korea and Rio de Janeiro, Brazil this September. For details check www.documentarydoctor.com.
Visit the film's official website.
---