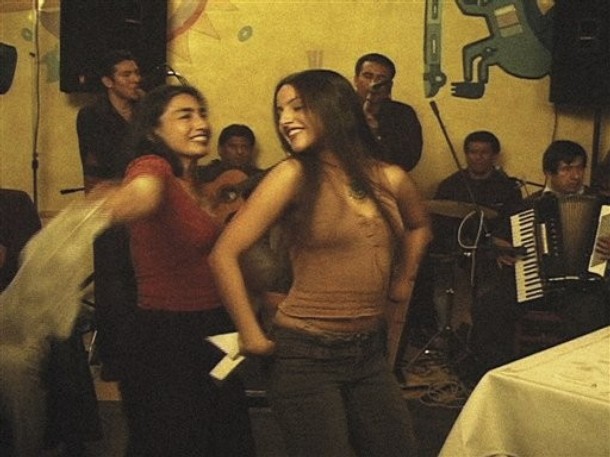 A still from Mitchell Teplinsky's "Soy Andina," which took him over six year to complete.
About this column: Many filmmakers ponder in anguish, How do other people—celebrated people—do it? Am I taking too long to make this documentary? Does everybody spend as much money as I am spending, or am I spending too little? And when filmmakers share their lessons learned in interviews in the glossy trade magazines, their tales seem to follow the arc of otherworldy heroes rather than real documentary makers, i.e. human beings like you and me. So each month, the Doc Doctor will go out into the world (this real world) of filmmakers who are successful and find out how they made it. The "Anatomy of a Film Column" is a chance to learn from filmmakers' hits and misses in real life examples. —Fernanda Rossi, story consultant a.k.a. the Documentary Doctor
Case Study #11
Soy Andina, produced and directed by Mitchell Teplitsky
Running time: 70 minutes
Film Vitals
Logline: Two New Yorkers— an immigrant from the Andes, a modern dancer from Queens — journey to Peru to reconnect with roots and dance.
Location: Peruvian Andes and desert coast; New York City and Paterson, NJ.
Length of shoot: Over a period of five years.
Length of editing: About one year.
Length of time: From first shoot in the Andes to premiere at Lincoln Center: 6-1/2 years.
Money Talk
Source of funds: Personal savings the first year; declined by all major grants; eventually raised $100,000 from 153 individuals and several Peruvian businesses, including a rotisserie chicken chain, a Pisco brandy exporter and an international airline, wooing prospects with sensuous Peruvian dancers and aforementioned Pisco at house parties hosted by impeccably dressed Peruvian Ambassadors and New York lawyers in gorgeous homes that signaled "Hey, we're successful, so is this project. Get on board, write a check."
Filmmaker's History
Mitch met title character Nelida Silva back in 1989 a year after she immigrated to New York. They exchanged English-Spanish lessons and became friends. Mitch started attending Nelida's Peruvian folkloric dance performances and got to know her world. Years later, in 2000, Nelida announced she was returning to her Andean village to host the Patron Saint Festival. Mitch was working at Film Society, had seen a lot of world documentaries, but none about Peru that weren't about terrorism or Macchu Picchu. He started thinking….
Film school: Nope. Graduated from University of Pennyslvania with degree in marketing from Wharton Business School, back in the day.
Other studies: Took a couple of documentary production classes at Film/Video Arts (R.I.P.), but mostly learned on the job from great collaborators, especially from his editors and he says, "the legendary Documentary Doctor" (Fernanda blushes).
Beyond academia: Marketing Director, Film Society of Lincoln Center in New York, for six years prior to Soy Andina.
Survival strategy: During the six years it took to complete the film, Peru became more home than New York. Sublet rent-stabilized Manhattan apartment, which provided living expenses in Peru. Ate a lot of prix-fixed ($1-2, but delicious) Peruvian lunches. Did online marketing consulting for other producers and small businesses in between shooting/editing stints.
Previous films: Soy Andina is his first completed movie (not counting Super-8 school projects from the '70s, "like the sci-fi/eco-disaster movie about the earth's destruction from pollution that was way ahead of that Al Gore movie")…. In the '90s, shot 30 hours of video about his grandmother with the intention of making his first short personal film. "But I was too comfortable with my Lincoln Center job to push myself to complete it."
Smart Move
He asserts his main smart move was picking great, charismatic film subjects. He adds, tongue-in-cheek but it's actually true, "Then I married a family friend of one film subject." Cementing trust with subjects and community was the lifeline of this project. He also invested a lot of time on his website, eZine and blog, and started building a mailing list years before the film's completion. Once the donor checks started coming in, he knew there was no going back.
Never again
"Skimp on hiring a good sound person", that's definitely a "never again" for Mitch. He also regrets having used credit card advances to pay other people.
Film's Successes So Far
Soy Andina premiered at LatinBeat at Lincoln Center in the fall of 2007, has screened at festivals around the U.S., completed two tours of Peru organized by U.S. Embassy, about to premiere in Europe. "For me, there were three gauges of success. First was finishing! Second was respect – I wanted audience to love it, especially Peruvians (they do). Third was money. I intend to sell enough DVDs to pay myself in full, donate 10 percent of earnings to non-profit projects in Peru, and invest in new projects." (DVDs now on sale at www.soyandina.com).
Most Memorable Moments
"Dancing huaynos all night, eating guinea pig, shooting video in the Andes, smugly thinking, "How'd I get here?" Then when he interviewed new character Cynthia Paniagua for the first time, he just knew they had something special. Also he remembers fondly being hosted and toasted by the Peruvian Vice President and American Ambassador at fundraisers and then seeing people scalp tickets and spilling out the door at the sold-out premiere at Lincoln Center. The screenings in Peru had its own set of memorable moments, from riding a motorcycle in the Amazonian frontier town of Puerto Maldonado to get to a screening, to showing the film at the women's prison in Lima, where the audience lined up to hug, kiss and thank him. "Really, it's all about relationships, the people we've met", says Mitch.
Will Relapse?
"Likely, with two preconditions (Oh oh, I sound like John McCain, negotiating with the Iranians.)…I have to meet or come close to my Soy Andina sales goals, and find another story that I can't stop thinking about," says Mitch. He also thinks most likely it would be in Peru as he feels there's a million great stories in Peru, he adds "I feel at home there, I can make movies at 1/4 the price, it would make my in-laws happy."
Doctor's Credentials: Internationally renowned author and story consultant Fernanda Rossi has doctored over 200 documentaries, scripts, and fundraising trailers including the 2007 Academy Award® nominated Recycled Life by Leslie Iwerks. In addition to private consultations, lectures, and seminars worldwide, she has served as festival juror and grant panelist. Ms. Rossi shares her knowledge and research of story structure and the creative process in columns and articles in trade publications. She is also the author of the book Trailer Mechanics: A Guide to Making your Documentary Fundraising Trailer. Learn more about the Doc at www.documentarydoctor.com.
Other Information: The Doc will be presenting her signature workshops on story structure and fundraising trailers in Tucson, AZ and San Francisco, CA this October. For details check www.documentarydoctor.com.
Related Links:
See the film's official website.
Watch the trailer.