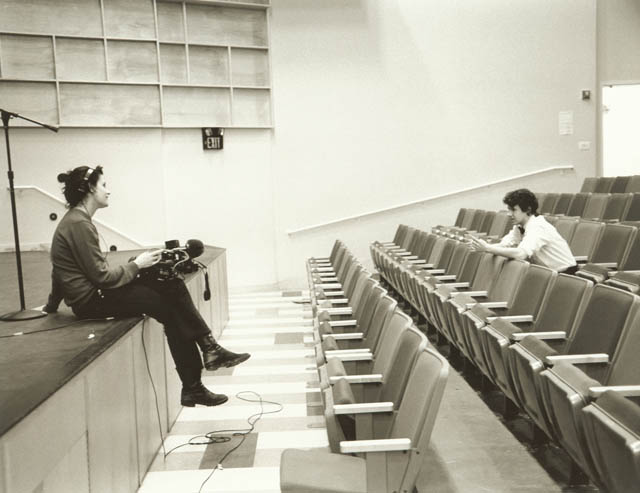 Filmmaker Jennifer Venditti with Billy, the subject of her first feature-legnth documentary.
About this column: Many filmmakers ponder in anguish, How do other people—celebrated people—do it? Am I taking too long to make this documentary? Does everybody spend as much money as I am spending, or am I spending too little? And when filmmakers share their lessons learned in interviews in the glossy trade magazines, their tales seem to follow the arc of otherworldy heroes rather than real documentary makers, i.e. human beings like you and me. So each month, the Doc Doctor will go out into the world (this real world) of filmmakers who are successful and find out how they made it. The "Anatomy of a Film Column" is a chance to learn from filmmakers' hits and misses in real life examples. —Fernanda Rossi, story consultant a.k.a. the Documentary Doctor
Case Study #13
Billy the Kid, produced and directed by Jennifer Venditti and also produced by Chiemi Karasawa
Running time: 85 minutes
Film Vitals
Logline: A coming of age story and odyssey into the soul of an American teenager as he traverses the frustrating gap between his imagination and reality.
Location: Brunswick and Lisbon Falls, Maine.
Length of shoot: Eight days! Spread over three months.
Length of editing: Nine months
Length of time: One year and two months, distribution 2 years and counting.
Money Talk
Financed personally, between director and producer, then received finishing funds from IndiePix, with individual donations towards the end.
Filmmaker's History
Jennifer Venditti, as a casting director for real people, has collected files of particularly special people for personal interest. She thought of doing a short of five different people, sort of a collage of portraits, Billy was the first stop in her search and did some research shooting. She went on traveling but soon she realized Billy could sustain a film all on his own. Before that:
Film school: No. One class at NYU with Thom Powers.
Other studies: Fashion Merchandising at International Academy of Merchandising in Chicago, IL.
Beyond academia: Worked in the fashion industry, where she discovered that ideas of beauty were limited, prompting her to start a casting company that includes street casting real people and works with models and actors with the goal of expanding ideas of beauty
Survival strategy: Founder and President of JV8inc casting company
Previous films: None
Smart Move
Jennifer knew from the get-go that Billy held the key of the story, so rather than condition her shooting with preconceived ideas, she let the story happen… and plenty did! Also she allowed herself to mix work with pleasure—work being her casting company, and pleasure this new doc. She called everybody she knew from any field to work with her in making the doc, which created a nice mix of ideas and brought new fresh eyes to her project.
Never again
"Never again with my own money," said Jennifer without missing a beat, and she promises to be much more cautious with the budget next time around. She'd also have liked to time the theatrical and DVD release a little bit better. They were nine months apart. And finally, when it comes to theatrical she now favors quality over quantity, she believes opening in NY and LA would have been enough.
Film's Successes So Far
Billy The Kid started with a bang by winning the Jury Prize at South by Southwest in 2007 and went on to have a successful and plentiful festival run. It screened in several dozen cities and it was broadcast in Channel 4 in the UK, Cinemax in the US and Canada's Super Channel. Critics were on board too sharing their appreciation in the Village Voice, NY Time Out and The Hollywood Reporter.
Most Memorable Moments
"Standing in the street, shooting and seeing Billy falling in love. I knew that was a verité jewel. I live for moments like that," says Jennifer. She also cherished seeing Billy watching the film for the first time, she loved that moment so much that it's included in the DVD. And also the letters—she keeps getting letters of people sharing the own experiences in seeing part of themselves in Billy.
Will Relapse?
"I hope to relapse many times over… maybe not with a documentary," says Jennifer. At the moment she's writing a fiction film, which might not be straight fiction… more like a hybrid. In the end it will be like Billy—it's own thing.
Learn more about Billy the Kid here.
Other information: The Doc will be presenting her signature workshops in Miamai and Nebraska in January. For details check www.documentarydoctor.com
Doctor's Credentials: Internationally renowned author and story consultant Fernanda Rossi has doctored over 200 documentaries, scripts, and fundraising trailers including the 2007 Academy Award® nominated Recycled Life by Leslie Iwerks. In addition to private consultations, lectures, and seminars worldwide, she has served as festival juror and grant panelist. Ms. Rossi shares her knowledge and research of story structure and the creative process in columns and articles in trade publications. She is also the author of the book Trailer Mechanics: A Guide to Making your Documentary Fundraising Trailer (link to www.documentarydoctor.com/tmbook.html).