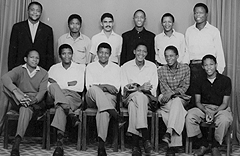 The subjects of Thomas Allen Harris's documentary, "Twelve Disciples of Nelson Mandela."
About this column: Many filmmakers ponder in anguish, How do other people—celebrated people—do it? Am I taking too long to make this documentary? Does everybody spend as much money as I am spending, or am I spending too little? And when filmmakers share their lessons learned in interviews in the glossy trade magazines, their tales seem to follow the arc of otherworldy heroes rather than real documentary makers, i.e. human beings like you and me. So each month, the Doc Doctor will go out into the world (this real world) of filmmakers who are successful and find out how they made it. The "Anatomy of a Film Column" is a chance to learn from filmmakers' hits and misses in real life examples. —Fernanda Rossi, story consultant a.k.a. the Documentary Doctor
Case Study #14
Twelve Disciples of Nelson Mandela–A son's tribute to unsung heroes, produced and directed by Thomas Allen Harris
Running time: 72 minutes
Film Vitals
Logline: Confronted by the death of his stepfather, American filmmaker Thomas Allen Harris seeks to reconcile with the man who raised him as a son but whom he could never call "father." B. Pule Leinaeng ("Lee") and his eleven comrades left their home in South Africa in 1960 to broadcast to the world the brutality of the apartheid system and to raise support for Nelson Mandela and Oliver Tambo.
Location: Shot in Bloemfontein, South Africa, Cuba, East Africa & New York
Length of shoot: Seven weeks over the course of two years
Length of editing: One year
Length of time: From pre-production to broadcast air date: five years
Money Talk
Production funding came from The National Black Programming Consortium, the Joyce Mertz Gilmore Foundation, The SA Free State Ministry of Sport, Arts, Culture, Science and Technology, The Clara Elizabeth Jackson Carter Foundation, The Media Arts Fellowship, The Guggenheim Fellowship, New York State Council for the Arts, Paul Robeson Foundation, New York Community Trust and ITVS. Additional bridge funding came from screening parties and events in the homes of former anti-apartheid activists.
Filmmaker's History
Harris arrived in Bloemfontein, South Africa, on January 14, 2000 for the funeral of his stepfather, B. Pule Leinaeng (Lee), with whom he had a tumultuous relationship. The trip, which started as a family obligation to a town he had heard of but never been to, became a homecoming. Everywhere Harris went locals greeted him as Lee's eldest son and referred to Lee as his father. In Lee's hometown, the concept of stepfather was an alien one. Harris, through the camera, begins a painful mourning process that he shares as a last homage and goodbye to the man who raised him.
Film school: Not quite. Started as an undergraduate at Harvard College, majoring in Biology and heading to med school. One summer, in France, he realized he was an artist. He changed his biology classes for photography and writing classes. He also took Documentary course at Third World Newsreel followed by many producing gigs. In some ways you could say Public Television was Harris's film school.
Other studies: Got accepted at Whitney Museum of American Art's Independent Study Program as a critical studies fellow.
Beyond academia: It actually meant staying in academia—Harris was hired to teach video in the Visual Arts Department of the University of California, San Diego.
Survival strategy: "Having one foot in the art world and one foot in the world of documentary film has enabled me to draw on resources from both. As a queer African Diasporic filmmaker, I have been very involved in both communities, which have really come out for my films."
Previous films: Harris has produced a several experimental shorts (including Splash, Black Body, and Heaven Earth & Hell) as well as commissioned installations, Alchemy and Afro is Just a Hair Style: Notes on a journey through the African Diaspora. His documentary features include VINTAGE – Families of Value (1995) and E Minha Cara/That's My Face (2001) – which was very successful on the film festival circuit – it screened at Toronto, Sundance, Tribeca, and Berlin and won eight international awards before being broadcast on the Sundance Channel, ARTE in France and Germany, YLE in Finland, and CBC in Canada.
Smart Move
Harris got on his side a very valuable ally: his mother Rudean Leinaeng who used her connections in South Africa to raise money in very creative ways. Also her intimate knowledge of her late husband allowed her to put together with some ease an otherwise insurmountable task: Lee's lifelong archive – including photographs, writings, super 8mm film, video, UN radio programs, and a pivotal audio interview of Lee that was produced by filmmaker Michelle Materre in the late 1980's.
Never again
Having acknowledged all of the above, Harris says, "I will never ask my mother to produce one of my films again." It was physically and emotionally very demanding. She worked harder than anybody on a very tight budget. One of the first arguments was over which actor should portray her late husband – she won that one, of course. The second argument was over craft services – mom Rudean wanted to save money by doing the cooking herself, Harris insisted on a professional caterer – he won that one and she thanked him two days into production.
Film's Successes So Far
Twelve Disciples of Nelson Mandela premiered at The Toronto International Film Festival in the fall of 2005 and to Harris' amazement has continued to travel the festival circuit. Last month opened the Cambridge African Film Festival in England to a sold out house. Harris traveled with this film to Holland, Spain, Haiti, South Africa, Ghana, Brazil, Korea and Canada. It won many awards including: Henry Hampton Award for Excellence in Documentary Filmmaking at the Roxbury Film Festival; Best Documentary at the Pan African Film Festival and the Santa Cruz film festival, a Revolution Award at ImageNation Festival and received an Audience Award Honorable Mention at the Bermuda International Film Festival. After the theatrical release at the BAM Cinematech, the film was broadcast nationally on POV and has been broadcast in Europe and New Zealand. The film had three pieces in the New York Times, two reviews (one for theatrical and one for Television broadcast) and a feature in the Arts section.
Most Memorable Moments
"For me the most memorable moment was getting to know Lee's comrades as well as the process of preparing the teens and young men and women for their roles in a journey of discovery during the production," say Harris, who prepared these brand new actors by coordinating meetings between them the real life people they were portraying or their immediate relatives. "Connecting the generation before me with the generation after me was deeply rewarding. I felt like I had fulfilled my filial duty to Lee which is to pass down the stories and thereby pass the torch to the new generation."
Will Relapse?
Too late to ask, Harris is currently working on a documentary and multimedia project entitled Through A Lens Darkly: Black Photographers and the Emergence of a People. The film is a look at the ways African American communities have used the camera as a tool for social change from the invention of photography in 1840 to the present. This will be the first film to vividly bring to life the individual photographers and photographer collectives – both anonymous and celebrated, historical and contemporary – whose images and personalities helped define and transform the lives of African Americans through the magic and power of the camera lens. Harris and noted scholar, curator and author, Deborah Willis, have been developing the film for six years and began filming in May 2008 with funds from the Ford Foundation, the Andy Warhol Foundation for the Visual Arts, the National Black Programming Consortium, the Fledgling Fund and the Sundance Documentary Fund. Harris is currently fundraising for post-production and will be heading to Sundance Film Festival in a couple of weeks to present the multimedia/ visual literacy portion of the project on a New Media panel at the Festival's New Frontiers section.
Learn more about Tweleve Disciples of Nelson Mandelahere
Other information: The Doc will be presenting her signature workshops in Montreal, Canada and Lincoln, Nebraska. For details check www.documentarydoctor.com
Doctor's Credentials: Internationally renowned author and story consultant Fernanda Rossi has doctored over 200 documentaries, scripts, and fundraising trailers including the 2007 Academy Award® nominated Recycled Life by Leslie Iwerks. In addition to private consultations, lectures, and seminars worldwide, she has served as festival juror and grant panelist. Ms. Rossi shares her knowledge and research of story structure and the creative process in columns and articles in trade publications. She is also the author of the book Trailer Mechanics: A Guide to Making your Documentary Fundraising Trailer.