Exhibitor FAQ: Amherst Theatre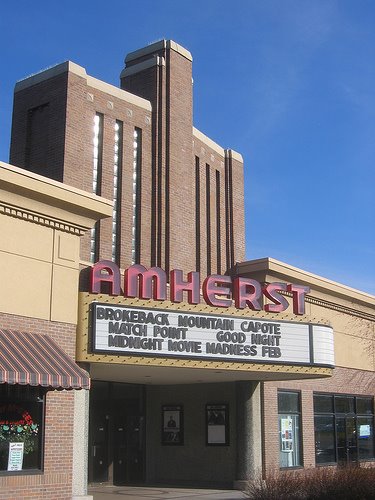 The Independent launches its new series of Exhibitor FAQs to provide resources and advice on how to get your film onto the big screen. Following in the tradition of the distributor and funder Q&As, the Exhibitor FAQ will feature a different theatre, museum or other screening venue with tips on how to approach the theatre, market your film, and find an audience for your film.
Located across the street from the University of Buffalo campus in Buffalo, New York, the Amherst Theatre shows independent and foreign films, including documentaries. The theatre is operated by Dipson Theatres, a New York-based corporation that owns 47 screens in New York, Pennsylvania, and Michigan.
The Independent talked with Phillip Freedenberg, Amherst Theatre's general manager, to find out how filmmakers can have their movies shown at the theatre. Although Amherst Theatre generally negotiates bookings through professional distributors, it's far from impossible for grassroots filmmakers to get their movies shown there. On the contrary, Freedenberg spoke at length about steps that independent filmmakers can take to promote their work.
What's the process for an independent filmmaker approaching you about showing a film in your theatre?
I would suggest that the initial step for independent filmmakers to take in approaching an independent theatre such as the Dipson Amherst Theatre is to simply contact the theatre to make yourself and the nature of your project known.
It is most common that we negotiate our bookings through the involvement of a professional film booker. So without a distributor releasing and promoting the independent film, the filmmaker will need to take on several additional roles beyond that of writer or director. For example, once your film has been completed, you will then have to become your own executive marketing director, as well as booking coordinator, and sales representative. It is my opinion that while the added responsibility and work of these additional roles may seem taxing, it is at this point where the filmmaker's inexorable passion for their work inspires the energy necessary to bring their vision to others. The passion and enthusiasm that you express in your work will translate to people, and it is important to try to get people excited about your film. If the filmmaker is not excited and passionate about his or her work it will be difficult to imagine a potential audience getting excited about the work of art itself.
The initial challenge that I see in working [without] distributors and film bookers is breaking into a theatre's current and upcoming film schedule. Most theatres book well in advance with specific films supplied by studios or film companies even if they are an independent company. So.. the best way for an independent filmmaker to have their work exhibited in a theatre would be an arrangement made between the filmmaker and the theatre where an initial special engagement run of a film will take place.
A perfect example would be a midnight screening. A midnight screening would be ideal in that film cancellations during normal booking hours would not be necessary which could be a financial risk for an indie theatre. The indie filmmaker could rent the theatre per screening at a flat rental rate or potentially set up some sort of flat rate followed by percentage split per ticket sale. It is important to note that this is speculative and would vary from theatre to theatre however it is a starting point or framework from which the aspiring indie filmmaker could start from to begin the process, but I believe that starting to contact theatre managers and owners and asking them what is the best way to have an engagement of their work is ideal.
Create relationships, inform people about the film, generate excitement, and create a good plan in advance, then present that plan. From there the next step in my opinion would be to start thinking about how you could create a creative grassroots, word of mouth way to promote the screenings that you arrange. One good example is that the Amherst Theatre is located across the street from the University of Buffalo. A filmmaker could create a strong inexpensive advertising campaign on the campus. I only mention the advertising aspect of the project so that the filmmaker also considers an audience not simply the screening. If you rent the theatre for a midnight engagement, for example, it would be wise to try to figure out beforehand what would be the minimum amount of ticket sales necessary per screening to at least break even to cover your costs of having the film exhibited an the theatre in the first place.
How selective are you? What should potential filmmakers expect?
Our selectivity is based upon availability. We work exclusively with a film booker who works with several independent film studios such as Sony Pictures Classics, Overture Films, IFC Films, Fox Searchlight, etc. and it is from this resource that our selectiveness is born. Again this is where I think that a midnight screening, for example, is a good first place for an indie filmmaker to start if they are truly independent and without any commercial representation. It is difficult to interrupt the theatre's current and upcoming bookings since it is likely that the screening of an unknown film by an unknown filmmaker could lose money for a small theatre such as ours… As for what a filmmaker should expect: hard work. The ability to negotiate while being flexible and creative when it comes to the best way to exhibiting your film is important. It is most likely that a flat rate theatre rental would be a good place to start. Contact a theatre that you think best fits your work and explore a rental of the theatre for a special screening and work from there.
What format should filmmakers submit their films in?
35mm if available or DVD for digital projection if the theatre that you contact has digital projection available. While the processing costs for a 35mm print production can be very costly it can be an excellent investment to create a print. Not all smaller independent theatres are equipped with digital projection capabilities. We at Dipson Theatres in particular do have several locations with state-of-the-art digital projection available. However by producing at least one 35mm print of the film that you wish to exhibit, you can broaden your potential by working in the most common medium. A less costly medium would be 16mm but not all theatres have the equipment to exhibit 16mm films. Also if you have one print with several limited independent engagements you can use the same print and schedule your screenings accordingly so the transport of that one print can support your booking schedule.
What kinds of movies do you most like to show?
We most often show independent and foreign language films including documentaries at our Amherst Theatre location.
How many screens does the theatre have?
We have three screens at this location. Our largest auditorium has a 351 person capacity with Dolby Digital Surround Sound capabilities while our two smaller auditoriums have 151 person capacity each.
What technical facilities does the theatre have?
We are equipped with three 35mm projectors.
What advice would you give to filmmakers who are approaching you with a film?
As expressed in an earlier question the best advice that I would give a truly independent filmmaker about approaching myself or any other theatre or theatre manager is to be passionate about what you do. Your love for film will translate. Be open minded and flexible about working with a theatre to try to create a successful film engagement.
Where do you see your venue in 10 years?
In 10 years, we at the Dipson Amherst theatre hope to continue to offer film lovers in our Western New York community with an excellent experience in cinema by providing the most unique and cutting edge independent films presented in the highest quality in the most welcoming and friendly environment where the sheer love of movies brings people of all ages together!
For more information, visit www.dipsontheatres.com
---
---
Regions: New York