Doc Highlights from the Festival du Nouveau Cinéma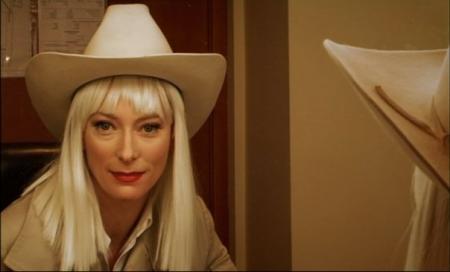 You may want to check out part one, which offers a festival overview with a focus on its narrative features.
It's always fun identifying the docs in a festival like the FNC, where, often, they're not clearly billed as such. The story is the thing, and as narratives take on documentary qualities and vice-versa, the picking out of fact from fiction can turn into an interesting game.
Case in point: Should I Really Do It? whose key press kit photo is that of a person in a black leather full-face mask and a blonde wig. Herold turns out to be the shrink of Petra, a stylish German hair stylist and fashion-show designer living in Istanbul whose sister is dying of cancer. Photographer Ismail Necmi's nicely composed direct cinema footage of Petra at work and with her sister and dogs back in Germany is fluidly intercut with therapy sessions where Petra and Herold chat while sipping champagne and snorting cocaine. Petra's creative open-mindedness makes the staging appear almost subtle, and the ploy turns her potentially predictable life crisis into something cathartically playful. Winner of the Daniel Langlois Innovation Award. Genre-bending trailer here.
"When you don't know where you're going, you can't get lost," says the subject of the 52-minute portrait Behind Jim Jarmusch. Shot over three days in Seville during the shooting of The Limits of Control, the film could have become yet another making-of. Instead, feline-like filmmaker Léa Rinaldi becomes a kind of discreetly curious child, sliding her camera in a small spot next to Chris Doyle's between takes, capturing Bill Murray's thoughts about dying on film and mainly observing Jarmusch's cool/faux-cool character as he intuitively directs his gangster flick and reflects in his soft voice on the mysteries of filmmaking and Seville. The result is a film that feels wonderfully Taoist.
I found a very different take on filmmaking in It Came from Kuchar, a biopic of two brothers from the Bronx whose bombastic iconoclasm in films such as Hold Me While I'm Naked paved the way for John Waters, Wayne Wang, and Guy Maddin. These three and others speak lovingly of the films and personas of George and Mike Kuchar, two well-brought up Catholic boys who decided to take on every taboo of life in the early 60s, rip it to shreds, then glue it back together in weird ways. With no budget but a lot of experimental creativity, the ripping is done much by hand and in 8 and 16mm, and Hollywood melodrama is turned on its head. In the end, this film is about a geek-love obsession with and enjoyment of the extravaganza of genre cinema. Oddball clips here.
Picking up on another obsessed creator, The Delian Mode charts the amazing work of electronic music pioneer Delia Derbyshire, best known for her haunting soundtrack to the Doctor Who series. In the spirit of Derbyshire's experimental construction and manipulation of audio material starting at the BBC Radiophonic Workshop, Kara Blake's film is a lovingly crafted collage of still avant-garde-sounding sound clips and a wealth of archive photos, film clips, and handwritten notes with excerpts of phone conversations between Derbyshire and one of her creative collaborators a few years before her death. The editing process was "like putting together the pieces of a great puzzle" says director Blake, who also assembled images for the FNC's Sines and Wonders Saturday night avant-electronica party. Mysterious trailer here.
"If you ever tried to plan with punks… it was chaos," says director Omar Majeed while chatting with me on the phone about Taqwacore: The Birth of Punk Islam. The joyful chaos apparently started before punks even entered the film, as the project's initial premise was a survey of American Islamic youth until Majeed landed on Michael Muhammad Knight, author of the book The Taqwacores which depicts a fictitious Islamic punk rock scene. From then on, the film became about the real scene that the book has since spawned. Following Knight and sometimes front-womanned punk/ska band The Kominas as they drive a green school bus, drink, smoke up, pray and play their way across the United States and later travel to Pakistan, the film takes on all the contradictions of the nascent movement's (mostly) conscious protagonists. Says its director: "Rather than convictions, it is more about assuming the courage of one's confusion." The doc went through many editing struggles but found a sustainable hook in Knight, who reflects on both anti-Muslim prejudice and conservative Islam and ultimately finds solace in "giving the finger to both sides." An ode to open-mindedness, oy! Raucous trailer here.
Curses, I didn't even get to talk about the Festival du Nouveau Cinéma's awesome free lab series. With themes such as "Interactive Scriptwriting," "New Production Modes," "Beyond Locative Media: Mapping the New Public Sphere," and "The Digital Production Paradigm," hosted by vet SFX supervisor John Scheele (Tron, Blade Runner, World Trade Center), the series kept participants on the edge of their folding-chair seats. I'll leave you with a thought from "Availabilist" — Rick Prelinger's lab presentation of The Archive We Don't Know: "Wonderful and unpredictable things happen when ordinary people get access to primary materials."
---
---
Regions: Canada, International