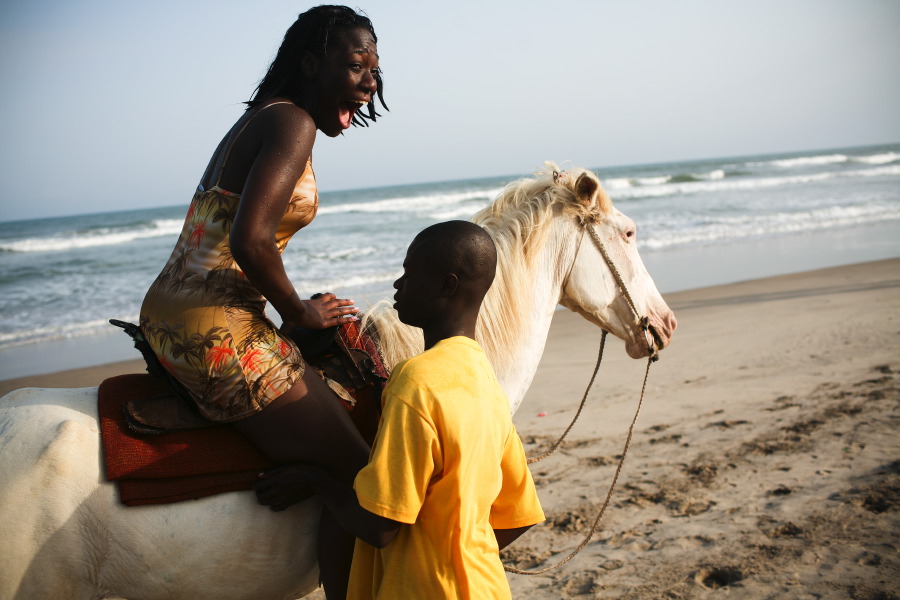 From Bronx Princess, directed and produced by Musa Syeed, one of The Independent's 10 filmmakers to Watch in 2010.
Editor's Note: This collaborative reporting effort was led by Nikki Chase with help from Maddy Kadish and The Independent's associate editor, Cristina Sousa.
BY WAY OF INTRODUCTION
Ok, we grant you the fact that announcing 10 filmmakers to watch in 10 days sounds strikingly familiar to our recent fundraising campaign. Truth is, it worked! And we had fun with it. So we're trying the same strategy but with a twist: it's our turn to give back to you, our readers and supporters.
Just how is naming 10 filmmakers to watch in 2010 a gift to you, unless you are one of the 10? We're counting on the fact that you care about the collective state of independent film and that these 10 individuals will awe you, inspire you, possibly even tick you off. Whatever your reacation, let's hear it. Please know that we spent a good deal of time culling your nominations (record-breaking numbers this year) as well as the personal suggestions of colleagues throughout the US and beyond.
To fully appreciate our coverage, check out our daily Q & As posted exclusively on Facebook. We'll announce new FB posts on Twitter with daily updates right here; a final feature story with background on all 10 filmmakers goes live on February 4th. Also, there's no sequence or hierarchy intended by the order of our announcements, just suspense!
DAY ONE of TEN – MUSA SYEED
Check out our exclusive interview with Musa Syeed's friend and collaborator Yoni Brook on Facebook, where Brook talks rivalry, egos, and speculates on the success of their next project, Valley of Saints.
DAY TWO of TEN – KAREEM MORTIMER
Bahamian filmmaker Kareem Mortimer shakes up his homeland's homophobia with Children of God, which debuted last month. Read what his mentor, Steven Beer, had to say about Mortimer's savvy handling of actors and a limited budget, only on Facebook.
DAY THREE of TEN – DASH SHAW
Writer, director, artist, and he gets along with producers? Get a glimpse of why The Independent will be keeping an eye on Dash Shaw in 2010; you'll only find the interview with Howard Gertler here.
DAY FOUR of TEN – TARA WRAY & JOSH MELROD
Relocate for your documentary? Tough for anyone, even tougher if you're married. That's one of may reasons the filmmaking duo Tara Wray and Josh Melrod are on The Independent's 10 to Watch in 2010 list. Get a better sense of their commitment to filmmaking, and each other, here.
DAY FIVE of TEN – GARY H. LEE
He impressed his colleagues from day one. Gary H. Lee works full-tme at DreamWorks and still managed to create an indie short, Hector Corp. Lee's friend and co-worker Yong Duk Jhun helps explain why he's one of The Independent's 10 to Watch in 2010 here.
DAY SIX of TEN – LAURA DUNN
With an uncompromising commitment to telling stories about the natural world and its human devastation, Laura Dunn makes The Independent's 10 to Watch in 2010 list for her in-production documentary, Forty Panes. Cinematographer Lee Daniel sheds light on why their collaboration works, only on Facebook.
DAY SEVEN of TEN – CHARLOTTE GLYNN
Charlotte Glynn chronicles her sister's struggle to live independently in Rachel is, a feature documentary that will screen at festivals throughout 2010. Glynn's mother, Jane Bernstein, has also examined Rachel's life in memoirs and essay. Bernstein comments on having the lens turned on her and her daughter's choice to become a filmmaker here.
DAY EIGHT of TEN – ROBIN HESSMAN
Senain Kheshgi and Robin Hessman first met on a four-hour phone call. The documentary filmmakers had a friend in common and both had received ITVS funding. One call blossomed into giving each other mutual support and feedback over thousands of miles. Hessman's My Perestroika premiered at Sundance; filmmaker Hannah Rosenzweig was in attendance and later spoke with Kheshgi on behalf of The Independent about Hessman's selection as one of 10 to Watch in 2010.
DAY NINE of TEN – GAYLE FERRARO
"I told her, 'I don't think a film about banking is something that I'll be interested in,'" confides editor Keiko Deguchi about her most recent documentary with Gayle Ferraro, one of 10 to Watch in 2010. Yet the result, To Catch a Dollar: Muhammad Yunus Banks in America, wooed Sundance audiences mere days ago. Deguchi reflects on the growth of the respective filmmakers' careers as a result of their collaboration here.
DAY TEN of TEN – HEATHER COURTNEY
Paul Stekler knows American politics. And documentaries. From his perch as both filmmaker and University of Texas, Austin professor, Stekler comments on the upward swing of Heather Courtney's career. Courtney and her most recent film, Where Soldiers Come From, made the 10 to Watch list for combining our three our favorite ingredients: moving images, activism, and story.
More on each film and filmmaker to come on February 4th.