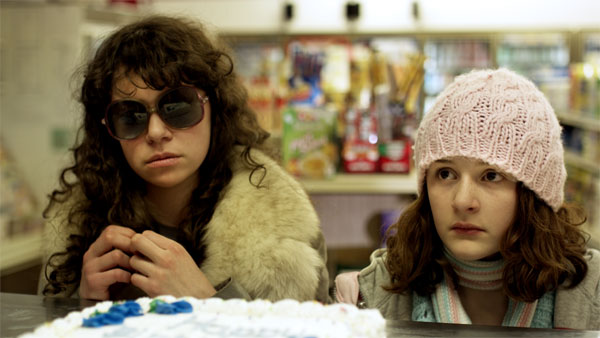 "Grown Up Movie Star" was one of Shechter's favorite narrative films.
Editor's note: Below is just a sampling of Shechter's Sundance account. For the whole enchilada, visit her blog.
Hello from Sundance!
After seven years of volunteering for the festival, I'm here as a civilian filmmaker for the first time which means I no longer have to work every day! Yay!
On the other hand, I also no longer have free housing in a chalet with a private bedroom; free admission to all the films I could wait-list myself into; a Kenneth-Cole-designed staff ski jacket; and the intangible but perhaps most important inside scoop on everything happening at the festival that only a network of 1,500 volunteers can get you. Basically I am now on the living room couch and have to pay for my own film tickets.
What I did in One Day That Made the Whole Trip Worth It
I got up at 7 am to line-up for two hours, pitched excellently to three funders (see below), had lunch with an awesome producer from NYC, schmoozed and drank at the Sundance Channel party, met up with my distributor who took me to the Chicken & Egg party (where I met some of the coolest women and men at Sundance), taped a fantastic interview with a 30-something abstinent Mormon woman who was actually willing to talk on camera for my documentary "How To Lose Your Virginity," and had a restorative hot tub at 2 am with my housemates. And I had potato skins for the first time in years, which I felt I totally earned after all my exertions so back off, healthy judgmental people.
Why Funders are Like Crushes
The documentary funder pitches, always an important part of the festival, were the biggest reason for being here. This is an annual event/zoo where 10 of us gather around a big round table with funder or broadcaster and have five minutes to impress them with the fabulousness of our project in the hopes that they'll pull out their wallets right then and there and give us $300K. About as likely as some guy offering you a giant diamond ring after one session of speed-dating, which offers some insight into the dynamics of the thing.
These sessions are like dating and the funders strongly resemble the archetypical aspirational boys of my youth.