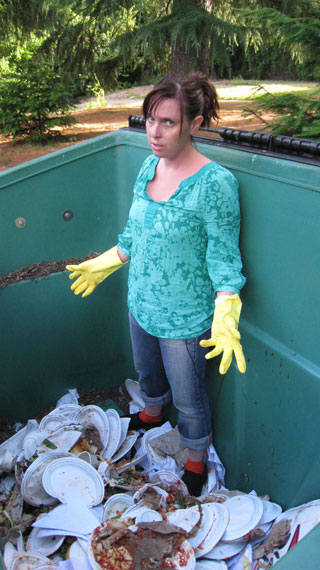 Miranda Bailey's recent film-within-a-film documentary, Greenlit, portrays the hopes and eventual challenges of making the production of The River Why "green." There's an initial hope that making the Why production eco-friendly is doable, and even money-saving. They've hired a sustainability consultant, the initiative is coming from the producer, and Bailey even watches Al Gore's An Inconvenient Truth. But as the doc unfolds, it reveals the difficulties and unexpected pushbacks of trying to green your film.
The green movement in filmmaking has gotten a lot of traction recently, especially after a UCLA study exposed the film and television industry as the third biggest polluter in Los Angeles. In response, studios such as FOX and Warner Brothers started emphasizing their green initiatives. Cottage industries related to responsible film productions have taken root, with even a few green film fests sprouting up.
But what does this mean for independent filmmakers, where budgets are small, time is short, and getting the shot is sometimes all that matters? In Greenlit, the initial goals of greening The River Why are at first met with interest and curiosity, but the filmmakers are soon forced to make compromises. A hybrid car isn't available, recycling is difficult on location, and union rules don't always allow for green initiatives.
Bailey premiered her film at SXSW and participated on a panel about green filmmaking during which she listed the efforts they attempted to maintain during filming: trying to recycle, reducing bottled water, and composting. Ultimately, she questioned their success. Not that she regretted dumpster diving to separate recyclables from trash, but she wondered if it was enough to label her film "green."
Additional panelists, Eva Radke of Film Biz Recycling, and Lauren Selman of Reel Green Media agreed that the newness of sustainable filmmaking has caused some confusion. There are currently no standards on labeling a production "green," it's not something addressed in film schools, and from Bailey's experience, in general, "people don't seem to care enough on set."
In an effort to explore the topic in greater depth, The Independent sought out these panelists after the fact to gather as many tips as possible to pass on to independent filmmakers who share environmental concerns.
Having worked on such films as Noah Baumbach's The Squid and the Whale and Wonderful World staring Matthew Broderick, Bailey saw no added cost to her green efforts in Greenlit. The extra expense in hiring an environmental consultant and paying for a dishwasher to clean their plates and silverware was offset by the savings earned by recycling and reusing.
But can being green save filmmakers money? Selman, an environmental consultant, believes it can. She suggests keeping tabs on when other productions are ending and reusing their materials for your film. Anything you reuse—from binders to props to set pieces—is something on which you don't have to spend money.
Reusing is a big part of Film Biz Recycling's mission. A New York City nonprofit, Radke's business helps provide financial incentives and even tax write-offs to film crews. Donating sets, flats, and props, instead of throwing them away, not only diverts such items from landfills, but also allows other crews to save money by reusing them. Radke sees the main issue as one of process, "of knowing what is going through each departments hands" and empowering them to make environmentally friendly choices.
Having worked in New York City's film and commercial production industry for 15 years, Radke saw the need for sustainability first hand, as dumpster after dumpster was sent to a landfill after each shoot. "You had time to prep but no time to wrap right," she says. "And on a set, when you wrap, everyone splits." If the set is a living room, that means not only are flats and building materials being thrown into a dumpster, but also everything you'd find in normal room, from a table, to chairs, to a couch and artwork.
Businesses such as Radke's help the film industry redirect props and sets from landfills to charities and donation centers. As a sign that the process is changing, in 2009, Film Biz Recycling took in 75 tons of donations that would normally have gone straight to landfills.
Lauren Selman was the environmental consultant featured in Greenlit; Selman sees a need to shift the very way we perceive environmental issues, looking "at the environment as a series of choices we make rather than as a series of problems to face." For her, responsible filmmaking is about practicalities. You not only need buy-in from the top, but you also need it to be a priority. When it comes to locations, some are more green-friendly than others. According to Selman, just designating a green point person will increase your success rate to 80 percent.
Selman has even seen progress coming from within the unions. A recent bulletin of The International Alliance of Theatrical Stage Employees had a 10-page article on the union's own green initiatives, touting safer working conditions and lower carbon footprints.
The challenge of green filmmaking is about taking personal responsibility for how our actions affect the environment and translating that to a film production. On set, everyone's job is first and foremost about the film. In the case of Greenlit the production team learned that some of their efforts actually hindered the crew's ability to work; Bailey has since produced other films and had more success implementing green initiatives. The key is integrating sustainability into the process as organically as possible. As Selman said, "everyone wants to do the right thing. It just takes effort." The Independent asked Selman to give readers a few tips on going green without going crazy.
Steven Abrams: How do you integrate greening into the filmmaking process?
Lauren Selman: Sustainability shouldn't be driven by a political agenda. It's not about scaring people or petting your "eco-ego." It's about making a human connection. Sustainability goes back to Shakespeare. Be open to being wrong. Be open to more than one answer.
Abrams: What are some simple ways to green your film that those working on a film often overlook, or don't think about?
Selman: Have a green point person.
– Train the production assistants and crew early.
– Get reusable water bottles.
– Get recycling bins for sets and trailers.
– Pass sets forward, to other productions, or donate.
– Get reusable canvas bags for PA runs.
– Get reusable garment bags for wardrobe.
– Encourage departments to carpool.
– Get a printer that prints double sided, and use recycled paper.
– Get reusable coffee mugs.
– Don't throw away food.
– Don't use Styrofoam.
We also caught up with Film Biz Recycling's founder, Eva Radke, and discussed some keys to sustainable filmmaking.
Steven Abrams: How have your efforts been received in the industry?
Eva Radke: Eighty percent of feedback has been positive. The issues come from people who like it the way it is, and would rather throw it away than give it away. Others want to do the right thing but don't want it to cost more, or think that donations take away jobs. In both cases, the opposite is true.
Abrams: What are the biggest wastes on set?
Radke: Lumber. For sets, the current model is buy, build, shoot, toss it. Large films can spend $1 million on lumber; an average commercial can spend $10,000 on lumber. A major issue is the use of flats made from lauan wood, which has contributed to deforestation of the rainforests. Reuse sets and use alternatives. Fuel is another big waster, [as is] transportation. Use hybrid vehicles when possible. Third would be food. Organic waste can be 80 percent of waste on set. Compost!
---