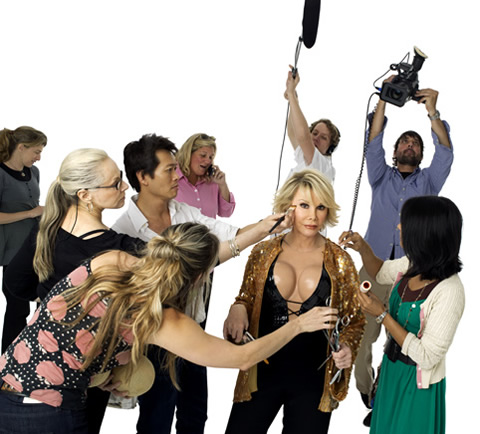 "Joan Rivers: A Piece of Work," is one of the docs on Emergings' menu. Photo by George Lange.
With about 70 theatrical venues, Emerging Pictures is the largest network of digital theaters in the country. Existing and burgeoning theaters pay a fee for its servers, which come with hard drives chock full of specialty films, re-issues, mini-festivals and series, and their biggest hits—cultural programming—including opera and ballet. The servers are updated and accessed through a dedicated broadband data line that connects theaters to a content menu and connects to digital projection systems. In a sense, the servers act as movie theaters "in a box."
Emerging Pictures calls this set up i-Cinema and according to vice president of distribution Josh Green, the 'i' stands for international and independent film. "[iCinema] distinguishes itself from the unabashedly Hollywood-centric DCI," he explained in a recent interview with The Independent. DCI, or Digital Cinema Initiatives, is the set of digital projecting standards that a group of Hollywood distributors enforce in order for theaters to digitally project their films. DCI is too costly a system for many independently-owned theaters, and with a more affordable product, Emerging Pictures has stepped to offer more venues the chance to host digital films and events.
Courtney Sheehan: We normally do FAQs with a distributor or an exhibitor. But Emerging Pictures is different. Are you a distributor or an exhibitor? Both, neither?
Josh Green: We're kind of both. What we are is an alternative exhibition network—a digital cinema network. We put servers—computer hard drives—into art house and independent theaters like museums, universities, even restaurant screening rooms. We link all these venues onto a digital platform and then we aggregate independent films, operas and concerts, ballets, and then we deliver it in high-definition over broadband lines to the servers.
In our partnership with these venues, we're providing a service. The three prongs of that service are: we're a content aggregator, we're a delivery mechanism, and we're really a marketing support infrastructure.
Sheehan: How do you acquire content? Who pays and who profits?
Green: We make deals with distributors, filmmakers, TV networks… There is a fee on their end for the encoding process, [which] is less than the cost of [making] one single [film] print. It's just one cost to take the high-definition master video and convert it to our digital file. It's all a revenue share. Distributors, filmmakers, whoever that would be is a buy-in, then they get a share of the gross. There's no other required [expenditure] other than one sheet posters, press kits, and press screeners.
The beauty of our network is that we're blurring this line in that we're an exhibitor but also a sub-distributor. We really do get involved in the marketing side. All of these theaters have their own memberships, networks, mailing lists. They're very good at local outreach—so when you work with our theaters you don't necessarily need to take out paid advertising or hire a local publicist.
Sheehan: What kinds of films do you show?
Green: Our theaters do their own local programming so we provide the menu of content and then we work with them to pick and choose their schedule and what products they want to play. It's not a model where we make a deal with a filmmaker or Sony Pictures Classics like a traditional movie theater and say, 'We're going to play your movie on X day, X number of times.' On the first-run film side, we have to clear those bookings with the distributors. So some of our theaters might want to book a Sony Pictures Classics movie and then we go to Sony and ask them, 'Do you want to book it?' It's still contingent on distributors' release plans. We're encoding movies from every single independent supplier—Sony, Zeitgeist, Strand, Oscilloscope—we're playing all those movies.
We have a growing library now of classic films. We're a perfect mechanism for classics because companies don't want to make new prints of these old films. We have a whole collection of Hitchcock films from Universal. We have the Janus Criterion movies. We have Kurosawa movies and Truffaut movies.
For the cultural content we are in essence the US distributor as well as exhibitor. We're planning the marketing campaigns and creating all of the materials. We have the Royal Opera House in London. We have the Salzburg Festival. On the ballet side, we have the Bolshoi from Russia. We just added Shakespeare from The Globe in London. It's an incredibly loyal audience.
Sheehan: Can you describe the "i-Cinema Standard" and outline the tensions surrounding the Digital Cinema Initiatives that motivated Emerging Pictures' development of i-Cinema?
Green: The truth of the matter is that the economics of digital specifications don't make any sense… they're basically very similar to 35mm. Distributors are shipping hard drives because the files are so big that you can't deliver them over broadband. Is it lighter than shipping a print? Probably, but you still have to ship physical media. The encoding process is much more expensive than our process. You have to pay a virtual print fee, which is like creating a print, and then it's only a little cheaper than 35mm because of the expense of encoding.
We're encoding HD masters for the most part so it's being shown in its native format and we're putting up gorgeous pictures onscreen. The DCI specs were created with a little more politics.
Sheehan: Can you talk more about the politics behind DCI?
Green: Sure—obviously I'm not an insider to the Hollywood dance but the studios were probably scared of the impact of digital. It was a scary notion for someone to project digitally on 4,000 screens. They were trying to postpone having to deal with these things and trying to still own the market share. 3D was a huge boon to them [because] now all the theaters are going digital to go with 3D and now they're taking advantage of all these digital screens. Even if that platform were a theoretically open one—independents can't get on those screens.
Sheehan: How does i-Cinema change the way that venues exhibit film?
Green: When you're holding onto this expensive 35mm asset, the distribution company usually requires that you play it a minimum amount of times. When you're not dealing with a print you have more flexibility… the theater can show [a digital film] once a day and split the screen and show three different movies a week rather than one. The ease of use is incredible.
From the distribution standpoint, the advantages are saving money and the efficiencies of being able to release movies quicker. Some other advantages: we're doing a lot of one-night only showcases of movies that are played simultaneously in a number of the theaters. You can do a live panel shot from one theater and pipe it into other theaters. You can actually have audiences be able to tweet questions into that panel in New York–really cool, interactive for the audience, making it worthwhile to leave the house.
Sheehan: What is the best way for independent filmmakers to get their films screened with Emerging Pictures? What is your selection process like?
Green: We're open to filmmakers submitting their films directly but the caveat is that we're not a distributor. If a filmmaker is submitting a film there has to be some distribution plan in place, or they essentially have to have a self-releasing plan.
We want to be selective and only offer movies to our network that are going to do them business. A lot of times we wait to see if a film gets an opening in New York. Before we agree to do programming we wait to see how it does, if it gets good reviews. We pick and choose things very selectively.
Most of the products that we're playing on the independent side are from the traditional distributors. For pure business reasons: they tend to have higher profiles and we know what the level of support from the distributors is. These are more known quantities. Theaters have to be able to sell these films to audiences.
With movies that are self-released, sometimes they did play the big festivals and the filmmakers just decided to forgo the traditional release and then they'll open in New York and they'll get the same profile.
We're an open platform but the bottom line is, we want to protect our brand. We want to be the platform that allows filmmakers to drive their own boat, but we have business considerations.
Sheehan: When's the best time during production or post for a filmmaker to contact Emerging Pictures or submit a screener?
Green: Theoretically the best time to look at the movie is obviously when it's finished and when the filmmakers either have a distributor or a distribution plan in place. We can discuss our platform with them [earlier] when they are [thinking about] their distribution possibilities. We're happy to kind of talk through the process at that point.
Sheehan: How do you select venues?
Green: We're constantly doing research all over the country in terms of identifying these theaters. One of the goals is to go into second and third tier markets that historically haven't had as much access to independent films. You can instantly have an art film theater in a town that never had one, where the economics of building a [brick and mortar] art house theater haven't worked.
We have three theaters with Laemmle Theaters in LA, and we're talking about adding a fourth. That's a major independent art house player and they've seen the demand for us. It's going to the major markets and talking to established art house as well as the cultural institutions where they have a beautiful auditorium but it probably sits dark half the time. We monetize that space.
Sheehan: What does a theater need to do in order to become technically equipped to join your network and how does payment work?
Green: The theater itself has to have a couple basic components in place. They have to have an auditorium. They have to have some digital projection that's appropriate for our system and capable of HD output. They only need two other components: 1) You have to set up a dedicated broadband line, which would be the additional expense for the theater. It has to be dedicated because if they start sharing the Internet connection it slows our delivery. 2) There is a monthly access fee that the venue has to pay to have the server on premises, which covers file storage cost and access to the network physically on site. Then they are on the network and have access to the entire network on a revenues share basis.
Sheehan: Everyone's talking about the changing landscape of distribution. What's your personal take on it and where do you see Emerging fitting into the picture?
Green: Economics just aren't justified anymore for five shows a day for weeks on end. Theater owners aren't going to be open to that, so filmmakers need to be open to special events—one show, two shows—if it does well, theaters are going to bring it back, it's digital, it's a file. Digital is the way to make theatrical work, going forward.
It all comes downs to accessing what your priorities are: is it to pay your investors back as quick as possible, is it to get as many people to see it as possible, is it to advance a social cause, is it to move on and make your next movie as quick as possible? There are a ton of options but there are also a lot of red flags and it's still incredibly difficult to recoup production budgets. Making money even with carving everything up is not a slam dunk equation.
Sheehan: Anything else you want the world to know about Emerging Pictures?
Green: Emerging is a unique, growing entity that in the future is really going to be a major national platform for independent product. It's taken about a decade to build up to 75 venues in the US and I hope filmmakers will see us as a collaborative model to help them monetize their art and keep theatrical viable.