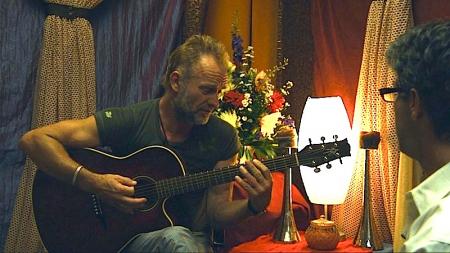 With latent teen rocker angst and a career as a print music journalist threatened to the point of extinction, Geoff Edgers hit mid-life determined to shake things up. Part one of his plan: get the Kinks back together after a decades-long split between the band's two lead figures, brothers Ray and Dave Davies. Part two: in lieu of a reporter's notebook, bring a documentary film crew. Edgers faced his footage with doc and narrative director Robert Patton-Spruill (Public Enemy: Beyond the Thunderdome, Squeeze) and from it came Do it Again, which follows Edgers on a potentially futile journey buoyed by his relentless hope and dark, self-reflective humor. As a bonus, Edgers hauls out his guitar for sing-alongs with rock legends such as Sting, Paul Weller, and Robyn Hitchcock—though not everyone agrees, the impromptu gesture delivers some of the film's juiciest scenes.
The Independent caught up with Edgers this summer, several few months after his film's Rotterdam premiere, to ask about the transition from print to moving images and whether or not he'll do it again. The doc continues to rack up festival appearances, with screenings this month at the Newburyport Documentary Film Festival and the Camden International Film Festival.
Erin Trahan: When did you first hear the Kinks?
Geoff Edgers: For a penny I got 12 tapes, one was One for the Road, a live album from 1980. I listened to that a lot. Their 60s work was more pop, then in the early 80s in the US they had "Come Dancing." Later on as I got smarter I loved their so-called arena rock style.
Erin Trahan: This film has a great sense of humor. Was that part of your aim?
Geoff Edgers: So many documentaries are about terminal illness, corruption in government, oil costs, etc. Our film is supposed to be crowd-pleasing, entertaining, personal. Humor emerges out of a sense of adventure. The Paul Weller interview, that's funny—like a reverse Borat, watching me be beaten down by my subject. But serious themes underlie our mission and making it funny can turn off the serious doc types.
Trahan: The Kinks come with a built-in fan base, but a documentary about them does not. How have you been reaching your audience?
Edgers: By doing everything we can—TV stations, Kickstarter campaigns, Adam Roffman [director of the Independent Film Festival of Boston] said 'make buttons,' so we've given out about 4,000 buttons. We have an incredible poster; we go on fan sites for the band. Ultimately you have to have a movie that people like. I think we do.
Trahan: Was the festival process daunting, as someone who has never done this before?
Edgers: I didn't even know what Withoutabox was. Rob [Patton-Spruill] said, 'you gotta get an account.' I established an IMDb file, loaded the pictures, then sent the film to 100 fests and also directly to media sales agents or people who might be able to help. It's amazing how many people ignore you and how many people are generous with their time.
Trahan: In what ways were you lucky while filming or after?
Edgers: It began with an invitation for the world premiere at Rotterdam. Frankly, I didn't know the festival but it was extraordinary—three screenings, all packed. From there we went to Buenos Aires, Warsaw, Chile, Belgium. It taught me how it's a catch 22—you need to be invited to get into another prestigious festival.
I also got lucky with my call for critique while working on the story, like from Tom Perotta [Little Children, Election], who could be better? Morgan Spurlock [Supersize Me] saw a flabby rough cut and gave a real solid critique. He also gave me the tagline for the poster. After IFFBoston accepted me, Adam [Roffman] gave me Saturday night in the big hall. I worked hard to sell it out but he gave me the opportunity.
Trahan: How did your collaboration with Robert Patton-Spruill come about and what did you learn from working with him?
Edgers: I ran into Rob, he graduated a year before me from Brookline High School, and asked him to go to lunch… He enabled me to make a movie. I didn't know how to talk to cameramen, editors, set up lights. And Rob was able to get our editor, Brad [Allen Wide], one of his hotshot students.
I've been writing stories for 17 years and working with Rob taught me how to leave moments behind that you might like but take away from the greater narrative. He got me to try things even if I didn't believe in them at the moment—to be open to suggestion but also be strong enough to make decisions without other people agreeing.
Trahan: How did hearing the news of Pete Quaife's death hit you? [Quaife was was one of the four original members of the Kinks and died in June 2010.]
Edgers: I was upset but not shocked. He had been sick… he was an uplifting person and I could tell he really liked living. It still comes down to Ray and Dave, I think Pete's death served as a wake up call.
Trahan: We learn in the film that your first investor donated May 29, 2009 and the final product premiered less than 12 months later—in the doc world that's greased lightning. Did it feel fast?
Edgers: We started in spring 2008. We didn't have a timeline but I'm deadline oriented—deadlines protect you from irrelevance. What if I gave the Kinks 10 years…? If you have the goods, deliver them. Why wait?
Trahan: In the film you say, "failure will be not finding out something about them, about me…" Did it work?
Edgers: It's not like all my anxieties over creating are gone but I learned a lesson: continue on no matter what's happening. Work at it everyday and you're going to have something. It would've been so much easier to stop.
Trahan: And will you do it again?
Edgers: Yes. Making a film is emotionally taxing, expensive—I'm still trying to break even—but I have a better plan for how to do it next time.
Interview was edited and condensed.
---
---
Regions: International