Friend Your College Film Programmer, Pronto!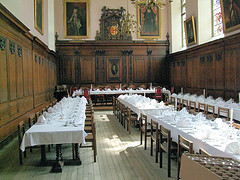 Imagine if someone gave you over $50,000 to use for programming the film schedule at a movie theater for nine months. The theater doesn't charge admission so your curatorial choices aren't constrained by the pressure to sell tickets. You get to decide how many films to show, when to show them, and whether to show them on 35mm or digitally. You are effectively your own boss. Other people take care of maintaining the theater, projecting the films, and paying the actual bills, so after you decide on the films you want and hammer out the details with distributors, you get to sit back and enjoy the show.
The catch: the theater is on a college campus in Iowa. And you go to school there.
The job of student film programmer is something of an oddity. No two student-run theaters are alike. Some do rely on ticket sales, while others are free to students but charge a small ticket price for general admission. Some theaters are programmed by a committee of students rather than one person. Most take advantage of their position as independent venues with primarily college-age audiences and screen films you would be hard-pressed to find elsewhere. Case in point: Portland State University's student-run cinema is kicking off the new school year with Francois Ozon's 2000 film Water Drops on Burning Rocks, based on Fassbinder's play.
At such theaters, you can usually find free popcorn.
I spent my senior year at Grinnell College in Iowa as chair of the student film programming committee. Given its location in a state where there are more pigs than people, Grinnell doles out a significant chunk of change to students for the purpose of supplying their 1,600 peers with a variety of entertainment options. Consider, for example, the first big film event of the year, the first public screening of feminist pornography in Grinnell's cinema. During the event we gave out or raffled off one hundred condoms, twelve vibrating cock rings, two vibrators, and a lot of lubricant. Not to mention cookies shaped like penises and cupcakes decorated as vaginas. The double feature began with Superfreak, a lesbian porn featuring the "ghost" of funk master Rick James. This was followed by 1994 Cannes hit and camp classic, The Adventures of Priscilla, Queen of the Desert. About 70 18-22-year-olds turned out for the queer cinema extravaganza. Everyone left with at least one free sex goodie and hopefully, a broadened horizon.
My budget was big enough to pay for licensing fees for three to four films per week, pay a staff of projectionists, and throw events with copious amounts of free food. The financial flexibility just made the curatorial freedom that much nicer. Outside of just-released multiplex fare, which I simply had to wait a couple of months to acquire, I was able to show just about anything I wanted as a semi-theatrical college venue. This included but was by no means limited to films like surrealist claymation French flick A Town Called Panic, documentaries like Marwencol and A Film Unfinished, personal favorites like Step Up in 3D (alas, in 2D) and The Trotsky, classics like Paper Moon and Z, liberal arts college wet dreams like Short Bus, and art films like the Iranian Women Without Men. Even films still on the festival circuit screened in our theater, like the Japanese The Chef of South Polar and the biggest Indian hit of all time, Endhiran (Robot) .
Some events weren't just about the movies. There were catered dinner-and-a-movie events featuring films like I am Love in Grinnell's old dining hall, which is quintessentially reminiscent of Harry Potter (all proceeds from dinner tickets went to charity, as I think Tilda would have wanted). Speaking of the boy who lived, when I couldn't bring The Deathly Hallows Part One to campus immediately upon its theatrical release, I bought out a couple of screens in the downtown multiplex instead and passed out the tickets to students, who lined up hours in advance. By the time I got to the end of the line, a stranger gave me a tearful hug of gratitude when he managed to snag one of the last few tickets.
The best events didn't require free food, huge crowds or blockbuster titles, however. One night we projected unreleased Super 8 shorts in a dimly-lit art gallery as student musicians accompanied each film with pieces they had composed especially for the occasion. It's true that free food did play a critical role in our midnight screening of The Room, during which we passed out birthday cake, spoons, footballs, and Xeroxes of the A.V. Club Viewer's Guide. When I called a local bakery to order two massive sheet cakes and asked that they be decorated with the phrase, "Happy Birthday, Johnny!" the baker asked how old he was turning — at which point I had to explain that Johnny did not, in fact, exist.
However the job wasn't all fun and games. At every event I threw, something went wrong. Someone didn't show up, or some piece of AV equipment didn't work, or some food ran out, or some DVD got lost, or some film print got jumbled up in the projector. Sometimes things were completely my fault. Like the time I thought it would be a good idea to buy out a midnight screening of Fast Five at the local multiplex. When I couldn't give away tickets to college students, I ended up dropping them off at the nearby high school, where I can only hope they went to good use.
At the time, I was surprised that there weren't more independent filmmakers and distributors shopping their wares to me. I had money at my disposal as well as an enthusiasm for indie film unfettered by a need to sell tickets. There are some distributors, like the behemoth Swank, that devote entire divisions to semi-theatrical college circuits, but they don't pick up small titles so much as distribute rights for pre-approved indie hits. In other words, the most time-consuming aspect of my job was hunting for distribution rights for independent and foreign films. None of this is to say that a college in Iowa is the best theater to gain recognition for an obscure title, but I imagine it's never a bad thing if someone wants to pay you to show your movie in a theater.
True, Grinnell's model is an anomaly, and it very well may not last forever. Recently, the dean of students at Grinnell's peer institution Macalester College told me that they had just terminated their student-run film program. Attendance was too low, it just wasn't worth the money. Small distributors and independent filmmakers might consider closing in more tightly on this market while it still exists, or, alternatively and more optimistically, perhaps it's still possible to revitalize the college theater scene with all its rare and wonderful quirks. After all, where else can you find an audience that enjoys watching a program of experimental Croatian short films as much as viewing Mega Shark Vs. Giant Octopus from inner tubes in an Olympic-sized swimming pool?
---
---
Regions: Iowa