Alchemy Springs from the Striking Artistry of Sundance Shorts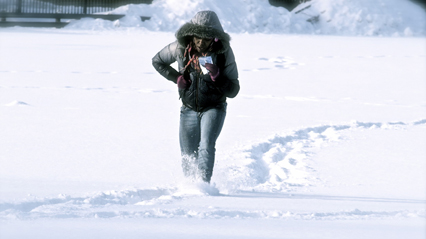 Utah, PARK CITY – When it comes to challenging and adventurous short films, the 2012 Sundance Film Festival's mojo was in top form as the nation's most prominent tastemaker for the state of indie cinema, both in America and abroad.
Cinema devotees and novice filmgoers alike found plenty of thought-provoking ideas manifested in the festival's multiple shorts programs that emphasized human stories told with brevity and lots of imagination. For instance, the documentary spotlight offered a range of provocative subjects, from elderly folks finding solace in medicinal marijuana (Drea Cooper and Zackary Canepari's Aquadettes) and a homeless chess enthusiast's philosophical outlook (Àlex Lora Cercos' Odysseus' Gambit) to finding beauty and renewal amidst the aftermath of last year's devastating tsunami in Japan (Lucy Walker's The Tsunami and the Cherry Blossom).
Winner of the festival's jury prize for short filmmaking in non-fiction, The Tsunami and the Cherry Blossom is a tiny miracle of lyrical storytelling carved out of real life. The film more than earns its Academy Award nomination for Best Documentary Short by taking viewers through the desolate ruins of a village destroyed by the tidal wave. The film's extraordinary opening sequence shows video footage shot by one of the village's residents – homes are swept away by the raging waters as villagers frantically run for high ground. Then, Walker's film segues to workers forging through debris as the camera bears witness to a tour of the village turned into a graveyard of shattered lives.
The Tsunami and the Cherry Blossom could have easily turned into a depressing exercise in humanity's futility against the ravages of natural disasters. But the 39-minute documentary juxtaposes the survivors' anecdotes of incredible loss with an equally persuasive argument for the community's rebirth represented by the blooming cherry blossoms. The survivors' stories ground cinematographer Aaron Phillips's stunning imagery and Moby's evocative electronic score in a human context. One survivor says, "everyone sees cherry blossoms differently" while another says, "When I see cherry blossoms, I see hope." Walker's cinematic poem celebrating the human spirit's phoenix-like ability to persevere in the face of inconsolable loss is deeply moving and ultimately uplifting.
Absurdity and nightmare visions form an intriguing tango of shifting moods in the festival's animation spotlight, which featured the likes of Don Hertzfeldt, Stacey Steers, and Kibwe Tavares, among others. Steers' 16-minute, handmade Night Hunter evokes a fever dream of a woman on the verge of a metamorphosis through hand-painting frames of Lillian Gish from excerpts of 1919's Broken Blossoms or the Yellow Man and the Girl, and other silent films by D.W. Griffith. While the animator's painstaking, collage technique is eye catching, the film's vague narrative is hard to grasp. No less arduous in their artistry, Hertzfeldt's hand-drawn It's Such A Beautiful Day and Tavares' award-winning, computer animation Robots of Brixton – winner of the festival's special jury award for animation direction – fare much better in communicating their intent through striking visuals.
Hertzfeldt is a Sundance veteran and his new film is the third chapter of a trilogy that includes 2006's Everything Will Be OK and 2008's I Am So Proud of You. Like his previous works, Hertzfeldt's 23-minute animation pulls off the high-wire act of balancing existential comedy and bursts of abstract imagery with his signature stick figures that ponder the meaning of life. The articulate yet emotionally awkward, stick-figure protagonist of It's Such A Beautiful Day represents the everyman marveling at the absurdity of the human condition with a knowing wink of irony.
Tavares infuses the six-minute, cyberpunk-fueled Robots of Brixton with an unmistakable humanity as he envisions a terminal landscape populated with soul-weary cyborgs raging against a police state. The British animator juxtaposes his computer-generated images with footage from the Brixton riots during the 1990s. The result of this striking fusion of futuristic revolt and the recent past feels all the more relevant in light of current global unrest and the spirit of dissent triggered by the Occupy movement and the revolutionary fervor sweeping the Middle East.
However, when it came to hard-hitting dramas, it was hard to beat Anna Musso's L Train and Cutter Hodierne's award-winning Fishing Without Nets, which won the festival's main jury prize for short filmmaking. Although L Train failed to win any awards, Musso's film is a sublime slice of contemporary urban life combining stark, kitchen-sink realism with moments of organic beauty. The film unfolds from the POV of Sunny (Khadijah Davis), an African-American teenager making her way through a snowbound Chicago cityscape. This heartbreaking, 11-minute ode to the epiphanies of ordinary life floored this viewer with its unexpected scene of an altruistic gesture as a means of human connection. Musso is a filmmaker to watch. Likewise, Hodierne's 17-minute film allows a band of Somali pirates to tell their side of the story behind piracy in his tense short fusing the director-cinematographer's strong camerawork with a series of true-to-life voiceovers.
Fortunately, irreverent humor also flourished at Sundance with such standouts as Frederic Casella's Tooty's Wedding, Grzegorz Jaroszuk's Frozen Stories and Johnny Barrington's Tumult. Jaroszuk's 26-minute comedy follows the misadventures of a young man and woman who are the worst employees of a Kafkaesque supermarket in Poland. Their tale includes an alcoholic cat that simultaneously makes you laugh and shudder. When asked about the inspiration behind his absurdist film, Jaroszuk said in a thick, Polish accent, "I hate supermarkets."
Like Jaroszuk's film, Casella's Tooty's Wedding mines laughs by allowing us to tag along with his two characters as they stumble through the worst possible scenario of going to a friend's wedding. According to Casella, the 19-minute film's hilarious story emerged from a series of improvisations performed by talented British actor-writers, Ben Willbond and Laura Solon, who portray the film's troubled, married couple whose weekend in the country goes horribly awry. The smart, comedic writing of this film – winner of a special jury award for comedic storytelling – generates laughter while allowing one to sympathize with the well-developed characters.
Where Jaroszuk and Casella's respective films deliver subtlety and deadpan wit, Barrington's Tumult uses gallows humor as a blunt weapon to beat laughter out of you with its over-the-top violence. His darkly funny, 13-minute, nightmare comedy starts off with the stoic observations of a trio of Vikings wandering across an Icelandic wasteland only to veer off in an unexpected direction when the warriors have a strange, temporal-bending encounter. With its beheadings and blood-squirting arteries that would make Monty Python proud, Tumult is not a film for the squeamish.
While Barrington's brutal film is driven by savage intelligence, British animator Robert Morgan's anarchic animation Bobby Yeah envelops the viewer in 23 painfully-long minutes of twisted, art-damaged monsters destroying one another. There is no denying that Morgan has a talent for crafting his personal menagerie of grotesque creatures. But his collage of stop-motion aggression feels more like outtakes from early David Cronenberg, the Brothers Quay, or David Lynch minus the macabre originality of these master filmmakers. Hopefully, the artist will refine his storytelling skills with his future efforts.
However, you have to give props to Morgan for having the guts to literally put himself into his outrageous, animated short: one of Bobby Yeah's fantastical creatures is partly created from the artist's toe-nail clippings that he collected for a year. Now that's a real commitment to one's art.
---