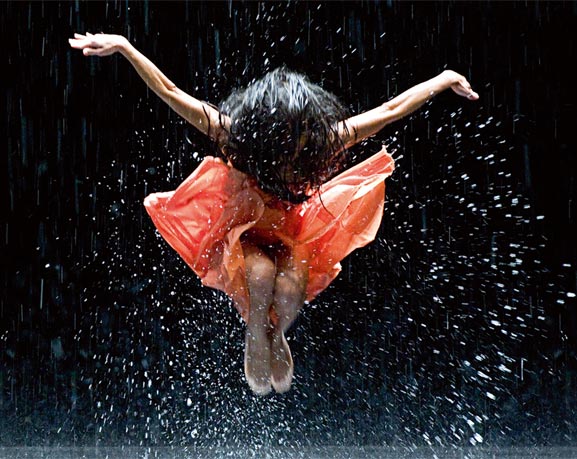 Images from Wim Wenders' "Pina" explode in 3D.
Wim Wenders' films seduce viewers, leaving them punch drunk with his intoxicating imagery. Such is the case with Wenders' Oscar-nominated documentary Pina, which blossoms as a cinematic poem of dancers in motion paying tribute to the filmmaker's friend, the late choreographer Pina Bausch.
But this unique project wasn't easy to launch. In many ways, the German film director spent decades trying to wrap his head around the challenges of finding the right approach to do justice to Bausch's avant-garde dances.
"I thought I was in very safe waters with the movie because Pina and I had talked and dreamt about it for 20 years," says Wenders, a few days before attending the 84th Annual Academy Awards ceremony where Pina was among the nominees for Best Documentary Feature (TJ Martin, Dan Lindsay, and Richard Middlemas's film Undefeated won the Oscar). "And I'd been stalling for time because I didn't know how to do it with the means that I had at the time.
"When 3D was there, we went for it. And we had a beautiful concept. The two of us had worked on it almost a year-and-a-half together. And then the unimaginable happened and she was gone. And I walked away from the movie because the film that we wanted to do had completely become obsolete."
When Bausch suddenly died in 2009, Wenders, along with Bausch's close friends and extended family of dance collaborators were devastated. Fortunately, the dancers convinced the filmmaker to persevere and carry on without Bausch.
Like all great adventures in creativity, Wenders had to find a new strategy to interpret the material without the safety net of Bausch as a collaborator at his side. As the devout performers of Bausch's dance troupe, the Tanztheater, grappled with their grief by continuing to rehearse, Wenders says he realized that there was another film to be made.
"We jumped back in because the dancers has started rehearsing," Wenders says. "All of sudden, I realized the backbone of the film was there. But all of the flesh around it was gone. So, we had to invent. We had no clue when we started. When we jumpstarted the film, we had no clue where it was going to take us."
The backbone left in the wake of Bausch's death were her four major pieces, 1975's "Le Sacre Du Printemps," 1978's "Kontakthop" and "Café Muller," and 2006's "Vollmond." With carefully selected excerpts from Bausch's repertoire as his only structure, Wenders' documentary morphed into an abstract portrait of the artist as an enduring presence and a celebration of her groundbreaking art.
Filming Pina, however, proved to be a high-wire act without the comfort of a safety net. Wenders said he invented the film as he went along, and he didn't know where the film would ultimately end. The filmmaker describes his process of realizing a documentary's story and content as "the uncovering in process."
"I realized that Pina would have wanted us to continue and [she] would have wanted us to grab the last and only chance to shoot this in 3D with her eyes still fresh on all of these pieces," Wenders says. "So, we jumped back and it was really a complete adventure because we had no clue how—without Pina—we could make a film about her universe."
The burning question remained how to do justice to Bausch's work while staying true to the choreographer's request to avoid the usual trappings of documentary filmmaking like interviews?
Wenders found the answer to this dilemma by simply embracing Bausch's own methodology of asking questions as a prompt to provoke the dancers to improvise new, exciting movements for her dances. This technique provided an ideal entry into this kinetic world where words often fail with the dancers as his compass.
Phoenix-like and improvisational, Pina allows Bausch's dances to become a collective ticket to a parallel world where the performers' graceful movements speak on their own terms. Coupled with the challenges of filming in 3D, Wenders said the process demanded that he let go of everything he had learned about organizing a cinematic frame in his 40-plus years of filmmaking.
The filming took place over the course of one year, according to Wenders. First, Wenders and his cinematographer Hélène Louvart and stereographer Alain Derobe started filming the four stage pieces, which the film director learned by heart in order to craft what he calls the "reverse choreography" seen through the camera's viewfinder. The intent was to figure out camera positions that provide the best vantage points to see the dancers' movements.
The dance sequences peppered throughout Pina, however, aren't restricted to the theater space. Half a year into production, the filmmaker and his collaborators moved the action off the stage. The dancers were often paired off, performing Bausch's wildly inventive choreography in the real world outside—on crowded city streets and parks. Filming the dancers against unorthodox backdrops of natural and industrial landscapes, Wenders enables Bausch's abstract choreography to spill out into the streets of the city that she called home. The dancers dart and spin, writhing inside the skin of the choreographer's poignant pieces, giving flesh to her ideas erupting with themes of love and pain.
"Pina had made one film in her life, only once in 1990," Wenders says. "She had not created a new piece, but had made a film instead. In that film, she had taken her dancers outdoors and I remembered that film and I looked at it over and over again. I realized she had also given us, in a strange way, permission to go outdoors and do all of these things that we did in her honor."
As the dancers catapult themselves across the stark, often dimly lit stage and the exterior scenes, the 3D camera follows their lyrical movements with silent curiosity. Using 3D with subtlety and restraint, Wenders' mise-en-scene brings viewers into the world of modern dance, one step at a time, through this immersive technology. The result is a striking visual experience driven by the 3D-enhanced illusion of watching a haunting medley of live performances with a perceptual sense of depth. The process is not unlike sculpting in space and time with the dancers as the paints in Wenders' cinematic palette.
However, Wenders is quick to acknowledge that he learned from his mistakes as he and his crew worked with the cumbersome 3D-camera rig. The filmmaker had to learn on the fly because filming began before the deluge of 3D films that were released after James Cameron's 3D science-fiction epic Avatar hit theaters in 2009.
"Pina was heavy-duty, mistake territory because we were using a language that nobody I knew had ever used—3D," Wenders says. "I didn't have anybody I could call. I didn't have James Cameron's number and I don't know if he would have answered. And I didn't see Avatar. So, we made the film without a model."
Wenders quickly grasped that 3D has its own rules: "3D wanted to be seen differently. It wanted you as a director to immerse much more of the scenery and imagine every shot as the space in front of you. … With 3D, you have to think of the entire space that you're organizing. When I trusted that space; trusted the fact that we would see it when we were there, that was really throwing ourselves into space. It was a space adventure."
This "space adventure" into the ephemeral realm of dance marks a major departure in the body of work by the German film director, best known for his powerful films like 1984's Paris, Texas and 1987's Wings of Desire. What links this documentary to his earlier works is Wenders' painterly compositions and his willingness to allow scenes to play out without resorting to fast cuts in his editing strategy.
Wenders gives credit where it is due, citing his long-time affinity for painters as the most important early influence on his filmmaking. And you can see traces of such painters as Edward Hopper and others exerting their collective influences on Wenders' compositions and how he organizes cinematic space throughout his work.
"To tell you the truth, I learned more from the history of painting both as a filmmaker and as a photographer than from the history of photography and the cinema," Wenders says.
"When I was a little boy, all I wanted to be was a painter. I loved the old Masters; I loved Dutch landscape painting. That really influenced me. As a photographer, that was my school. I learned about framing, which was great for filmmaking. When I learned about movies, I already had a certain mind of what a great picture is."
Knowing what makes a great picture continues to inform Wenders' filmmaking and photography practice. You see this acute affinity for carefully arranged compositions in all of Wenders' films where the camera leads the viewers' gaze with a deliberate, lingering pace.
For instance, cinematographer Robby Müller's bare-bones camera work captures the scarecrow-like gait of protagonist Travis (portrayed by Harry Dean Stanton) as he wanders across a desert and cityscape like a sleepwalker in a trance in Paris, Texas. You also see it in the lyrical, black-and-white images of benevolent, winged sentinels hovering above the fray of messy human dramas in Wings of Desire shot by the late cinematographer Henri Alekan, best known for his work on Jean Cocteau's 1946 masterwork, Beauty and the Beast.
In fact, Wings of Desire is heavily influenced by Wenders' first experience of being dragged to one of Bausch's dance performances by his former girlfriend, actress Solveig Dommartin. Wenders explains that he wasn't a fan of modern dance before being introduced to Bausch's work.
"If you see Wings again, you'll see that it has a very chorographical flow," Wenders says. "Its circus themes, especially the trapeze scenes, are the most choreographed things I had ever done in my life. And the woman on the trapeze was my girlfriend at the time, introduced me to Pina. She was the one who dragged me against my will into my first Pina Bausch show, saying 'You have to see this.'
"I didn't want to go. I said 'It's dance, come on. It doesn't concern me.' She insisted and I think her reward was that I then wrote Wings of Desire for her and she was dancing."
Pina opens in the UK April 22nd. Here's a complete release calendar.