The New in Nouveau is a Moving Target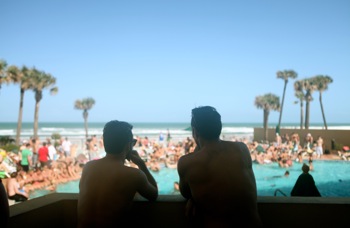 Montreal's Festival du Nouveau Cinema deals in the new, from new cinematic territories to new media forms that take their cues from film. The Independent's Patrick Pearce met with FNC Lab section and short film programmer Philippe Gajan to chat (in English and French) about what "new" means to him, and why it is so difficult to identify documentaries at the FNC.
Patrick Pearce: Tell me about the FNC Lab.
Philippe Gajan: The FNC Lab is dedicated to the avant-garde, and to new media. Each year, we have to give a new definition to these terms. It's very important when we have the arrogance to call ourselves a festival of new cinema, to say: we don't know what new cinema is, because new cinema is what is coming. For us, new cinema is also now on the web, on new platforms and dedicated to mobility.
This festival has been following new trends since 1971 when it was launched as the Festival of Cinema in 16mm and was dedicated to the structuralist avant-garde. Then it became the Festival of New Cinema and Video at the end of the 70s, and later the Festival of New Cinema and New Media. So now it's Festival of Nouveau Cinema, but this year you could call it the 'festival of new cinema and Internet,' and so on. So we are looking from cinema towards new forms.
PP: It is interesting that there is no documentary category per se at the FNC. I had to use Google to find doc-related films on the festival's website.
Gajan: Oh Sorry! [laughs] But we like this idea that the purpose of the festival is to mix. For me a documentary is also a fiction; a documentary is also an essay. So the goal of the festival is not always to look at documentary as a theme, but to look at documentary simply as a film, and as a form. For example in our FNC Lab section, I am showing Eden's Ark, which is a reflection on cinema, on memory, on oblivion, on archives, and it's made using the botanical field as an analogy. You can call it a documentary, but in reality, the only word I have to describe it is an essay. How can you apply labels to new cinema? If you want, you have four mainstream genres: fiction, documentary, animation, and experimental, but I'm very close to believing that the in between is more interesting. Because when you can apply a label, it's because you have already seen that.
PP: With Daytona, I see a fictional story set in reality.
Gajan: With Daytona, it's not a documentary in the sense of 'we know what is happening and we're going to illustrate our thesis.' It's in the real world with two actors, and it gives the viewer a way to be part of this world. It's easy to see people going to spring break in Daytona as stupid, this kind of youth who has no responsibility. I don't care about that. This film takes the time to install this atmosphere. It assumes the sense of vulgarity in itself and doesn't say, 'look at these guys, they are vulgar.' You break the frame. The course between fiction and documentary gives you a new sense of experience.
PP: And reveals a kind of truth.
Gajan: I don't know, because for me what is important is the viewer. You will make your own experience. You will decide where the truth is. It's strange, because of the Internet, for example, the principal question is not: 'Where is the truth?' It's 'Where you can find it.' And now you have to decide if you want to find it, because there are so many sources today. You can't say, 'this source is the legitimate one,' but you have the tools to do your own research, to believe what you want. I am not in the reality business. Jean-François Lyotard, at the end of the 80s, was saying that in the future, the question will not be the knowledge, but how to acquire the knowledge.
PP: And how we construct our own narrative.
Gajan: Yes, and how we can share our own narrative.
PP: How would you describe your editorial line?
Gajan: Big question. In a way, I'm not choosing, it's the works which are choosing the editorial. This year, we have a cycle called Virtually Sublime. We have not decided that this was the year we have to explore this strange border between reality and virtuality. We received so many works—films, features and shorts, websites, conferences—that this cycle came about. So we have a bunch of works; some fall into oblivion immediately, some stay in our memory. Within this memory, there is this attraction-repulsion between works, and this is, for me, what creates the editorial line. Each year, we have to establish the state of possibilities. Some of these possibilities will be dead ends; they will have no heirs. Some will be very successful. Without the avant-garde, without experimental cinema and the surrealist authors, there would be no music videos. The origin is the avant-garde; they use the same forms, this idea of repetition and things like that. To try to be new is to try to embrace all of these possibilities; a large spectrum at least.
PP: Including performance.
Gajan: Performances, installations, and conferences are for us this idea of expanded cinema.
PP: Meaning that within these forms you are looking for cinematic elements?
Gajan: Exactly. Nominoë, for example, last night. This is the new and old together, because [this collective was] screening with old 16 and 35mm projectors, using devices of nowadays: big screens suspended in the air and screening with five projectors. They were six [people], five projectionists and one person on sound. The idea is that cinema screening can be live.
PP: Web documentary…
Gajan: Each year we have a discussion on and program on the basis of two issues: creation on the web and diffusion on the web. For a long time, the web was mainly a replication of old media, but in the past two years, it has also become a powerful tool of creation. In the beginning, the web doc was doc with the idea you can reach audiences quickly. Now the web doc has become more sophisticated, integrating ideas of gaming, search tools, social networking… all of these creations which came out of the web can be part of the structure of works on the web.
PP: How do you see web projects coming to life and how are they getting financed?
Gajan: Documentary was traditionally linked to television stories. And now, in Canada, it is more and more linked to web outlets. So to fund in an official way is to have a television and an interactive outlet. But it's very difficult because money is, for the moment, in the hands of the old television funders, and they can't really invent the new web just like that. What we used to call TV documentary now has to have a web outlet, but usually it's just a [streaming] application, or uses some gimmicks. Not very interesting. We can't say you need less money, but you have to think differently. Sometimes you can begin with less money, with a lot of experience in data. It's the artists that are making the web here, so the funding has to change.
PP: We have organizations in Canada, like the National Film Board of Canada (NFB), that seem to be adapting to this platform.
Gajan: The NFB has been traditionally dedicated to new forms. For the moment, it's a time for them to search and explore. The NFB, with a lot of partnerships, with Arte for example, are developing a lot of web documentaries and are thinking in web terms, more and more, and not in documentary. So the web doc is emerging really as a new media, and not as a documentary on the web.
PP: With a difference audience rapport.
Gajan: The place of the viewer is completely different now. You can choose the way you participate in the documentary. You can view the documentary as a film. But also – the example of Prison Valley was very interesting—you can write to prisoners, you can chat with other viewers. So there are many ways to put yourself in the work, to be with the work, and to share the work. This is web doc for me. All these possibilities to engage you as a viewer, in the way you want. Just like a video game in a way. Two gamers don't have the same experience, two viewers of a web doc like Prison Valley or Barcode (the new web doc made in partnership with Arte and the NFB) don't have the same experience.
PP: I'd like to get your thoughts on a few more crossover films within the FNC's program this year. Yodeling Farmer, for example.
Gajan: This is the Winnipeg scene. Guy Maddin is the best known figure of this scene, but there are many things going on. This film is very inventive formally, where documentary is merged with animation to bring you into a completely imaginary world, into this strange idea that, in the middle of the Manitoba prairie, there is a man who is yodeling. I like the idea that as you are approaching this man, he is, in visual terms, giving you these strange possibilities.
PP: It's like opening a door to a kind of magical…
Gajan: Exactly. And we need fantasy at this time. For example in Quebec we have been for 10 years now in this naturalistic approach. In a way, we are tired of that.
Social reality…
Gajan: Yes. And psychological reality. It's too naturalistic in a way, because the world is complex. You can't just do a film that takes a little piece of so-called reality and present it to the audience as reality. So Yodeling Farmer is an opening to many universes, it's fun and it has a lot of vitality.
PP: Can you talk about Globodrome?
Gajan: A film like Globodrome is completely fascinating. The director [Gwenola Wagon] took the narrative premise of Jules Verne's Around the World in 80 Days. She invites us to do a tour of world, using Google Earth. There is something very playful in this—I loved Jules Verne and still do—but at the same time it's totally dramatic. She ends on Walt Disney's smile. Disney's dream was to put the world in an amusement park. This kind of positivism that's a bit naive and exaggerated. There's an interview with the two founders of Google which is terrifying. They are reproducing exactly Disney's idea. So she's saying: we are in this moment in time which is absolutely fabulous. We can make the earth turn using our fingers with Google Earth. But when we follow this path, and we see all these videos literally tossed in the ocean, the planet ends up as if covered by a layer of material, implying it is slipping ever away from us. Diversity is crushing diversity, because it's like we're like in this giant garbage can where anything goes.
PP: Yet a festival, through its curating capability, brings audiences into a thinking process and allows encounters through discussions, conferences, the festival bar, all of which help to digest and understand.
Gajan: I would even say this is the primary purpose of a festival today. For two reasons. The idea of the premiere no longer belongs to festivals; it belongs to the web. And people on the web need, more than ever, a place to take some distance and exchange ideas. For me, the key word for a festival, for a programmer even, is 'encounter.' We organize encounters between works. And our role, especially in this extremely specific period of time where anything goes, is to give an editorial line to anything goes. This is a fascinating time to be doing this.
---
---
Regions: Canada