Film Festival Scholarship and Professional Networks on the Rise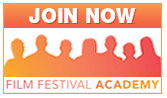 As international film festival circuits become increasingly visible online, scholarly interest in festivals as objects of study, particularly outside the US, continues to grow. At the same time, festival professionals are realizing the potential in forming collaborative partnerships through membership networks. Enter the Film Festival Academy (FFA) and the Film Festival Research Network (FFRN), two recent initiatives that endeavor to connect festival professionals and academics in online communities.
The FFA is a networking platform for festival professionals and academics that hopes to foster opportunities for collaboration, knowledge exchange, and operational training. Co-founder Tomas Prasek describes the FFA as, "a serious and seriously useful and respectable source of information for festival organizers and for people in the academic environment." A second function of the initiative is to organize networking events and panel discussions at film festivals.
The idea for the FFA was conceived during the annual International Film Festival Summit (IFFS) in Paris in 2012. Prasek, who is also a founder of the festival management software company Eventival, said that he and FFA co-founder Yoram Allon (publisher of The International FIlm Guide) wanted to organize a grassroots "all-encompassing platform" that would have both "an academic edge but also a practical one." Since the organizers behind IFFS also run other industry conferences, such as the International Music Festival Conference, the FFA founders aimed to create a professional hub run exclusively by and for festival professionals, strengthened by the expansive connections the organizers have established over the years.
Part of this vision for the FFA includes enabling a wider variety of festival professionals access to technical and organizational resources. This entails how fellow festival professionals tackle everything from DCP projection issues to hospitality strategies. "If you're a manager or programmer you get to go to a lot of festivals and see a lot of stuff, but if you do a lot of the operational jobs at festivals, you never get sent to other festivals," Prasek said. "The idea was to convince the people who make the decisions about how their staff will be educated. I have seen so much useless competition in areas where collaboration would have benefited both parties…everybody says, 'How do other festivals deal with that?' and that's exactly what people should be asking through some kind of platform."
The FFA had its inaugural event last September at the Film Society of Lincoln Center during the New York Film Festival (audio from the panel sessions was recorded and is available). While the founders initially conceived of the FFA as a primarily European platform, they were surprised when the Lincoln Center proposed to host the first event. The two-day gathering included panel discussions on professional topics like programming for New York audiences, as well as more academic subjects, such as the emerging field of film festival scholarship and "an interrogation of the film festival form." Panelists and speakers included Scott Foundas (New York Film Festival), David Schwartz (MoMA), Lisa Schwarzbaum (Entertainment Weekly), Dan Nuxoll (Rooftop Films), and Faye Ginsburg (New York University), among others.
The FFA is currently undergoing a period of restructuring as co-founder Yoram Allon left the organization at the end of 2012 in order to pursue other projects. Since the organization is essentially volunteer-run, each of the principals has day jobs to contend with as well. Allon had hoped for more regular, daily involvement. "Yoram thought if it's not something that can be a daily intensive job, he [couldn't do it]," Prasek said. "What the FFA will do and be this year is less clear than it was last summer." Organization of additional events is on hold, but the membership platform remains on the site as a means of providing festival professional with a way to connect with each other. As of February 2013, the restructuring of the FFA is underway.
A partner of the FFA, the Film Festival Research Network (FFRN) was founded by academics Marijke de Valck of the University of Amsterdam and Skadi Loist of the University of Hamburg in hopes of connecting scholars interested in studying film festivals with work published on the subject. De Valck's 2007 book, Film Festivals: From European Geopolitics to Global Cinephilia (Film Culture in Transition)
, represented one of the first efforts to provide academic analysis on the topic of film festivals. Lost was beginning her own research on LGBTQ film festivals when she heard about de Valck's work, and reached out to her about the lack of substantial scholarly work on the subject. "Slowly stuff on festivals started to appear," Loist remembers. "But most stuff started out by saying, 'it's really weird that no one's written stuff about festivals.' And after we read that 20 to 30 times we said no, actually it is [written], you just have to find it and make use of it."
In order to give visibility to existing festival scholarship, Loist, de Valck, and others compiled a bibliography that has since evolved into an expansive list of resources for those interested in festival scholarship. Offline, the FFRN began as a work group at the 2008 conference in Budapest for the European Network for Cinema and Media Studies (NECS). The work group then migrated to North America, in the form of organized panels at the 2010 Society for Cinema and Media Studies (SCMS) conference in Los Angeles. The FFRN organizers have continued to coordinate panels for both of these conferences that take place annually in Europe and North America. "Right now it's pretty grassroots," Loist explained. "Whoever wants to pitch in does."
Loist sees potential for independent filmmakers to extract professional insights from academic work on festivals. "Once you read up a bit on how programming is done by programmers at festivals, I think that gives a good idea to a filmmaker about how to get into festivals," she said. "Festivals are becoming part of the industry instead of just being a showcase, since they're giving out money through film funds. How that might be influencing filmmaking might be an interesting point for filmmakers."
Loist and de Valck also orchestrate film festival reviews for NECSUS, the international journal of NECS. "On the one hand it's an academic peer-reviewed journal, but on the other hand its online open access to everyone," Loist said. "The festival review section is not just about the films shown as much as about the festivals themselves, but is not written as a dry academic text. It's more journalistic."
Just as festivals are forming partnerships and online communities (see the Human Rights Film Network, for instance), these festival networking platforms are forging connections as well. The FFA's desire to put festival scholars and organizers in conversation inspired the current collaboration between the FFA and the FFRN. When Allon and Prasek approached the FFRN about their proposal for the FFA, Loist liked the idea and agreed to join as the project's academic liaison. "I thought it would be a good way to further bridge that gap, like how do you actually make those academic results available [to practitioners]. It seemed to be the next step in a way to collaborate with that project, so I said sure, I can help by finding presenters for events like the one in New York for instance."
---
---
Regions: International