Why Edginess Counts in Doc Distribution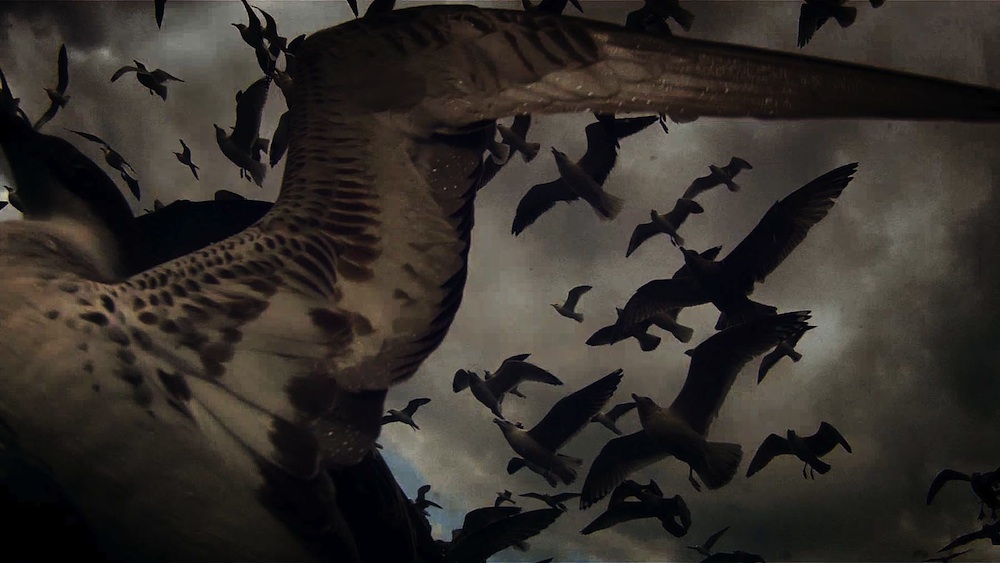 What do documentaries about the commercial fishing industry and a 1960s Indonesian genocide have in common? Their distributors picked them up because of, not in spite of, jarringly original content and unconventional cinematic style. This spring and summer Cinema Guild is releasing Leviathan and Drafthouse Films will release The Act of Killing theatrically in the United States. That's on the big screen, where seemingly fewer and fewer documentaries are seen.
Cinema Guild acquired Leviathan by Lucien Castaing-Taylor and Véréna Paravel during the Toronto International Film Festival. Cinema Guild had distributed Castaing-Taylor's previous film, the one-of-a-kind documentary Sweetgrass. Ryan Krivoshey of Cinema Guild said he was drawn to Leviathan for its highly original approach to the commercial fishing industry. "[Castaing-Taylor] sent us a screener right when it was premiering at Locarno. The very next day we all spent an hour discussing the film, it blew us all away." Leviathan opened theatrically in New York the first weekend of March, bringing in about $10,000 its opening weekend, the second best per screen average in the country that weekend and comparable to Sweetgrass's $9,000 opening weekend. (Sweetgrass went on to gross $207,000 in nine theaters.)
Krivoshey believes that the film's "marketing hurdles," including the lack of dialogue and dim lighting also play into its strengths. "We knew that when people saw it they wouldn't be able to stop talking about it." After premiering at Locarno, word of mouth helped drive Leviathan on a successful festival run to Toronto, New York, Vancouver, IDFA, Viennale, Hong Kong, Istanbul and others. Cinema Guild funneled that hype into its theatrical release, playing up on the experience factor by marketing it as an unusually physical cinematic experience. "The amount of social chatter we saw on Facebook and Twitter during the [opening] weekend was just amazing," Krivoshey said.
The film, which was shot on a dozen GoPro waterproof cameras attached at times to the ship and the fishermen, packs a primal blow that Krivoshey (and others; Filmmaker Magazine called it a "nonfiction game changer") has likened to a "thrill ride." Krivoshey said, "We knew that people would want to experience it and want to see it on the big screen so we knew it would have that kind of word of mouth." The distributor also tapped into tangential topics like environmental, social context, and food industry issues in order to reach wider audiences.
Cinema Guild plans to keep Leviathan in theaters throughout the summer and transition to VOD and other digital formats in the fall. "We're going to push it so that whatever theater wants to can play the film," Krivoshey said. The doc has already played or is set to play in small and independent theaters in New York, Seattle, Nashville, Phoenix, New Orleans, Miami Beach, Chicago, and Los Angeles, among other cities. Meanwhile, it continues to play in festivals in the United States and Europe. Beyond that, Krivoshey confirms that home video and digital are increasingly viable markets for non-mainstream fare like Leviathan. When it comes to marketing schemes for independent documentaries, Krivoshey appreciates the potential "to target social issue groups. When we released the Leviathan trailer it made headway in regular cinephile circles but it was also picked up on food blogs and other non-cinema sites."
Evan Husney of Drafthouse, the distribution arm of Austin-based exhibition chain Alamo Drafthouse, described his initial interest in director Josh Oppenheimer's The Act of Killing with similar enthusiasm for original content and gripping style. The Act of Killing follows former death squad leaders from the 1965-1966 killings of Indonesia's communists and ethnic Chinese after a failed coup. The regime that slaughtered thousands is still the ruling power in Indonesia; the gangsters who did the slaughtering are regaled as war heroes. The film, which Husney saw at the Toronto International Film Festival after it premiered at Telluride, left Husney "absolutely floored" by its originality and powerful impact. "It was like I'd been punched in the gut and was literally dazed after the screening."
Drafthouse liked the doc's "esoteric filmmaking qualities." Anwar, the main subject, began his criminal career by scalping tickets outside the cinema in the early 60s, earning himself the title of "movie theater gangster." Anwar's love of film shaped his style significantly: first he adopted the fashion on display in gangster films and then the murder methods, opting to kill his victims by garroting them with wire. Since Anwar and his cohorts had never been asked to confront their past crimes, Oppenheimer asked them to create movie scenes about their experiences of the killings. Infatuated as ever with cinema, Anwar and his friends develops scenes inspired by westerns, musicals, and gangster films, portraying themselves as well as their victims. Over time, by recalling the past through fiction, Anwar starts to face the full reality of what he's done.
When it comes to his company's acquisitions strategy, Husney said, "What [Drafthouse] ends up really responding to very viscerally are these movies that are completely new and completely original." Part of the distributor's marketing plan for The Act of Killing will be to showcase it as a "breakout film from a breakout filmmaker," in combination with the unique, challenging, and politically pressing content "to create a curiosity factor in people," Husney said. "And we're going to lead very aggressively with an Oscar campaign." This entails a traditional theatrical release so as to qualify for an Academy Award nomination. Drafthouse hopes to draw in audiences by pointing to the importance of the film's largely untouched but incredibly politically charged subject matter. Husney also cited the value of support from executive producers Errol Morris and Werner Herzog.
Drafthouse plans to implement a staggered release, beginning in July. "We've experimented with a lot of different windows and release strategies around films," Husney said. "Right now it's looking like we're going to be opening the film in a select number of markets in July and then just rolling out as wide as we can from there. As of right now we're looking at a traditional release." Oppenheimer was also involved with conceptualizing the release, which will include a 30-market theatrical run.
---