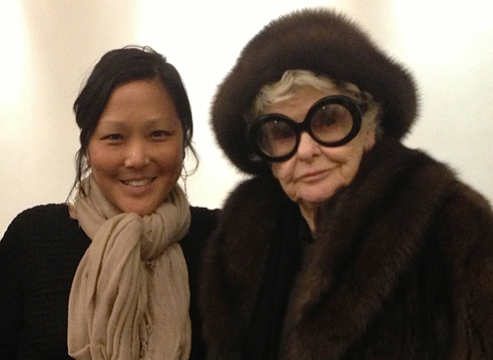 10 to Watch Chiemi Karasawa and her "hurricane" of a doc subject, Elaine Stritch.
Acclaimed producer, CEO, and now first time director with a Tribeca premiere for her documentary, Elaine Stritch: Shoot Me – that's why Chiemi Karasawa is one of our 10 to Watch in 2013.
As founder and CEO of Isotope Films, Chiemi Karasawa has produced award-winning documentaries, including Betrayal and Billy the Kid and the 2013 SXSW doc, Harry Dean Stanton: Partly Fiction. Before that she worked as a script supervisor for film and television, (High Fidelity, Adaptation, The Sopranos, & Sex in the City). Next up, she'll direct Plié, about a dance school for handicapped children.
Rebecca Reynolds spoke with Karasawa about her film, her new role as a director, and her what it was like to work with Broadway icon Elaine Stritch, now 88, known for her firecracker personality and, most recently, as Jack Donaghy's ball-busting mother on 30 Rock. The Tribeca premiere is timely as Stritch has recently announced her move from New York back to her hometown of Detroit, Michigan.
Rebecca Reynolds: How did the project with Broadway legend Elaine Stritch come about?
Chiemi Karasawa: I was working as script supervisor on a feature John Turturro directed called Romance and Cigarettes, and Elaine Stritch came in to do a few scenes. And in typical Stritchian fashion, she was a hurricane. The script supervisor usually prompts people on their lines for continuity, but I just looked at John on the third take and said, "Do you want me to give her any notes?" And he said, "No, you've just got to let her go. This is Elaine Stritch."
Several years later I crossed paths with her at my hair salon. I asked my hairdresser, Piet Sinthuchai, "Is that Elaine Stritch?" Piet said, "I think you should make a film about her." So, I went home and I Googled her and I YouTubed her and I downloaded her. And I could not believe who she was – in terms of her history, her singularity and her talent. (Piet is now an associate producer on the film.)
RR: Tell us about your transition from producer to director.
Karasawa: Actually, Elaine made that decision — most decisions are made by Elaine. There was a four or five month courtship where I tried to convince her to let me make the film. When she finally agreed, I said, "Now we have to find a famous person to direct you." She said, "You mean I have to meet another person? Well, why don't you direct it?"
RR: What gave you the confidence to tackle this new role?
Karasawa: After 15 years as a script supervisor, I'd learned a lot sitting right next to the director, and I've been the producer for quite a few first time directors. As I acquired more skills, my desire to tell great stories propelled me into every new role.
RR: What about fear?
Karasawa: Fear is part of the excitement. You have to allow yourself to become afraid to be successful.
RR: What's your storytelling style?
Karasawa: All my inspirations are verité-based filmmakers (D. A. Pennebaker, the Maysles, Nicolas Philibert). Verité style infused with narrative accents. The best part of storytelling and filmmaking is where you just let the characters reveal themselves to you on screen. Not by what you manipulate them to do.
Find out more about Chiemi's latest projects: www.isotopefilms.com
Go "Inside the Director's Head" in our fun and revealing Facebook "Extra" with Chiemi. (With apologies to James Lipton and Proust.)