10 Filmmakers to Watch in 2013: Katie Graham and Andrew Matthews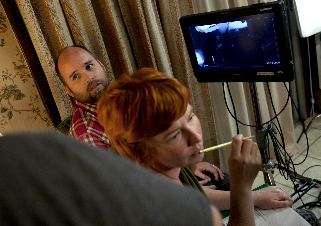 For most filmmakers, the road to the director's chair can be circuitous at best. At first glance, this might seem doubly true for first time directors Andrew Matthews and Katie Graham. Andrew, a classically trained actor, found that his acumen for computers led to work as a film editor, whereas Katie's background was in cinematography and worked as a DP. Together, they worked in those roles on the feature documentaries Best Worst Movie and The American Scream.
Andrew saw it as a natural progression. "Katie and I had been working together, making short films. We had a cable access show for a short time in LA. We always wanted to make our own films." For Katie, part of that was where they grew up. "I grew up in Hollywood. I don't think you can grow up there without wanting to make a film. It's really hard not to. It's just around you everywhere."
What makes their journey unique is that it was, in some ways, planned. As Matthews relates, "We were at SXSW with Best Worst Movie when we said, "let's move to Austin and make a film! And maybe someday we'll be directors here." Six months later, they made the move from LA to Austin. And in 2013, the world premiere of their film, Zero Charisma, won the Narrative Spotlight Audience Award at SXSW.
"For us personally," Graham said, "Austin feels like a magical place where dreams come true. We set our sights on something and it happened. You can't ask for more than that."
Filmed in Austin, Zero Charisma is more than a peek into the geek subculture of tabletop role-playing games. With an immersive script—written by Matthews—and the nuanced performance of Sam Edison as the film's tragic-comic lead character (Scott, the dungeon master), the film transcends its niche subject matter and explores the pain of social awkwardness and the fear of losing the one good thing you might have in your life.
They cast Edison despite some pressure to choose a more traditionally handsome leading man. This, according to Graham, made them even more adamant to go their own way. "We would like to, ideally, make movies as close to a real situation as possible — as close to reality as possible. That is fun for us as filmmakers." And it is in this balanced and honest portrayal of a flawed — even, at times, off-putting — character where the film shines.
As Matthews sees it, balance is also a strength of their working relationship. "Katie is the eyes and I'm the ears. I tend to work more with the actors and the dialogue. She's definitely more about the visuals, the shots, the art direction and the look of the film." This complementing directing style allows them to focus on what they do best. After spending 13 years together, they are now engaged.
Since premiering at SXSW, Zero Charisma has played the Friar's Club Comedy Film Festival and is slated to screen at both the Newport Beach Film Festival and the Maryland Film Festival this summer.
To learn more about the film and the filmmakers, visit: www.zerocharismathemovie.com.
For more information about filmmakers Katie Graham and Andrew Matthews, see the Facebook interview with Thomas Fernandes, AD and producer of Zero Charisma.
---