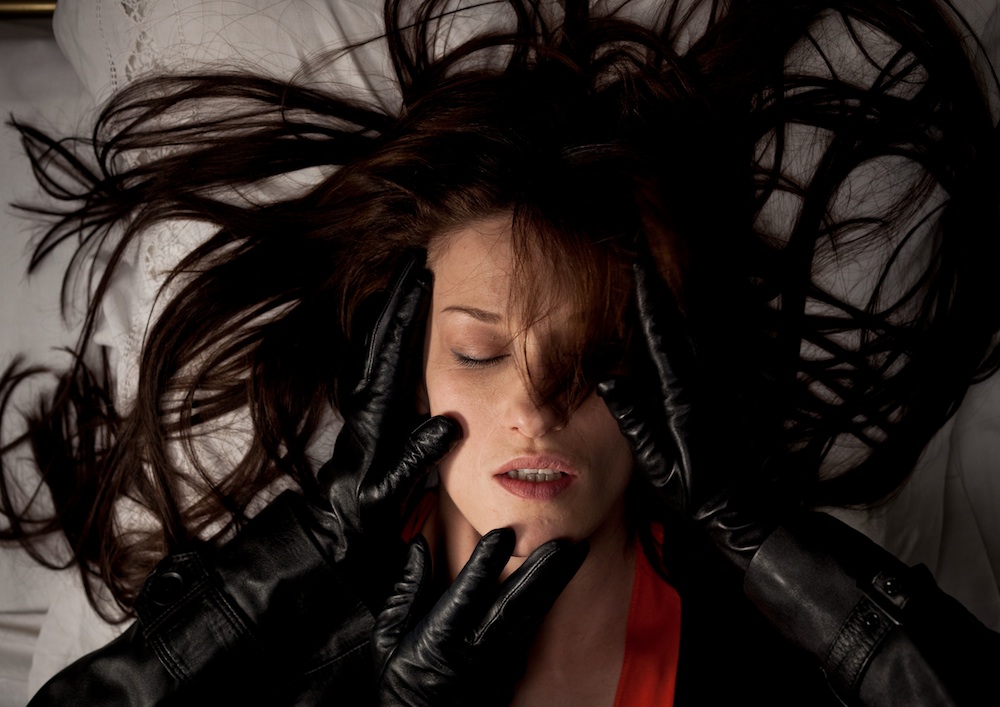 Sylvia Camarda in "The Strange Colour of Your Body's Tears."
"That day is not good for him—he's really tied up," writes my usually agreeable Festival du Nouveau Cinéma (FNC) communications point person. Now in its 42nd year, this Montréal festival is a broad sweep of contemporary cinema with a dozen sub-programs from "the year's best films" in Présentation Spéciale to "gems from around the world" in Panorama to the Canadian films in the Focus program. I set out to capture a few hours in the life of FNC's twisty Temps 0 program and its programmer Julien Fonfrède. After a few days of uncertainty, I finally got the green light.
5:27 pm: I meet Julien Fonfrède who is already looking somewhat haggard on day three of the FNC. He tries to enjoy a smoke break outside the festival's headquarters, only to be interrupted by the arrival of Eve Commenge, producer of what sounds like the evening's highlight in the Temps 0 program. Soft-spoken and biker-jacketed, Commenge is just off the plane from Brussels and smiles through her jet lag. I inquire about our schedule and notice it doesn't mention food. Skipping lunch was clearly not a good idea, but I decide to remain optimistic.
6:05 pm: "Tarantino would like to make films like this." We are walking briskly to our first screening and Fonfrède is defending Why Don't You Play in Hell?, last night's film in his hard-to-define program. Essentially a Japanese action screwball comedy with a romantic subplot, I felt the film might more easily belong in a genre-driven festival like Fantasia, Fonfrède's previous employer. He points out the kinship between Sion Sono's gonzo wannabe filmmaker collective protagonists and the Yakuza gang slash wannabe actors antagonists. Commenge is clearly bewildered. "Most critics will never cover these films," admits Fonfrède, "but the younger ones love us."
6:33 pm: "Oh my fucking God!" cries Elza Kephart as the opening titles of her film Go in the Wilderness appear on a large screen for the very first time. Her outburst is somehow fitting with the film's topic, a new take on the first truly defiant woman set in the Garden of Eden. Pleased with the sound check, Kephart directs heartfelt, thankful noises towards Fonfrède for having selected her film based on an early rough cut.
6:50 pm: "The Temps 0 audience is cool," says the programmer as he hands out audience award ballots, appreciative of his public's ability to forgive technical issues and substitutions like last night's switch of one Japanese film for another. It seems that other FNC section heads are not so lucky.
7:40 pm: "We didn't have that in Eden." The onscreen character Lilith, urged by her guardian to eat the rabbit he's just killed with his hands, is referring to hunger, which reminds me of my own. Having been banished from Eden, Lilith has much to learn about the pain of earthly existence before reentering the perfect garden. The actors' Toronto and Vancouver accents sound odd at first, but ultimately fit the contemporary and atemporal tone of dialogue in this Biblically-rooted Jewish folklore story. In Kephart's version, Lilith returns to Eden with questions that continue to challenge Adam's explanations of "what is," while experiencing jealousy at the attention her guardian bestows upon Eve.
8:25 pm: "And watch Adam's naked ass," Kephart concludes her motivations for shooting this film.
8:45 pm: Ten seconds after the end of Q&A, Fonfrède is out the theatre door. By the time I make it through the at-capacity crowd, he is nowhere to be found. As I mull over my options, friends intercept me.
8:55 pm: Walking fast, I am stopped in my tracks by the smell of food. The option of stale, by-the-slice pizza seems an incredibly good one, but there is just no darn time.
9:08 pm: "Shall we turn the sound up loud?" asks Fonfrède from atop the 819-seat Imperial Theatre's balcony. Commenge casts an eye around the ornate Adamesque-style venue and decides on a sound level of 5.5 out of seven.
9:15 pm: "We like to encourage the filmgoer to put him or herself in danger." The programmer finally gives me some meat in defining Temps 0, as he works his way through his fourth or fifth cigarette of the evening before having to be on stage again. "We try to create a space where there is some freedom, and we build up this sense of trust over time."
9:34 pm: "There are films we like and those we absolutely cannot miss." Fonfrède enjoys his audience's suddenly heightened sense of anticipation, and introduces Commenge, who, like the program summary and teaser, gives only a taste as to what they are in for with The Strange Colour of Your Body's Tears: "This film is built like a labyrinth and I hope you take pleasure in losing yourself in it."
10:42 pm: "Your dark side is the most beautiful thing you possess, and it will always belong to me." Telecommunications executive Dan Kristensen appears to take little solace in the note written in Flemish, possibly by his wife, who is possibly dead, possibly because he has, at this point, been stabbed through the head on several occasions during his quest to find her. Possibly because he has come to wrong conclusions, or possibly through the wrong doors in the hidden passages of this fabulous Art Nouveau building which backdrops the rapturous extreme fetishism of his wife and her captor. As the story's narrator, Dan seems terribly unreliable, prone as he is to memory lapses and looping experiences of pleasure and, more often, incredible pain. Yet the story is superseded by its form. A stunning update of 1970's Italian Giallo style, the film also draws upon David Lynch's sense of enigma and symbolism, and the gothic surrealism of Belgian films such as Harry Kümel's early 70s works, Malpertuis: The Legend of Doom House and Daughters of Darkness. I emerge from the film slightly traumatized, but marveling at the intensity of the experience.
11:36 pm: "About 30 people left during the screening. That's to be expected." FNC social media manager Thibault Desmoulin is good at his job. As Commenge later reported, according the count of her friend seated in the back, only seven out of an audience of more than 600 actually checked out. "This kind of [discrepancy] is how film legends are formed," she quips.
11:42 pm "If everything goes well, we go for a beer," says Fonfrède, obviously pleased by the problem-free success of the evening's screenings. It seems that the only sustenance we will be getting this evening will be in liquid form.
11:57 pm "I'm going to tie you up." The genre-subverting programmer relaxes as we approach the Université de Québec à Montréal's Agora, which hosts FNC Lab section and other performances, as well as thirsty post-screening crowds. Fonfrède describes the plan of a certain Japanese dominatrix who was scheduled to introduce him to the audience last night before R100 had to be substituted.
Who knows? Perhaps, she'll make an appearance at the screening this week.
For more information on FNC 2013, visit www.nouveaucinema.ca/en/.