Directors Mike Attie and Meghan O'Hara and editor, Lindsay Utz, is our 10 to Watch team in 2014 for their documentary "In Country."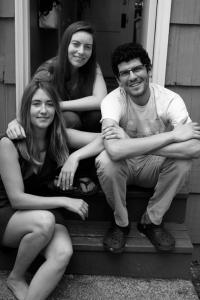 The "In Country" filmmakers Utz (far left), O'Hara, and Attie.
Every summer, a group of men donning full army fatigues heads into the Oregon woods as 2/5 1st Cav (R). Over the following days, they live, act, and battle as a platoon, transporting themselves into the 1950s' darkest hours in their ardent reenactments of the Vietnam War. An excerpt of history few wish to recall, a troop that willingly relives the era with such faithfulness can appear confusing, even absurd.
Our 10 to Watch filmmaking team—co-directors Mike Attie and Meghan O'Hara, and editor Lindsay Utz—explore this perplexity in In Country, a feature documentary that trails those involved in these reenactments to understand the motives and meaning behind them. Attie's previous award-winning short documentaries have screened at notable festivals such as SilverDocs and San Francisco International Film Festival, while O'Hara is the recipient of an Eastman/Kodak award for cinematography and a Director's Choice Award at the Black Maria Film Festival. Utz was awarded the 2012 Karen Schmeer Film Editing Fellowship for her work on the Academy Award-nominated documentary Bully. (The Independent wrote about her previously here.)
While war reenactments exist nationwide, Attie and O'Hara were especially drawn to 2/5 1st Cav's multi-generational makeup. "They have teenagers all the way up through 60-year-olds," O'Hara explained. "Also, many are veterans of Vietnam, Iraq or Afghanistan. That added another layer: Why would people with combat experience want to re-enact a war that so many want to forget?" From unforgiving production conditions to a laborious editing process—not to mention the sensitive nature of the subject matter—seeking answers called for both physical and emotional endurance on the part of the filmmakers.
"Meghan and I went out for days at a time on these reenactments," Attie recalled. "We wore the boots, slept in the mud, and shot in three consecutive days of pouring rain with no shelter." Though uncomfortable, being "in it" with the men built a solidarity that enabled open dialogue and access to their personal, often painful stories. "We presented ourselves very honestly to encourage them that we're not the type to make a smear piece about them," Attie said. "It helped. They began to treat us like we were war correspondents."
The gained trust led to over two years' worth of footage and the subsequent challenge of carving a coherent path through the material with the help of Utz. "Lindsay took creative leaps that we wouldn't have considered because we had relationships with the guys and experienced it all so linearly," O'Hara said. Utz agreed with the benefits of her out-of-context perspective, adding, "it was key to create an ensemble voice by selecting a handful of 'main characters' who spoke to larger ideas, ideas that people who watch this film not knowing anything can hold on to."
Utz's contributions meant not only selecting characters that best represented the broader themes at hand, but then reinforcing those themes with the addition of archival footage. "Watching the first cut, we felt that something was missing," Utz explained. "Then we came across stunning post-battle interviews with guys in Vietnam. They're frazzled, and their emotion is so raw. We started stitching in those voices with our story. It created an emotional continuum in time that reminds the audience of the real horrors of combat, and prevents the reenactments from becoming too abstract."
Despite war's grim realities, it was discovered that the reenactments are also driven by the participants' desire to connect with a unique brotherhood of veterans. "It doesn't matter where they fought; they share a camaraderie that has drawn men to war for eons," O'Hara realized. "We wanted to provide that nuanced portrait: Veterans can struggle with the wounds of war, but still love and want to be part of it."
Cathartic for some, commemorative for others, the reasons for play-acting a war proved varied and complex. O'Hara ultimately described it as the men "just getting what they need out there, whether it's escape, fun, or reflection." Whatever the motivation, the filmmakers were in agreement of the overwhelming, inexplicable power of reenactment. "It taps into something that can help release psychological states," Attie observed. "It's fascinating to us that you can pretend to do something and come away with as significant an experience as if you had done something real."
In Country won the 2012 Points North Pitch at the Camden International Film Festival and made its world premiere at the 2014 Full Frame Documentary Film Festival.
Learn more about the In Country team from the Camden International Film Festival team on our Facebook page.