10 Filmmakers to Watch in 2014: Miho Yamamoto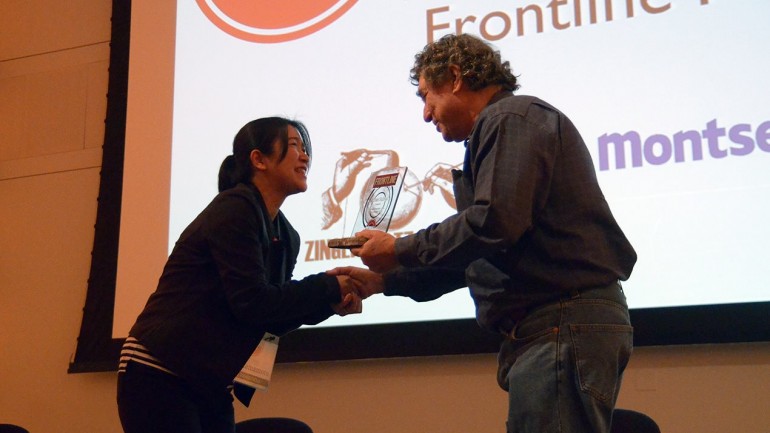 Miho Yamamoto is on our 10 Filmmakers to Watch in 2014 for producing the documentary "The Exhibition."
In the mid-2000s Miho Yamamoto was called to the station in the middle of the night to cover breaking news in her home country of Japan. She bristled at the restrictions of corporate media yet again ("you can't release this and you can't talk about this," she says) because it left the wrong impression with listeners. "I felt my hands were bound. I wanted to tell a story more in depth and with different perspectives," she says. Yamamoto decided then and there to become a filmmaker and found a one-year film school in Vancouver, Canada.
"All I had was two suitcases and a dream, that was 10 years ago, June 2004," she says, wholly sincere. The transition wasn't easy. "When I came home the first day I cried and thought, I don't think I can do this!" Two weeks later, as the credits rolled after Fahrenheit 9/11, she noticed the audience still laughing so she asked the man in front of her to explain what was so funny. He suggested they talk it through over coffee. One year later they were married. "He has always, always supported me," Yamamoto says about her now husband.
For nights and weekends going on almost four years, Yamamoto has needed her husband's support for her most recent project as producer of the provocative documentary, The Exhibition, about how a Vancouver artist and surrounding community respond to gruesome crimes against women. Yamamoto was working 60-hour-plus weeks in art direction on film and TV projects, in and around Vancouver, when she joined director Damon Vignale to make the duo's debut documentary.
Though primarily a fiction TV writer and director, Vignale had started shooting painter Pamela Masik's unprecedented departure from abstract expressionist-style painting (often described as "beautiful") into a series that depicts the faces of missing women, many of whom had lived on Vancouver's drug-addled East Side or worked as prostitutes, and all of whom were victims of Canada's most brutal serial murderer. To tell the whole story, Vignale wanted a female producer to help build relationships within the East Side community. The immediately personable Yamamoto impressed him with her ability to establish trust and rapport with others and he invited her to join his team.
"I started reaching out to [the victim's] family members, people who work in downtown's East Side, and started gathering information," explains Yamamoto. "It was like finding missing pieces of the puzzle and digging deeper and deeper and finding new perspectives on this issue [of missing women]—drugs, poverty, racial issues, violence, child abuse…"
Yamamoto says she and Vignale had very clear roles behind-the-scenes. "I was the front runner and I reached out to the people and explained what we were doing," she says. Because the victims' family members were media weary, it helped that Yamamoto was not representing a major broadcaster. She'd explain, 'We are just independent filmmakers,' and that opened the door to what, for Yamamoto, would become very intense relationships. Interviews that appear in the film were most often shot with Vignale on camera one and Yamamoto on the second camera, in a modest crew of two.
Neither Yamamoto nor Vignale anticipated the story's dramatic turns, which included protests against the exhibition of Masik's portraits and the cancellation of a major event. Though they had a long-standing relationship with the artist, Yamamoto explains, "We needed to be very objective," adding that "we believe everyone is entitled to their own stories… we interviewed with maximum care and delicacy, and we edited same way as well."
Yamamoto looked at cuts at various stages. "I have eyes from the outside," she says about her role as producer during postproduction. She'd make suggestions for adding certain interviews or comments to build emotional tension. "Always, we are balancing together," she says.
Once color correction was complete, Yamamoto says she and Vignale were completely burned out. "We didn't want to do anything with it! I told Damon, 'I think this is my first and my last documentary. I'm so tired and exhausted, making this film.'" But after witnessing the tremendous response from audience and programmers at The Exhibition's 2013 HotDocs world premiere and winning the Michael Sullivan Frontline Award at the 2014 Salem Film Fest, Yamamoto felt encouraged to go on. "That was like, so overwhelming, it just completely filled up the creative energy again and got me to move forward on another project," she says.
Because The Exhibition is such an emotionally-charged film, Jeff Schmidt, Salem Film Fest program director, could see that it required deft producing skills to navigate the complex conversations with film subjects. "I think one of Miho's strengths lies in her humanity," he says.
Before she left Japan, Yamamoto says she'd tell people, 'I'm going to Canada and become a film director,' but they would laugh or wouldn't believe her. She compares that feat to reaching the top of Mount Everest. Ten years later, she tells herself, "You're almost there." Next, she wants to make a film about the oppressed Ainu people, an indigenous population within Japan. With one last reflection she says, "Thank god those three years on The Exhibition was a lifetime experience."
The Exhibition received six Leo Award nominations, the awards program for the British Columbia, in Canada, film and television industry. The Gala Awards Ceremony will be held on Sunday, June 1st.
To read, Damon Vignale's take on his partnership with Miho Yamamoto and their work on The Exhibition, see The Independent's Facebook page.
---
---
Regions: Canada