10 Filmmakers to Watch in 2014: Stephanie Martin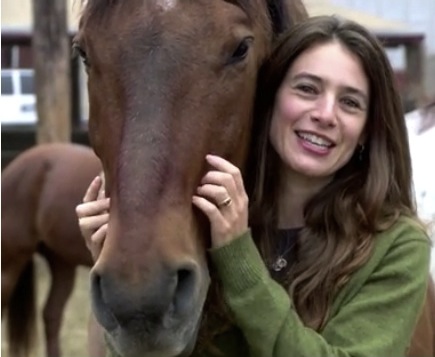 Stephanie Martin is on our 10 to Watch list in 2014 with her short and feature-script-in-progress, "Wild Horses."
It has become somewhat of a cliché: Write a script that you can shoot. The first short film from a new writer/director seems to always consist of two or three people in a single location sitting around a table yakking. It is easier on both the schedule and the budget.
The first draft of LA filmmaker and cinematographer Stephanie Martin's 20-minute short, Wild Horses—a film about the plight of wild horses in America—did indeed follow that model. "I had four or five locations and one horse." But it just wasn't working. This issue was very important to Martin, and she did not want her characters simply talking about it. She wanted a powerful, visually driven film. So, she took some advice from her husband. "He said, 'Write the film you want to make.' The very next draft had 45 horses and a helicopter."
Martin's passion for challenging work caught our eye and put her on our 10 to Watch list. She is currently writing a feature-length screenplay based on Wild Horses, aiming to complete a first draft by the summer's end. She will also be directing a film, in a separate project in 2014, produced by actor Bruce Dern.
This is generally the part where I would write about Martin's background, where she grew up (Brazil, California, and Argentina), where she went to college (Wellesley), and grad school (American Film Institute), etc. But right now I want to spend time talking about Wild Horses. It is an incredible achievement about a complex matter, and it deserves to be seen by as many people as possible.
Martin had been working professionally as a cinematographer for 14 years before deciding she wanted to direct her own material. "I like stories that shed light on an issue or change awareness about something." An avid equestrian all her life, Wild Horses began as an idea for a documentary about the circumstances surrounding the disappearance of the wild horses from the American West. But Martin decided that a narrative story would be a better way to get more eyes on the film and more awareness to the cause.
Martin wrote the first drafts of the script with Jessica Walsh, her former classmate from Wellesley. In January 2012 Martin applied to the AFI's Directing Workshop for Women with that script in hand. She was accepted in March 2012 and immediately began rewriting. And rewriting, eventually producing at least 40 drafts.
The story follows LA photographer Mills (played by The Killing's Mireille Enos) as she returns home to Nevada when she learns that a band of wild horses close to her heart are facing government roundup. Over the course of one day Mills, and the audience, must bear witness to the brutality and cruelty of a wild horse roundup. Martin uses imagery, sound, montage and her story line to bring the audience into this world.
Working with a budget of $30,000 (raised through Kickstarter, Indiegogo and other fundraisers), production of Wild Horses took place over five days in August 2012. Martin and her crew of 120 shot all of the exteriors in Simi Valley outside of LA, in five days. There are some incredible shots in the film with a team of horses in full gallop with a helicopter buzzing just over their heads.
The horses were provided and trained (in one day!) by Rex Peterson who has worked on pretty much any movie with horses you can think of, like The Black Stallion, Hidalgo, The Horse Whisperer and too many others to count. Three-time Academy Award winner, Robert Richardson (Django Unchained, Inglourious Basterds), served as the DP. His stunning photography was given a bleach-bypass grade in post to contrast it from the still photographs of the roundup that are expertly cut into the film. Pulitzer Prize winning photographer Melissa Farlow photographed images in the stills.
The power of the film comes from the combination of script and performance, cinematography and camera work, and the way it is all cut together with historical stock imagery, archival news material, spectacular still photographs, as well as a hauntingly beautiful musical score created for the film by German composer Hauschka. Wild Horses is a film that demands active participation from the audience. Editor Chris Kursel gives and withholds just enough information that requires the audience to pay attention, focus, and think.
Martin's passion for her project is evident in every frame and it is contagious, given the large group of talented artists and craftspeople who gave their time and skills to the film for little or no money. Wild Horses premiered at Palm Springs International ShortFest where it won the Best Live Action Short/15 Minutes-Plus Prize. The film is making the festival circuit and will be available on iTunes and other online portals soon.
Oh, by the way, did I mention she made this film while pregnant with her first child? Her baby girl premiered just before the film.
Check out our Facebook page to see a drawing by Rebecca Clarke, our in-house artist.
---