From Screen to Political Action, Cinema Politica is a Global Catalyst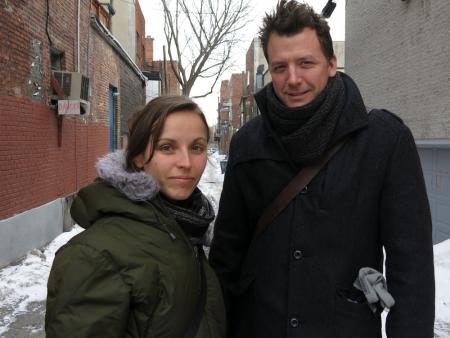 Patrick Pearce profiles the Montreal-based organization as it celebrates a decade of documentary activism.
A mid-August Wednesday evening in a Montreal park. Four hundred people have come out for an outdoor screening of The Corporation. It's been ten years since the release of this award-winning psychoanalytical indictment of capitalism's most important institution, and the left-leaning neighborhood crowd seems to be sitting on the edges of their lawn chairs as the film starts.
Also celebrating a ten-year anniversary are the screening's co-organizers Svetla Turnin and Ezra Winton, founders of Cinema Politica (CP). Turnin describes their first screening of a pre-release audience cut of the same film a decade earlier: "I had never seen anything like it. Everybody was writing furiously as soon as the credits rolled. We were amazed to see 650 people providing feedback on a documentary".
Engaged, participatory audiences are the norm at CP screenings, which the organization's founders see as a platform for social-political debate and activism. Not afraid to program films that touch upon sensitive topics like the Israeli-Palestinian conflict, the often-lengthy post-screening discussions sometimes become heated. "We showed a film on 9/11 and had jet fighter pilots who drove up from New York screaming across the aisle about conspiracy theorists. We have an audience that doesn't seem to hold back when it wants to criticize films, but then when they like the films, they really show their love, too. If you've ever been at a screening like 5 Broken Cameras, you would see 700 people all simultaneously jump to their feet clapping," recounts Turnin.
Cinema Politica was born out of Montreal's Concordia University, a downtown urban campus which, like NYU, has a long history of social justice and political activism along with strong programs in film studies and production. Through fans of the Concordia CP screening series who've become alumni and inquiries from other campuses and cultural organizations, the group has expanded organically, adding 70 "locals" (or chapters) across Canada and 20 internationally, mainly in Europe. Locals program films from the 600 titles CP makes available to its network, and occasionally screen films they receive directly from filmmakers.
While the weekly Concordia campus screenings attract large audiences, many of the locals are smaller in scale. In Berlin, Felix Lennert, a Concordia graduate and editor for a design book publisher, organizes screenings with fellow students from the Hertie School of Governance. Held at the artsy Twin Pigs bar in the hip borough of Neukölln, the twice-monthly screenings attract audiences of 50 to 60 people, a mix of students from the school and others from the organization's Facebook group. While Lennert says he and fellow organizers are considering a larger venue, they also appreciate the lesser financial pressure and "communal" quality of their current venue, which allows people to hang out after a screening and discuss the film over a beer.
Other locals bring CP films to more remote areas, such as the town of Falmouth, located in the upper area of Cape Cod, Massachusetts. Journalist and documentary producer Elise Hugus has been running screenings out of venues such as the local fire station and a nearby communal farm, and drawing a mix of members from the Cape's scientific community, retirees, and people who share an alternative lifestyle mindset. She sees the screenings as a way to build a sense of community: "People from totally different demographics end up finding a connection with someone they wouldn't have thought of. The screenings offer a way to feel a connection with the world but also with each other, and that's really gratifying."
Many of CP's films are connected to topical social justice, environmental and identity issues and campaigns, and engaging in these is a large part of the audience experience. Question and answer sessions often include representatives from local community or activist groups who connect film themes with local issues and respond to the classic question of "so what can I do about it?" A recent Cape Cod screening of environmentalist biopic Bidder 70 brought out local climate activist and lobster fisherman Jay O'Hara to talk about his 2013 blocking of a coal ship, and his trial in connection with the blockade. The audience was invited to follow the trial (starting this month), which will see pioneering use of the 'necessity defense' by which a crime is justified if it prevents a greater harm.
"We try, and I think we succeed, at creating an open and inclusive space where everybody can participate, where there can be a free flow exchange of not just ideas, but of visions of future action and real on-the-ground ways that audiences can engage, participate and activate change," says Ezra Winton. In addition to activist group representatives, Winton and Turnin make a point of inviting communities particularly concerned by the films' themes. Last season's screenings brought out members of the Haitian, Tunisian and various indigenous communities, among many others.
Roughly half of the films CP offers to their network are Canadian productions, with the remainder being split mostly between Europe and the Americas. A self-described stickler for diversity, Winton makes a point of ensuring as balanced as possible a mix in the gender, geographic, and ethnic origins of filmmakers. Beyond good storytelling, the selection privileges under-represented and politically topical stories, as well as ones which can tie into ways for audiences to take action.
For politically engaged films, CP increases a film's impact by reaching out to students, low-income and other non-festival audiences, often across several countries, and by mobilizing them to engage in awareness and action campaigns related to the issues. Brooklyn filmmaker Kelly Anderson, who screened her first-person documentary My Brooklyn in Montreal earlier this year was impressed by the activist audience and proceedings, noting, "I have never been to a screening where the film was preceded by half an hour of announcements of upcoming political activities. It was inspiring."
Filmmakers also benefit from CP's ability to extend the life of their films beyond the festival circuit. "Five years later, my film is still in the network, and it still gets used. New groups join the network. Some do a month of environmental screenings around earth day. This is a network that allows for the content to be the guiding force," says Canadian filmmaker Amy Miller, who has two films in the network, Myths for Profit and The Carbon Rush.
While CP locals can choose their films, CP's headquarters occasionally organize campaigns to get certain films on as many screens as possible. You Don't Like the Truth – 4 days Inside Guantanamo screened in some 30 locals as part of a campaign to repatriate Omar Khadr, a Canadian citizen and one of the youngest captives to be held at the US military prison.
A 2010 screening initiative involved The Coca-Cola Case and tied into a campaign to remove Coca-Cola's bottled water products from college campuses. News of the campus screenings led the company's lawyers to send threatening letters to CP, "which of course only made our initiative that much more popular," recalls Turnin.
As CP's executive director, Turnin works with a team of three to five people to create partnerships, manage finances, and operations across the network of 90 locals and their 200 volunteers. The two share screening duties at Concordia, with Winton hosting there as well as working as programming director for the network, leading a team of 12 to 15 programmers and collaborators in selecting and securing screening licenses for documentary features and shorts. Filmmakers receive a fee for either a one-time screening or for making their film available for multiple screenings within the CP network.
Turnin admits that running the organization is no easy task on its shoestring budget. In recent years they have received grants for operations and projects from the Canadian and Quebec arts councils. Locals pay membership fees, which range from C$250 to C$750 per local each year depending on the number of screenings and whether or not they receive institutional support. To cover their membership and screening fees, locals receive money from campuses, student associations and or collect volunteer donations at screenings. By agreement with CP, they are not allowed to sell tickets, but are otherwise pretty much free to run their screenings as they like.
For the two founders who also form a couple, CP has become more than just a common cause. "It definitely has colonized our personal lives, because, as everyone who works in the nonprofit sector says, it's not full-time, it's all-the-time," says Turnin. "The office used to be at our home. One office for both of us doing everything. At one moment, our bodies actually fused together. We had to have them surgically separated," jokes Winton, "luckily, we now rent a Cinema Politica office outside of our home and that, to a great extent, has helped us separate Cinema Politica from our lives. It's certainly a child, yes, but we also have a lot of other stuff going on."
Indeed. CP's director is completing an MA in Media Studies while Winton, with slightly more time on his hands, is doing a post-doctorate in documentary and social movements and teaching —currently a class on cinema and globalization at Nova Scotia College of Art and Design.
The duo have recently edited and released through CP a book entitled Screening Truth To Power, a reflection on documentary activism and the past ten years of CP's activities via essays, interview and lists of film favorites from filmmakers, film and media scholars, documentary critics, and theorists.
The book includes a quote from Mark Achbar, co-director of Manufacturing Consent and The Corporation. His words seem to capture CP's raison d'être: "In an age of corporatized, individualized media consumption, it is a political act to choose to share a film experience with other people in the same physical space. The Cinema Politica Network keeps alive the act of watching documentaries as an active, interactive, meaningful human experience."
Turnin and Winton are starting to think about handing the reins over to others, noting, "We don't plan on doing this in our 80s." Yet, as their 11th season kicks off, the organization feels more alive and dynamic than ever, and invites new locals to join the network and use screenings as catalysts for political action.
Here's info on how to start your own CP local.
Here's info on how to submit your film. Cinema Politica considers submissions twice a year, with an August 1st deadline for the Fall Program (September – December) and a December 1st deadline for the Winter Program (January – April).
---