TIFF 2014: Drafthouse's Tim League on the State of Distribution and Oppenheimer's "The Look of Silence"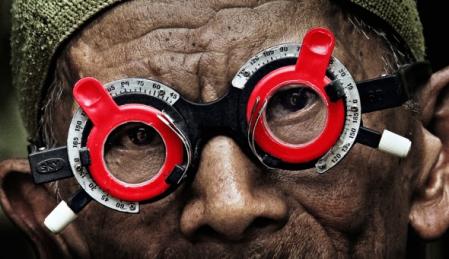 At TIFF 2014, Courtney Sheehan meets up with Tim League to get his latest take on distribution.
Forty-eight hours before Joshua Oppenheimer's The Look of Silence won the Grand Jury Prize at Venice (it's also been awarded best film prizes fromFIPRESCI and others), Tim League of Drafthouse Films, its distributor, is drinking a beer on a patio in Toronto.
On a break from his four-a-day movie-watching schedule at TIFF, League contemplates how a potential win at Venice would affect the release plan for the companion film to The Act of Killing, which won critical acclaim, an Oscar nomination, and box office success for Drafthouse. League already knew that Oppenheimer had been asked to return for press purposes at the end of the festival. "If it wins a major award that may be enough tipping of the scales to [release theatrically] this year rather than next year," said League. Before Venice, the tentative plan was to release in summer 2015. Releasing before the end of 2014, said League, "would be really difficult and I don't really want to do it."
League and Drafthouse now face making that quick and tricky decision of whether to roll out The Look of Silenceat the end of this year or wait until next. The Act of Killing, the first documentary cut from Oppenheimer's nine-year stint in Indonesia took an unconventional approach to the 1965 genocide of communists and ethnic Chinese in Indonesia. It let loose the devastating capacity of human imagination to reveal the horrors of discriminatory violence. While critics embraced the film, it was also scrutinized for its choice of subject: a killer who boasted about his responsibility for a thousand deaths.
The Look of Silence turns to the perspective of one of the victim's family members: Adi, an eyeglass salesman, who decides to confront known perpetrators in hopes of laying his brother's memory to rest. Though its interviews are more traditional and lack the grandiosity of choreography and set/costume design of its predecessor, The Look of Silence may hit all the harder for its directness. "If you drink the blood of your victims, you can do anything," the man who killed Adi's brother tells him while trying on the salesman's wares. "[Your brother] was probably a good person, but what could we do? There was a revolution." When Adi exclaims, "But a million people were killed!" the older man shrugs. "That's politics."
The Look of Silence joins a slate of films distributed by Drafthouse that ranges from campy horror (ABCs of Deathand a recently announced sequel) to foreign and repertory (The Visitor and Wake and Fright) to social issue documentary (The Overnighters). "We have a pretty broad slate. The only connective tissue of what we do is that we only work on what we love. We love some really silly stuff and we love some pretty heavy stuff too," said League.
For The Look of Silence, League plans to return to many of the strategies Drafthouse used to make The Act of Killing widely available for free in Indonesia through organized screenings, DVDs, and online platforms. "We're going to make the film available for free by any means necessary. Bitorrent, unsubtitled YouTube—which was one of the better ones for The Act of Killing. It doesn't affect [box office in the US] because you can't understand the movie if you don't speak this dialect. That was watched so many times. Josh still has a team in Indonesia so we distribute DVDs to anyone who wants them. So this movie's going to be screened everywhere, and we're not going to make a dime."
One new approach this time around is a partnership with Participant Media, a company known for its success with social issue films like Syriana, The Square and An Inconvenient Truth. "It seemed like a good partnership," Leauge said. "The woman who ran our PR campaign for the Oscars [for The Act of Killing] now works for Participant so it's another bridge. We were going to work with Laura Kim anyway and now she's with Participant. It just felt right."
The distribution landscape has undergone change even in the short time since Drafthouse released The Act of Killing. "How Vimeo is coming into the space is interesting," League remarked. "Clearly the various digital spaces are going to duke it out. You have to assume that the Apples and Amazons of the world are going to somehow dominate because they have the resources to market right and do the R&D. I don't know. I don't think anybody knows. If they say they do I don't think I would trust those people."
Box office numbers have been down this year across the country, (this summer is down nearly 20 percent from last year) and the question of whether aging cinephiles will be replaced by a new batch is up for debate. League attributes the dip to the titles themselves, not a waning desire to go see movies in the theater. "There was a lot of crap this year. Next year is looking like it's going to be a record-breaking year. If it's super down again next year, either it means what we're participating as really strong content is going to suck, or it's the apocalypse."
League recalled the moment when he decided to expand the Alamo Drafthouse reach beyond Austin, most recently with the announcement of a theater being built in downtown Los Angeles. "I wanted to establish a more national footprint with our theaters and in doing so I've got some lofty ideas about what that could mean. Developing a young cinephile audience is really important to me." Plus, he said, "I want to make sure that what drives me to expand is the idea that we can build an audience for foreign language film, for classic film, for challenging independent film—all at the same time by paying the bills with a more diverse slate of products."
League is "obviously still bullish about theaters because I'm building them. I find it humorous and inaccurate when people describe what young people do. So yes there's a lot more funny cat video consumption than there was 10 years ago but that doesn't mean that person is incapable of watching long form narrative entertainment. Yes I'm personally addicted to my cell phone but the idea that all young people have to have a second screen experience is ridiculous to me. I think a lot of people young and old realize that, yes it's part of our lives, but it's an addiction. All hope is not lost; it's not the apocalypse. There's plenty of really smart young people that can stay focused on a topic for two hours."
As for Oppenheimer's next move? "I haven't even talked to him about what's next," League said. "I think he's going to start working in romantic comedies."
Drafthouse Films is one of more than 200 distribution companies listed in The Independent's Guide to Film Distribution, Second Edition.
---