TIFF 2014: The Cinema Guild is Evolving with Cinephiles On and Offline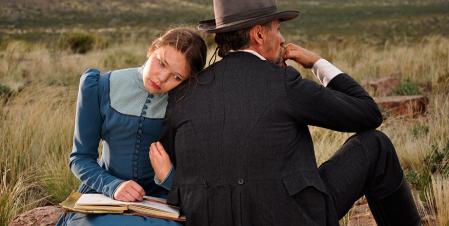 Courtney Sheehan talks with Cinema Guild's Ryan Krivoshey about the company's newest distribution strategies.
In recent years, the The Cinema Guild has cemented its position as a leading distributor of independent, foreign, and documentary films. Just a few of their latest critically and commercially successful releases include Leviathan, The Turin Horse, Museum Hours, Once Upon a Time in Anatolia, and Sweetgrass.
The Independent caught up with Ryan Krivoshey, head of acquisitions, at theToronto International Film Festival where Cinema Guild's latest acquisition,Jauja, starring Viggo Mortensen and directed by Lisandro Alonso, made its North American premiere. Krivoshey spoke about it being a crucial time for balancing theatrical and digital distribution efforts. Like others in the field at large, he's seeing a continued increase in online viewing habits. "Ultimately, everything is going toward day and date releases, which honestly I have no problem with, as long as there's a theatrical option," Krivoshey said. He understands the draw to watching films at home. "I barely have enough time to do work and the family and all this stuff so if there's a movie I want to see, it's harder to get to a theater to see it. But if it's a filmmaker that I like or I know I'll make an effort to see it on the big screen."
As theatrical box office dips, distributors like Cinema Guild are turning to online platforms like iTunes and Netflix as larger sources of income. "I don't see any kind of break down of anything, I just see it as an additional revenue stream to replace theatrical," Krivoshey said. "The thing it's going to hurt is the theaters. That's who's going to suffer."
At the beginning of 2014, Manohla Dargis of the New York Times called for distributors to "stop buying so many movies." Since the publication's policy is to review every film that secures a one-week theatrical run in New York, Dargis and other critics find their plates stacked with as many as 30 new releases a week—some of which are released theatrically primarily to get press attention before quickly moving to VOD.
In relation, Krivoshey observed, "What's happening is these VOD releases are crowding the market. For the most part these are films that don't need theatrical releases. It's stuff that back in the 80s would go straight to VHS. It's kind of this catch 22 because people are ignoring VOD, so [distributors are] opening theatrically so they can get attention for VOD. And that in turn is causing a glut in theatrical and it's crowding out press and space for films that really are proper theatrical releases. That's the issue."
Should the Times change its reviewing policy? Krivoshey wondered "if there's a way for the papers to dedicate [review] space to VOD releases," so that distributors would ease up on pushing obligatory theatrical releases with titles whose best commercial prospects lie in VOD. If distributors are relieved from having to spend $20,000 to $30,000 (average cost of four-walling in New York) just on getting a review from theatrical opening, "they're going to stop going to theaters in a heart beat," Krivoshey said.
For now, Krivoshey said, critics still play a key role in the release of a film. "A major reason our films do so well in New York and other markets is because our films are supported by local press. That's vital: critical voices, critical appreciation." Without that backing, the chances a film will succeed at the box office are jeopardized. "If we spend money on a film and the Times decides that it's not worthy to review, it's a huge loss. There's no way without that central pillar of support to get people to the theater."
Krivoshey acknowledged that "there are major tectonic shifts happening" but that it's important to consider these changes in a larger historical context. He compared the doomsday declarations about theatrical exhibition to similar claims about previous generations' beloved art forms. "I think one of the favorite things I read was from the turn of the century, when radios were just becoming prevalent, where people proclaimed the death of live music. 'Now that the radio is out, there's never going to be reason to see live music anymore!' That's just ridiculous."
The number of people who buy tickets to see independent films in the theater has always been low compared to overall population. "I mean, how many people go to the movies now anyway? In order for a film to be successful in New York, you need to have $10,000 to $15,000 weekend. You break that out, that's how many people? That's a thousand, 1,500 people out of all the people who live in New York City… In the 1930s the numbers were, like, half the population saw a movie a week. There's plenty of people who still go to the theater. And there's a large untapped audience who will not go to the theater but they will watch it online."
He described theatrical viewing patterns as, "a cyclical type thing," and referenced an article from 1986 about the climb of home video sales that echoes today's rise in VOD. "Every time I read an article that [says] there's only 55 year olds [at the movies]… but you go back in time and you're always going to see 55 year olds. I think it's just the natural progression of life. Even though the younger generation now has more distractions than previous generations, film is still a big part of their entertainment spectrum, their social spectrum."
The type of audience matters for digital platforms as well. "I say this all the time when I speak with the Netflixes and the iTunes of the world: the people who view [our films] are the passionate ones and the spreaders of the word. They're the ones who are going to text and tweet and tell their friends about it."
Rather than the death of cinephile culture, Krivoshey detects an era of evolution. He's convinced that it's little pockets of films, and the pervasive way that the public wants to engage with them, that in sum will yield something beautiful in the future. "I used to work at Kim's Video in New York. There used to be something to be said at the time for coming to the counter and asking, 'What would you recommend?' To a degree the same thing is happening online, on Criterion Forum and all these blogs where people are recommending films to each other. So, one can lament the passing of the video store but that culture hasn't died, it's just thriving in a different place… Ultimately, there will still be a portion of the public that wants to see challenging film and won't just want to be placated."
Cinema Guild is counting on another audience not easily placated: that of the Flaherty Film Seminar. The two organizations announced a new partnership and digital initiative to release short film packages online and through educational institutions. "The Flaherty is a brand that has amazing recognition, this organization that's been around for 60 years and the following they have—they have clout." As it stands, Flaherty will create compilations that spotlight a filmmaker associated with the Flaherty and most likely a filmmaker from the previous year's seminar. The inaugural release, available on November 25th, features Eric Baudelaire (Flaherty 2014), whoseLetters to Max just had its world premiere at TIFF. "For everyone who can't attend Flaherty's seminar, they'll be able to see [films] on iTunes or Hulu or any platform they want to," said Krivoshey. The idea is to "take these experimental films that have always been kind of secluded and make them available to anyone wherever they live."
Cinema Guild has long been a fixture in the educational market, but this year the company is ramping up their focus on what Krivoshey described as "probably the unsexiest of all the mediums." He quickly added, "but it's an amazing medium in every way because it's a great revenue stream for filmmakers and producers and distributors. It's solid, it's stable, schools have budgets for these kinds of things. And if you're really talking about getting the younger generation into experimental film and art house cinema I can't think of a better way than college…to have a captive audience of 30 kids."
To maintain and build a presence in libraries and classrooms, Cinema Guild will continue attending academic conferences and markets and submitting films to academic journals for review. However, there's one unexpected way they are ramping up: "We're doing a very big educational promotion this fall to cinema studies departments and anthropology departments… the anthropology brochure we're sending out this fall will go to 25,000 different educators. For the first time in 10 or 11 years we're doing an actual printed Cinema Guild catalog of our educational titles. It's going out to tens of thousands of teachers and educators around the country."
---
---
Regions: Canada