Anisha Jhaveri reviews two NYFF transmedia projects, "Immigrant Nation," and "Artifacts of Fukushima."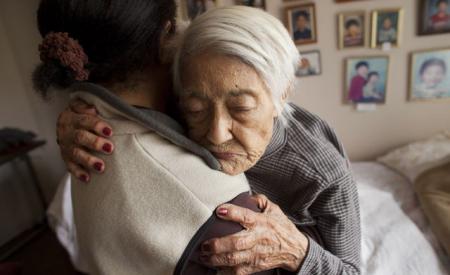 "Immigrant Nation" links stories and allows users to upload their own.
It is a feeling we know all too well: that blend of fascination and frustration while watching a film set in a world with culture, characters, and aesthetics so captivating that we itch to be a part of it.
For a long time, we were mere witnesses of these faraway worlds; with no means by which to forge a connection with them deeper than one of mere observation. Yet, over the last decade of the digital revolution, developments in new media have burgeoned so that now, we are no longer passive consumers. Instead, we have become active participants in the content we receive; not only are we immersing ourselves in the worlds presented to us, but we're enhancing them, shaping them, and even influencing the course of their futures.
This advent of interactive storytelling forms the core of the New York Film Festival's Convergence, a program spanning the 17-day event's first weekend from September 27-28. Part of the festival's sidebar slate for the third year running, Convergence has, since its inception, explored the distinctive function of transmedia storytelling to foster participatory culture, a concept explored this year through a lineup of panel discussions, film screenings, and live presentations.
Transmedia is a genre in and of itself, examined in detail perhaps most notably by media theorist Henry Jenkins in his 2009 book, Convergence Culture: Where Old and New Media Collide
, a study of how today's digital innovations disperse a narrative's elements across multiple delivery channels, each medium uniquely equipped to propel the unfolding of the story. The result, explained at Convergence's keynote address delivered by Jenkins himself, is a unifying, coordinated entertainment experience, heightening our engagement with a story's world beyond what we've ever been allowed before.
But the terms "world-building" and "storytelling" need not be confined to the fictional realm. Some of Convergence's most enriching examples of the value of the cross-platform narrative were those with documentary roots, particularly Theo Rigby and Kate McLean's Immigrant Nation and Jake Price's Artifacts of Fukushima: Selections From Unknown Spring. Extending these films into online and physical spaces and inviting the audience to become a part of them, the poignancy of Rigby/McLean and Price's nonfiction works reflected the most valuable effects of transmedia storytelling: the diversification of perspectives, a deeper connection with the material, and the ability to build on these expanded worlds with stories and artifacts brought in by the audience.
Immigrant Nation:
In its title alone, Theo Rigby and Kate McLean's Immigrant Nation reflects a collective spirit, implying the involvement of not a single entity, but multiple communities linked by their common background as part of the United States' history of immigration.
Immigrant Nation's starting point is a series of short documentaries, each following a distinct immigrant story.The Caretaker is undocumented Fijian immigrant Joesy's firsthand account of providing live-in care for an elderly Japanese American woman, herself a first-generation survivor of internment camps during World War II. The Mayor centers on the Republican mayor Paul Bridges, whose friendship with the Latino residents of his Georgia town fuels his impassioned fight against anti-immigrant laws. The incorporation of home videos and photographs, as well as narration by the immigrants themselves, give Joesy and Paul's stories an intimate framework far removed from politically-charged contexts that reduce them to mere statistics.
But while the films give the project a traditional foundation, the life and soul of Immigrant Nation lie in its two additional platforms: live presentations and an interactive website, both used to crowdsource the extension of the documentaries' worlds. Events at schools, museums, and film festivals generate shared physical spaces in which to exchange experiences and foster real-time conversations around personal histories and the meaning of "home." An online Story Hub encourages audiences to upload photos and videos of family immigration stories. Categorized by tags marking countries of origin, years, and central themes (i.e. love, happiness), individual accounts are then placed into a larger network tracking the trends and timelines that characterize the waves of immigration in America and help locate other immigrant stories that span similar eras or share related issues.
Together, the three platforms give rise to a non-linear narrative, offering an assortment of avenues facilitating connection, no matter what the audience member's background, with people who could have been perceived as little more than stereotypes and stories that could have seemed far removed from a viewer's life. By urging the audience to not only watch a story, but to be a part of its narrative process, Immigrant Nation is the ideal model of multiple mediums converging to enrich audience experience in the digital age.
Artifacts of Fukushima: Selections From Unknown Spring
If Immigrant Nation uses transmedia storytelling to highlight the personal rather than political side of immigration, Jake Price's Artifacts of Fukushima similarly employs multimedia to heighten human connection with tragedy, community, and place that, in a more linear format, could have easily been dismissed as inaccessible.
Much like Rigby and McLean's project, Price's immersive web documentary gives the audience numerous points of access by which to enter a world still reeling from the annihilating earthquake and tsunami that struck Fukushima three years ago, and the nuclear meltdown that followed. From the many modes of technology available, viewers choose their own gateways by which to embark on their adventures, designing a custom route based on the points of the story most interesting to them.
A series of vignettes, narrated by former residents of the affected areas, show their enduring attachment to their now radiation-tainted, completely deserted towns, and trigger personal interpretations of "home." A slideshow of photos depicting artifacts and events from the once-untarnished cities remove Fukushima from its prevailing image as simply a disaster zone. A scrollable timeline chronicling the rapid phases of evacuation from an area deemed too toxic to live in is a reminder to appreciate the natural beauty of one's surroundings. A map of granular data guides viewers through radiation levels and hotspots within the region, serving as an informative tool as well as a means of raising questions and awareness around safe energy.
Regardless of the paths taken through this world, the experience itself enables viewers' absorption of Artifacts'overarching purpose: to convey the emotional weight and nuance behind the data through the intertwined voices of real individuals, and to spark a dialogue among the community spawned by the webdoc's various forms of participatory media. Much like Immigrant Nation, Artifact of Fukushima's impact is enhanced by its interactive platforms designed to add distinctive layers to the audience experience. Each layer is compelling on its own, but once woven into a collaborative patchwork, creates a world that may be anchored in Fukushima, but now encompasses us all.