Sundance 2015 – Underdogs On Parade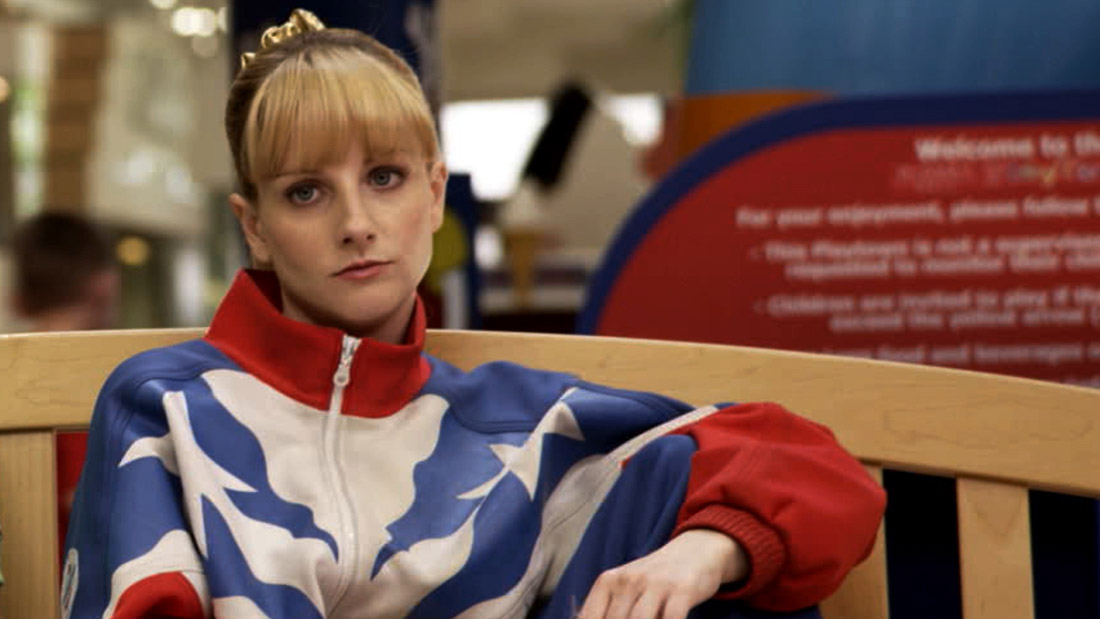 Rebels, renegades, and outsiders make good in the feature-length films at the 2015 Sundance Film Festival.
Park City, UTAH — Every year, the Sundance Film Festival commissions a series of new promotional videos to play before the main features to celebrate the festival's volunteers and other unsung heroes of the popular, annual 10-day showcase to independent film that takes over Park City in late January. In this year's amusing promo spot, an excerpt of the theme song to 1983's Flashdance boomed on the soundtrack with singer Irene Cara belting out the lyric, "Take your passion… and make it happen."
Those seven words celebrating the spirit of independence, creativity, and the rebel spirit of following the beat of your own quirky, left-of-center drummer could have been the mantra of a number of feature-length films about underdogs, mavericks, and outsiders that hit screens with a sonic boom at the 2015 Sundance Film Festival.
Throwing down a giddy stream of colorful expletives, director Bryan Buckley's outrageous comedy The Bronze marks the arrival of a sleeper hit waiting to bolt out of the gate with a champion's ability to win hearts and minds. Written by husband-and-wife screenwriters Winston and Melissa Rauch, this ruthless and dirty-mouthed, yet sweet-natured comedy might be this year's Little Miss Sunshine and Napoleon Dynamite combined. This statement is no exaggeration. This small, funny movie is that good and ultimately its dark, in-your-face-humor acts as a Trojan horse to disguise a genuinely warm and affectionate love letter to small-town Americana that never feels forced or overly sentimental.
What ultimately holds this small gem together is the winning combination of the screenwriters' darkly funny wit and storytelling chops and Melissa Rauch's brave and punch-drunk, comedic performance. Rauch plays the irascible Hope Ann Greggory, a washed-up former Olympic gymnastic champion who is mired in an endless rut after suffering an injury that cut her career painfully short. Years after her moment in the spotlight has faded, Hope's heartbreak has spilled over into a slow burning, barely concealed rage and misanthropy. And this bitterness will take down family, neighbors, and anyone who is foolish enough to get in her way to relive her glory days.
The film's hilarious dialogue and situations are never mindlessly stupid or mean-spirited just to go for the easy laugh. Rather the screenwriters' pitch-black humor is grounded in character-based storytelling making The Bronze a winner in my book.
The power of humor to illuminate and ultimately heal the deepest wounds also beats at the broken heart and unflagging spirit of perseverance in Sundance alum, director Bobcat Goldthwait's first documentary Call Me Lucky, chronicling the life and times of comic-turned-social activist Barry Crimmins who a friend in the film describes as a combination of Noam Chomsky and Bluto from the old-school Popeye cartoons.
The aforementioned description turns out to be true. Throughout the film, Crimmins' family and friends – including Goldthwait – share heartfelt and funny anecdotes about their close encounters with the flinty, socially conscious comedian who carved out a distinct niche for himself and his fellow comedians while working on the tightrope of standup comedy.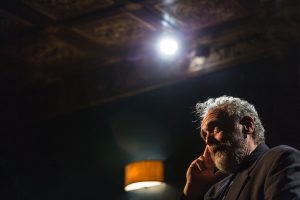 The straight-forward, no-nonsense camerawork of Goldthwait's cinematic portrait of this uncompromising humorist bears witness to what made Crimmins such a revolutionary and memorable comedic voice of reason in the wilderness of Boston's then-burgeoning comedy scene during the 1980s.
What the viewers aren't prepared for, however, is how the tone of Call Me Lucky shifts seamlessly into darker, more problematic territory as the doc's engaging subject transforms from a cranky firecracker of biting wit into a crusader and advocate for survivors of child sexual abuse. Keeping the doc focused and on target, Goldthwait's maturing directing skills deliver a quietly powerful sequence where Crimmins revisits the site of his greatest horrors. The scene takes your breath away with its less-is-more strategy resonating with viewers long after the film finishes.
During the post-screening Q&A, Goldthwait said, "I thought I was making a movie about my friend, but it's much bigger than that." And he is correct in the assessment of his first dive into the trenches of documentary filmmaking (he is a seasoned TV director). To avoid revealing any spoilers, the details of this film's abrupt about-face are best discovered when audiences find this strangely poignant and thought-provoking, non-fiction character study, both on and off the film festival circuit.
Likewise, Mark Twain's statement that "truth is stranger than fiction" also proves to be the case in directors Bryan Carberry and Clay Tweel's bizarre and quirky documentary Finders Keepers. This often-funny slice of Southern-fried Gothic chronicles the misadventures of amputee John Wood. He's caught in a legal battle with bargain hunter and unrepentant camera chaser, Shannon Whisnant, over the ownership of his mummified, severed foot – the unknown bonus prize concealed in a used grill sold at a North Carolina auction.
Yes, you read that last sentence right. A severed foot is the lynchpin of this jaw-dropping doc that manages to dig deeper into the inner lives of Wood and Whisnant and their respective circles of family and friends, spinning a series of wild yarns around the confusion over who is the rightful owner of the severed limb in question. Like Call Me Lucky, the offbeat charm of Carberry and Tweel's film is best discovered without too much advance knowledge.
Ironically, the most anticipated documentary of this year's festival, Brett Morgen's Kurt Cobain: Montage of Heck was also the most enigmatic nonfiction film. Despite its striking use of visually dynamic animation sequences, Morgen's film doesn't reveal anything new about Cobain's deeply troubled life and meteoric rise as the frontman of the legendary grunge rock band Nirvana.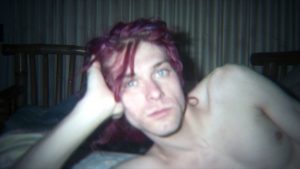 At one point, Nirvana bassist Krist Novoselic says on camera that Cobain "never had idle hands. He always had to express himself." Morgen and his animators Stefan Nadelman and Hisko Hulsing appear to follow the late singer-songwriter's example with their daring approach to visualizing the personal angst and moments of astute social observations expressed in the rough, handwritten scrawl found in Cobain's diaries. In many ways, the animation coupled with the beautifully ugly lyrics and sledgehammer beats of Nirvana's groundbreaking music are what ultimately make Kurt Cobain: Montage of Heck worth watching for the worldwide legions of the band's fans that will undoubtedly flock to see this 132-minute documentary bound for HBO.
Where the noisy, visual ambush of Kurt Cobain: Montage of Heck pummels the viewer into submission, Samba Gadjigo and Jason Silverman's seven-years-in-the-making documentary Sembene! quietly sweeps you away with the subtlety and grace in its heartfelt portrait of the late filmmaker Ousmane Sembene who is known as the father of African cinema. Like many of the documentaries that screened at Sundance, the filmmakers strategically blend small bursts of animation and stills with talking heads and cinema verite-style footage of Gabjigo visiting Sembene's home to flesh out the story of their elusive subject.
This lovely documentary portrait of the filmmaker-as-artist illustrates why Sembene's highly charged, political cinema remains as vital today as it was when the self-taught writer-turned-film director first stormed onto the international film stage with such classics as his breakthrough film, 1966's Black Girl and his last work, 2004's Moolaade.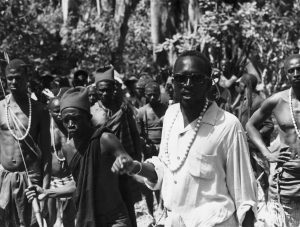 Gadjigo and Silverman's film is the perfect introduction for the uninitiated by providing a real taste of the African-centered themes and nuanced visual textures captured in Sembene's films. The documentary also makes it clear that the cinematic repertoire of Sembene, who passed away at the age of 84 in 2007, was at the forefront of an artistic mission to rescue African identity and culture.
At an early-morning screening, Gadjigo gave a short, impromptu crash course in African culture while introducing the 88-minute documentary to the audience. His elegant words articulated the central role of storytelling in his homeland of Senegal, and how films can play a vital role in the process of recovering African stories from oblivion – the ultimate fallout of colonialism.
"Maye [a word from Wolog, a native language of Senegal, Gambia, and Mauritania] means a gift," said Gadjigo who was a personal friend of Sembene and teaches African literature and French at Mount Holyoke College. "To tell a story is to share it with humanity. … [The film] is a labor of love and we poured our hearts into it. And it is a gift to you."
For this particular veteran festivalgoer and filmmaker, one would be hard pressed to find a more resonate, beautiful and thought-provoking maye at the 2015 Sundance Film Festival than Sembene!
---
---
Regions: United States, Utah