Sundance 2015 – Robert Redford + George Lucas = Inspiration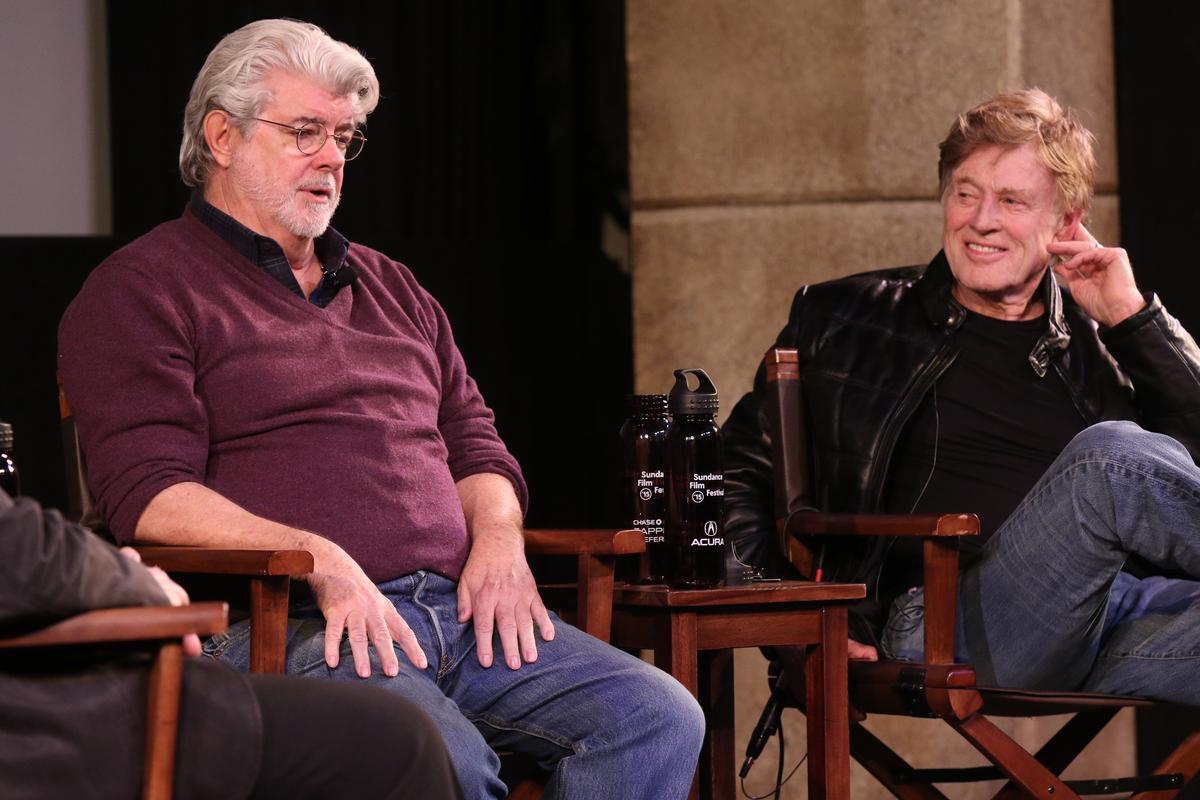 Staff writer Neil Kendricks recaps the artistic origins of two icons of contemporary cinema during a panel at the 2015 Sundance Film Festival.
Park City, UTAH — One of the hottest tickets at the 2015 Sundance Film Festival wasn't on any of the multiple screens peppered throughout the historic, mining town-turned-Mecca for independent filmmakers and committed cinephiles alike. Instead, a capacity audience of festival-goers filled the 285-seat Egyptian Theatre for January 29th's Power of Story: Visions of Independence panel to hear two titans of contemporary cinema, George Lucas and Robert Redford, share a verbal memory album of candid thoughts, colorful anecdotes, and informed opinions about the state of film and their respective roles in shaping the destiny of the still evolving medium.
As these cinematic giants shared the spotlight, film critic Leonard Maltin moderated the roughly 90-minute conversation for an attentive audience eager to learn about these multi-disciplinary artists whose enormous success in the mainstream hasn't diminished their desire to stay fiercely independent. "It [being independent] forces you to be resourceful and creative," said Redford.
At first glance, the unlikely pairing of Lucas and Redford might appear like the mismatched union of opposites. But nothing could be further from the truth. In fact, these iconic filmmakers have more in common than their shared status as household names. For instance, both artists spoke of their mutual love for drawing as a conduit for creative expression and how their passion for the art-making process eventually segued into the realm of independent film.
"When I was a kid, I drew for companionship," Redford said. "My parents couldn't afford a baby sitter. So if they had to go somewhere to play cards with somebody, they'd take me along. And because I started drawing at four or five, because that obviously was something that I was comfortable with and interested in, they'd give me paper and pencil and they'd let me go off and draw. In my head, I assumed I wanted to be an artist."
The turning point in his life stretches back to one day when he was secretly drawing under his desk as a student in grammar school in Los Angeles. The moment of truth arrived while Redford was absorbed in drawing a sketch depicting a posse of cowboys and Indians going over a cliff beneath a sky filled with B-51 bombers. Then, something happened that changed his life forever.
"You have these moments, one or two or, maybe, three [moments] where something happens that changes the direction of where you are going," Redford said. "It happened to me in the third grade. I was not interested in what the teacher was saying. I wasn't interested in what the class was about. To me, it was someone standing and talking, and so I wasn't interested. So what I did was draw under the table. I would draw things that interested me and that kept me going. But the problem was I wasn't paying attention and the teacher caught me. And she decided that she was going to humiliate me."
According to Redford, the teacher asked him to come to the head of class and bring whatever was more important than the day's lesson. He described taking his humble sketch and being asked to explain the images to the class.
To his surprise, his teacher did something amazing. Rather than chastise the budding artist, the teacher made a deal with him that once a week for 15 minutes she would put some newsprint on an easel and he could draw a story for the class. In exchange, he had to pay attention. His detailed description of this pivotal moment that launched him on his path suggests that the vivid memory remains fresh for the 78-year-old actor-filmmaker. A storyteller was born.
"Had she had gone the other way considering the shape that I was in at that time in my life," Redford said, "I don't know what would have happened."
Redford's early passion for drawing wasn't exactly embraced by his family. The Oscar-winning director of 1980's Ordinary People recalled his grandfather once telling him, 'You can't eat art.' However, Redford stuck to his guns and continued to draw.
From that humble origin, Redford's love for drawing blossomed into an all-consuming desire for creative expression by any means necessary. This driving need eventually led to him to taking acting classes where he discovered the pleasures of performance.
Likewise, Lucas also found himself drawn to visual art as a youth. The 70-year-old filmmaker never thought of pursuing filmmaking as a career until much later as an undergraduate student studying at University of Southern California during the 1960s.
"I liked art, I liked drawing," said Lucas who sold his empire of Lucasfilm for a record $4.5 billion to Disney last year, continuing, "I liked photography. It was just by happenchance that I ended up with a good friend of mine who was going to USC's business school, talking me [into going] to USC. He said, 'They've got a photography school, so why don't you go there. You like photography.' I wanted to go to Art Center [of Pasadena], but my father refused to let me go. He said, 'If you want to, pay for it yourself.' But at that point Art Center was one of the most expensive universities in the country."
"So I said okay and I got there and said, 'This isn't photography. It's cinematography. And it's not really cinematography; it's movies. It's cinema! I can't imagine that they have a course at a university where you learn how to make movies.' And it was there that I fell in love with movies. It wasn't until I was 20 years old. Before that I was just a dumb kid who liked cars."
As a visual artist and filmmaker sitting in the audience, listening to these giants of the art form share details from the overlapping trajectories of their respective careers was an inspiring revelation fueled by a sense of recognition. One could relate to what they were saying.
Although Lucas will always be best known for creating the hugely popular and wildly successful Star Wars saga and equally iconic Indiana Jones films, the Modesto-born filmmaker's first love remains grounded in experimental films. As a young filmmaker, Lucas devoured the avant garde works by the late Bruce Conner, among others.
"I started out doing artsy films," Lucas said, "then I went and did American Graffiti. And I really had no interest in science fiction at all. There's this whole thing about how I spent my whole life drawing little space soldiers. I never did that. I spent my whole life drawing cars and I was completely obsessed with cars. And even when I was in film school, I was obsessed with experimental films, mostly the kind that I saw in San Francisco with Bruce Conner… and those kinds of guys. So I wasn't into dramatic filmmaking at all."
After the studios and moviegoers alike failed to comprehend the cold, dystopian concepts of Lucas' feature-length film debut, 1971's THX-1138, his friend, writer-director Francis Ford Coppola dared the self-described experimental filmmaker to ditch cinematic abstractions and write a comedy that audiences could connect with.
Lucas took Coppola's sage-like advice and wrote and directed 1973's American Graffiti, which proved to be a box-office success. Four years later, the filmmaker's love of experimental cinema got permanently sidetracked when his 1977 blockbuster classic, Star Wars changed film history forever.
During the candid, three-way conversation, Lucas explained the mutual distrust of the studio system that he shared with Coppola, leading them to establish their home base in the Bay Area, far away from Hollywood's Powers That Be.
"You can make movies anywhere in the world," Lucas said. "You don't have to go to Hollywood. …I grew up in the era of don't trust anyone over 30 and I still feel that way."
By asserting their independence, both Lucas and Redford managed to take the reins of their own careers, which led to major achievements. Lucas also acknowledged that a large part of his astronomical success was built on merchandising and the sequel rights to Star Wars. "All of the money is in action figures," said Lucas who was paid $125,000 to write and direct Star Wars.
Without notes or a visible agenda, Maltin kept his own, always steering the three-way conversation back to the importance of story. Redford echoed this sentiment when he said, "story comes first." Elaborating on this point, Redford, the founder and director of the Sundance Institute, said he looks for three things before he commits to a project: What's the story? Who are the characters? What is the emotion? If he can't answer these questions, there isn't a movie in the material.
As a self-described contrarian, Lucas said, all art comes down to engaging an audience whether one is creating a movie or losing one's self in the solitary act of drawing and painting. Lucas explained, "Don't get hung up on art. You're an entertainer."
When asked about the major lesson that he could share with the audience, Redford offered a clear and succinct answer that perfectly summed up the crisscrossing themes of the evening's often riveting talk.
"Pay attention," Redford said, "And listen."
---
---
Regions: United States, Utah