DIY Film Fest Case Study – Salem Film Fest

DIY Film Fest Case Study – Salem Film Fest
Salem, Massachusetts
March 5-12, 2015
Tag line & Mission
Come to Salem, See the World.
This festival's mission statement dovetails nicely with the city's own branding. This mid-sized, urban, deeply historical port city sees itself as America's first international crossroads, and its world-class museum and other cultural institutions reflect that focus.
Founded
2008
Number of Films Screened
Thirty – 40 films from upwards of 15 countries.
Venues
Films screen in several venues: an 18 seat "art house screen" at CinemaSalem as well as one of its other theaters; at Morse Auditorium inside the esteemed Peabody Essex Museum, around the corner from the cinema; many local businesses host guests, parties, and other festival events. This is a walking festival with sponsor accommodations within one square mile of most venues.
Film Selection
As the largest documentary-only festival in New England, and run on a nonprofit, all-volunteer basis, the festival's invitation only submission policy guarantees a high quality of film for the viewers. But it also demands a major time commitment from the volunteer jurors.
Why Salem Needs This Festival
The Salem Film Fest (SFF; not to be confused with the Salem Film Festival in Oregon) was founded when local documentary filmmaker, Joe Cultrera, joined forces with Paul Van Ness, owner of Salem's independent CinemaSalem, which had fallen on hard times. With the support of the Salem Chamber of Commerce and other community stakeholders, Cultrera and Van Ness conceived of a documentary-only festival that would give back to filmmakers. Cultrera was well aware how many festivals soak filmmakers for entrance fees. SFF's model is completely different: their goal is to be a festival about helping both current and future filmmakers. 
For the Filmmakers
More than two thirds of the filmmakers attend and participate in post screening discussions. For those who can't attend, interviews are sometimes conducted via Skype. Rather than fork over submission fees, filmmakers are paid a screening commission sponsored by a business, individual, or organization from the regional community.
The 2014 Q & A for William and the Windmill with director Ben Nabors was lively and extended. People wanted to know the usual: how the director "found" his subject, how long it took to make the film, how was it financed. But other audience members' questions probed deeper: how did the subject feel about the filmmaker prying into his life? After six previous festivals this audience is comfortable and confident asking questions.
Although Nabors has shown his movie at dozens of festivals around the world, after his screening last year he listed SFF as one of his favorites. "Small festivals offer the opportunity to be connected to audiences who really care. As a filmmaker it allows me to watch my film with real people, and to feel their responses to my movie in real time. It helps me determine whether or not my intention came through clearly. The audience feedback definitely informs how I will work in the future."
DIY festivals allow filmmakers to feel the love up close and personal. Nabors pointed out that "independent documentary filmmaking is hard work, and it's not fiscally very rewarding. It's very energizing to show your work to a group of intelligent, thoughtful people who watch your movie, then ask questions that indicate they've been touched by the experience, or in some way feel differently about the subject as a result of seeing your film, which is the whole point of making these kinds of films."
For the Community
SFF's success can be measured by the tremendous community response they've received. "Salem residents are very political, and really take these films to heart," said Nina Cohen, a local resident and citizen activist. "I still remember Portrait of Wally, by Andrew Shea, which I saw in 2013. It was unforgettable, a story about love and art and Austria's attitude toward Nazi crimes in the aftermath of WWII." Last year she left town during the first days of the festival and said she deeply regretted not being around for it.
Another loyal attendee, Chuck Kollars of nearby Ispwich, MA has bought a festival pass for the past six years. Last year, using the $120 all-film pass, Chuck saw 25 films over seven days. "I'm cheap, I want to get my money's worth," he joked. "I like learning about stuff. There's a different quality here, much higher than what you see on TV."
For Local Businesses
Organizers try to pair local business with a film that reflects the sponsor's interests. For example, the art gallery Kensington-Stobart, and Structures North, an infrastructure company, sponsored WaterMark, a beautiful cinematography tour of Earth's most precious resource, water. A card on screen prior to each film contains the name and logo of the sponsoring entities. This sponsorship subsidizes the payment each filmmaker receives to screen her or his film.
Home Grown Content
A cunning series of shorts called Salem Sketches precedes all film screenings. Created by festival organizers along with Salem Film Fest alumni filmmakers, example sketches include a celebration of a local bingo parlor, a tour of the local water treatment facility, and a vignette featuring a local resident running around a tree, in both summer and winter. "It's becoming Salem Film Fest's unofficial filmmaker-in-residence program," said Cultera.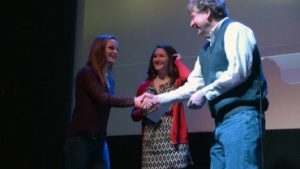 The festival sponsors a contest for high school students, called The Five-Minute Student Doc Contest and the top 10 films screen at the festival. Mass Reality Check, which The Independent has sponsorsed for several years running, is a showcase for college students' short documentary and experimental works that also encourages the next generation of filmmakers.
Unique Features:
-Awards
Jury award, editing award, audience award, American Cinematographer Magazine award for cinematography, The Michael Sullivan FRONTLINE award for journalism in a documentary film (with cash prize), Alliance of Women Film Journalists (AWFJ) EDA award for best female director, Mass Reality Check best short award.
-More Than Movies
In addition to the 37 films screened, SFF 2014 held three filmmaker forums; a filmmaker breakfast; a kick-off reception and two weekend after-parties. Local musicians performed live sets 30 minutes before 18 films.
-Bright Idea
Coffee sleeves with a movie title and a quote from that movie handwritten on the recyclable cardboard come with your cup of java from the refreshment counter.
-Merch
Coffee mugs & t-shirts with the festival logo, along with a dvd of all the shorts, are all for sale.
Why Salem Film Fest Works
Proximity to Boston's MIT & Harvard alumni base, and in striking distance to Route 128 high tech sector guarantees lots of brainy, liberal, issue oriented audience members – and festival volunteers willing to donate many hours — hungry for non-fiction films on the big screen.
Scheduling in March gives town residents something to do in winter, and creates an alternate identity for the town best known for the Salem witch trials and its 100,000 strong Halloween celebration.
In Summary
This festival helped keep the local independent movie house open. Their partnership with the local museum strengthens the festival's overall profile. The Salem Film Fest is fast becoming a favorite event where locals see one another, discuss issues they care about, and leave enriched by stories from around the world.
Score: +++
Scorecard Key
+ This may be the beginning of the end of this fest
++ Off to a good start but the jury is still out
+++ Excellent, sustainable DIY film fest model
About the DIY Film Fest Series
Have you ever wanted to start a film festival in your hometown? Are you a filmmaker looking to exhibit your film beyond the top-tier festivals but have no way of sorting the good from the bad or ugly?
In a concept created by Pamela Mason Wagner, The Independent introduces a series of case studies about small, local, homegrown film festivals. These festivals may be under your radar but they've inspired love and loyalty amongst their volunteers, audiences, and participants.
This series will explore how you can:
Curate a festival that will speak to your community
Make it sustainable while avoiding burn out.
Turn your love of movies into a successful, meaningful participatory experience for filmmakers and audiences alike.
A few facts to keep in mind, according to Stephen Follows:
75 percent of all film festivals were created in the last ten years
North America hosts 70 percent of the world's film festivals
One third of festivals only last one year, with less than a quarter surviving for six years
October is the busiest month, with five times as many festivals as December
---
---
Regions: Massachusetts