SXSW 2015: Film Conference Highlights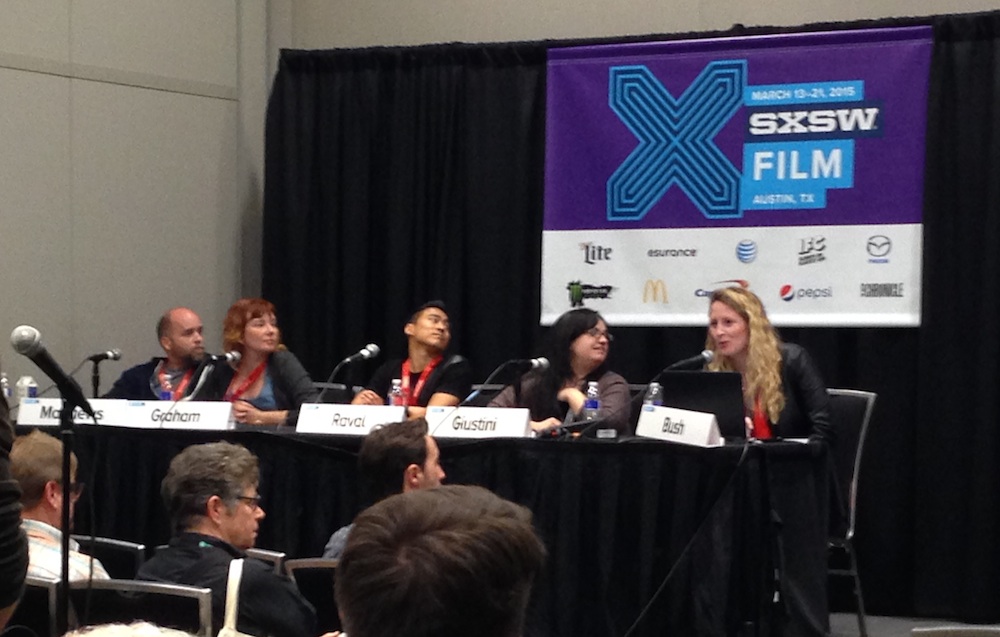 Steven Abrams distills the most salient moments from more than 240 SXSW film panels.
First-time attendees to SXSW are generally surprised to learn that there is no badge that allows you to skip lines or give you priority access over anyone else. In an industry that curries privilege, the lines to films and sessions at SXSW are populated with industry neophytes standing next to producers standing next to award-winning cinematographers standing next to aspiring filmmakers. One of the most enlightening conversations you can have at the festival is to ask your neighbor in line what brings them to the SXSW. While the film screenings make the headlines, the conference provides an unparalleled opportunity for new and established filmmakers alike to network, to mentor, to learn new skills and to discuss film industry trends.
For the independent filmmakers, the conference can be a boot camp to the business side of filmmaking, giving attendees access to industry insiders and allowing them to get their questions answered. This year's SXSW Film Conference featured more than 240 sessions. A popular starting point for any filmmaker with specific industry questions are the Mentor Sessions. At these sessions, attendees can sign up for one-on-one conversations with industry insiders with a specific area of expertise. SXSW 2015 offered the opportunity to speak with more than 120 mentors, ranging from agents and distributors, to fundraisers and producers, to publicity and sales, and representing companies such as Kickstarter, Independent Lens, Sundance, the BBC, and Lionsgate.
Another conference offering for filmmakers looking to get specific insight on a particular area of the industry are the Meet the Insider panels. These moderated discussions allow filmmakers to ask questions of multiple industry insides in a group setting. The 12 sessions covered topics from casting, to contracts, to production and funding.
But the true heart of the conference is the panel sessions. These moderated discussions covered a host of industry topics, from workshops such as For Those About to Lock: The Editing Workshop to niche topics like 3D Printing in the Movies and Astrophysics Goes Hollywood: Cinematic Science, the variety of sessions offered a learning opportunity for any interest.
Some themes seemed to crop up across multiple panels. In The Future of Film Criticism: Diversify or Die panel, moderator Chaz Ebert (Rogerebert.com) led a discussion of the negative impact of foreign presales on diversity in films. Related to international distribution, foreign presales are a way for films to get funded. This can impact what films are made and who stars in them. The panel questioned the current thinking that minority casts are not internationally bankable.
The topic of foreign presales came up again in the Is This Normal? A Look at Success in Indie Film panel. It covered a wide array of issues related to the process and business side of independent films from good habits like discussing distribution before making the film, knowing what everyone's job is on set, and learning how to read a budget and contract, to understanding the stark realities that film as a commodity is not doing well and you can't promise investors will get any of their money back. With foreign presales, the panelist warned that while there's no guarantee when betting on known actors and movie stars, it can be a big factor in whether or not your film gets funded or secures distribution.
The stark realities of the film business were a recurring topic in the panels. In the For Hollywood, The Future is Not Evenly Distributed panel, industry veteran David Larkin discussed the changing landscape of an industry once dominated by theater tickets and DVD sales. Larkin warned that digital distribution in its current form will not replace the tens of billions of dollars the industry previous model provided. The DIY Theatrical Distribution for Independent Films panel discussed the distribution paths of two SXSW 2013 films, Zero Charisma and the documentary Before You Know It. The filmmakers shared what they learned, from having a one-week run in New York City first so that the New York Times and Village Voice would review the film, to having a theatrical plan in place before you even screen at a festival. PJ Ravel encouraged having an email signup at screenings to engage your audience. Andrew Matthews advised targeting cities where you know your film will do well. The panelists suggested an initial budget of at least $30k for distribution.
In a sign of the ubiquity of crowdfunding, the Science of Social Funding: 247 Campaign Patterns panelists work in a space that didn't exist a few years ago. Experts in crowdfunding, these panelists guide filmmakers through the intricacies social media engagement and Kickstarter and Indiegogo campaigns. Some tips included having 20 percent of your goal in before starting a campaign, to not starting on a Monday or holiday, to understanding that only a fifth of your network will actually donate.
Line producer Susan Kirr focused on the digital tools available to filmmakers in the Digital Touch vs. The Human Touch – Making the Best of Both panel. Kirr broke down the appropriate tools by job. Writers can use the industry-standard Final Draft or an alternative like QuoteUnquote. Storyboard tools are Cinemek, StoryBoardQuick, and StoryBoard Pro. Budgeting tools include Movie Magic Budgeting, Gorilla, and ShowBiz Budgeting. Good information distribution choices for independent filmmakers are Basecamp and Production Minds. Kirr suggests choosing the right tool for the size of your film.
It is easy to feel overwhelmed by the amount of information at the SXSW Film Conference. While learning the business side of the industry is important, it is also essential to embrace the creative side and find something that inspires you. In the Stand for Something panel, Emily Best, founder & CEO of Seed&Spark, asked three questions to inspire attendees to change the world. "What are you doing? Who cares? What will it cost?" Best encourages anyone who wants to change the world to ask themselves these questions and understand what they are willing to risk to do it. At the end of SXSW Film 2015, it would benefit every attendee to ask themselves the same questions and apply what they have learned to their projects.
---
---
Regions: Texas