In time for The Masters, a Poem About Bill Murray and Golf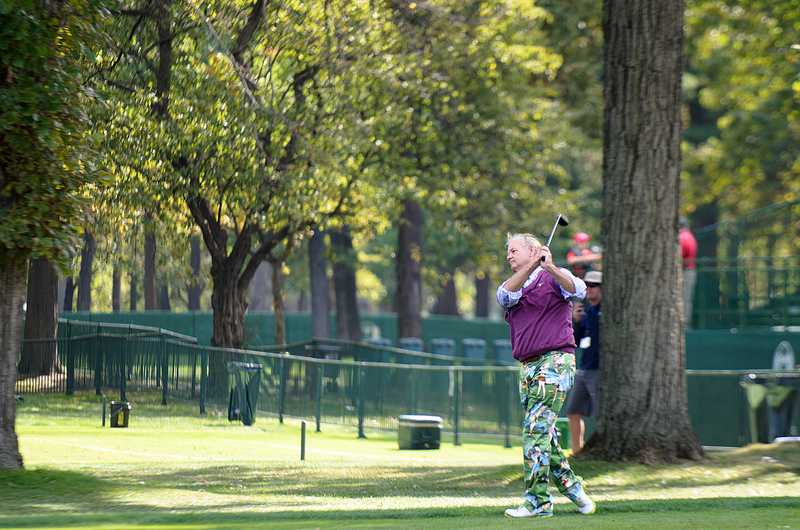 Bill Murray's Paradise
                                                 —A found poem
The last place I played golf?
Well the last place I can think of is
I was working on a job in Hawaii with Emma Stone and
one day I got to play golf
at a place called Weilea on a place called Oahu.
I played with Scott Simpson and
I played with three other great great Hawaiian guys
who were SO much fun and so positive and
one was the club champion.
When you play with great players, you play better.
It just elevates your game.
A high tide raises all boats,
you've heard that one?
I played so well, I won $50.
Winning $50 playing golf?
That's money.
So I won $50 and we played into the sunset
on the Pacific Ocean, with leaning palm trees,
laughing the entire time.
Then this very positive group of people said,
We want to take you on an outrigger canoe
to go surfing waves in the Pacific.
And it was delirious.
It was something everyone should get a chance to do.
That was a round of golf where it went EVEN further
and they now are my friends.
I went from the surf to the plane,
and that was the end of my job.
I was all salty.
I had a lei around my neck.
I was charmed.
From an "Ask Me Anything" (AMA) interview with Bill Murray on Reddit.com, January 2014.
Editor's Note: You may have noticed that we don't usually publish poems at The Independent. This is a first since my tenure as editor, which began in 2009. Yet we strive to be open, interested, and engaged in independent storytelling related to film and its multitude of forms, including poetry. -ET
---
---
Regions: Hawaii