Extra: Finding Your Flock…er, Your Tribe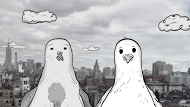 Rebecca Reynolds interviews Katie Tibaldi, colleague of Mike Luciano of Animals.
Back in 2011, 10-to-Watch-2013 producer Katie Tibaldi was working on the TV series Are We There Yet when she met 10-to-Watch-2015 Mike Luciano. Starring Terry Crews in the Ice Cube role, the TV series filmed an amazing ninety episodes in one year in Stamford, Connecticut. The sheer number of episodes and the daily commute from New York City to Stamford made for some serious bonding among cast and crew.
Tibaldi shares some first impressions of Luciano and the job in a phone call with Rebecca Reynolds.
Katie Tibaldi: I was working as the script coordinator/writers' assistant on Are We There Yet.  Although I wasn't officially in the hiring loop, I heard about some of the potential hires through the grapevine. I first heard about Mike when he was interviewing for the job of assistant to the Executive Producer of the show. My friend said Mike made these really funny videos. Turns out we had mutual friends who knew we'd hit it off. And we did.
Rebecca Reynolds: What was it like shooting ninety shows in a year?
Tibaldi: We learned so much on the show, which took over our lives. But it was invigorating – a really big learning experience.
RR: So, grueling, but fun?
Tibaldi: Mike and I commuted to Connecticut from New York City every day, which was crazy, plus we were both juggling the job with making our own stuff. One day we were so into talking about our own stuff that we got on the wrong train.
Having people like Mike to bounce things off of regularly was so great,. He was someone else like me – filling his passion of making stuff happen. For me, it was all part of finding your tribe. But it was an absolutely crazy schedule. We bonded to survive.
Like Animals' writer/producer/voice actor Mike Luciano, Katie Tibaldi is also making stuff.  Her doc Street Fighting Man is in the final months of editing and post-production and will be hitting the festival circuit soon. The team was on our 10 to Watch list in 2013.
Her comedy web series Seeking Sublet will debut its full season of eight episodes by late summer or early fall 2015.
Read about Mike Luciano and Phil Matarese on 10 to Watch 2015.
---