10 Filmmakers to Watch in 2015: Hasan Minhaj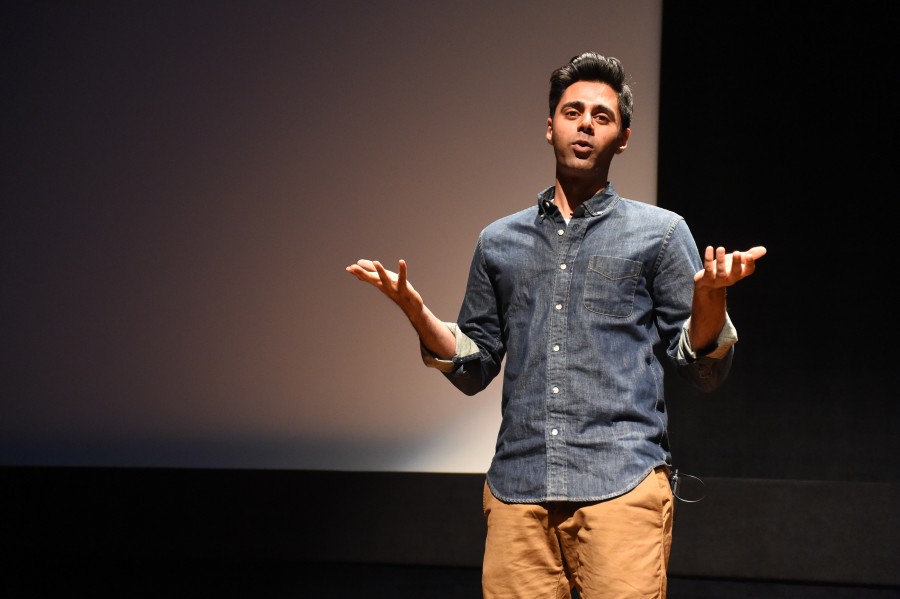 Comedian, Daily Show correspondent, and filmmaker Hasan Minhaj makes our 10 to Watch list for his solo show Sakoon and its film adaption, Paint the Town.
Hasan Minhaj may be best known as one of the newest correspondents on The Daily Show with Jon Stewart (joining the show in the fall of 2014), but it was his work merging stand-up with storytelling that brought him to our attention for 10 to Watch.
Minhaj and his collaborator, director Greg Walloch, participated in Sundance Institute's New Frontier Story Lab, also in the fall of 2014, to develop his solo show, Sakoon, and its film adaption Paint the Town. Much like his work on The Daily Show, the project uses comedy as a way to make difficult issues relatable, but this work explores Minhaj's personal story of his life as a first-generation Indian-American, part of the immigration boom in the early '80s – which has very different story than first-generation Americans of the past.
The word "sakoon" is a Hindi word referring to "a day-to-day peace of mind existing in your heart and soul" and reflecting the show's theme of forgiveness, self-worth, and personal identity. This solo/stand-up show is coming out as an off-Broadway show in the fall of 2015, and Paint the Town will follow its release.
Minhaj hosted Stand Up Planet, a documentary transmedia series funded by a grant from The Bill & Melinda Gates Foundation that connects stand-up comics with the developing world, including areas in India and South Africa. He is a member of The Moth Mainstage Company and produces his web series called The Truth with Hasan Minhaj. The Independent spoke with Minhaj about his work, his experience at the lab, and his thoughts on the changing nature of comedy and film.
Maddy Kadish: What type of things did you do in the New Frontier Story Lab?
Hasan Minhaj: I worked on combining the narrative of the stage show and the traditional script. Both convey a narrative, but in a different format. All the storytellers there work in different medium, but telling that narrative story is the driver. I also performed my stage show for all the advisors at the lab, which was incredible.
MK: How did participating in the New Frontier Story Lab impact you as an artist?
Minhaj: By performing the stage show, I got feedback from this diverse team of creatives – video game designers, graphic artists, video artists. They can see past the extraneous fluff. They can pinpoint the exact essence of the work and identify what I should be focusing on in the work and what's extraneous. I discovered what they find special in my project, and that was priceless.
So much of what we do in this business is product-driven: when's the DVD coming out? How many theaters is it playing in? When's the movie premiering? Did you get a deal? That's what we're trained to do. There are so many moving parts. But the story lab was like creative summer camp. It was all about the process. I got to go back to the drawing board and become obsessed with the building blocks of my show.
MK: Your stand-up work interweaves comedy with some heartbreaking personal stories. What has been the audience reaction in general?
Minhaj: Audiences have been supportive. I think it's because my work is about something that is authentic to me. You can't deny someone's true story. As consumers of art, we are all trying to feel something. We want to feel connected to people. When people gain empathy and love, they feel less alone. That feeling transcends any joke that you can write. It generates a reaction that's true and bigger.
MK: What was it like being the only comedian at New Frontier Story Lab?
Minhaj: It didn't really make a difference. I didn't put that pressure on myself. I just wanted to share my story. I focused on developing and building the show. We had the foundation and needed to determine our approach. Should we take a low-fi approach or the HD version with the bells and whistles? It was more about the process.
MK: How did you and Greg Walloch work together as collaborators?
Minhaj: Greg is such a seasoned storyteller, and I needed that. I was a rookie in the storytelling world. I'm more experienced in the stand-up world. He could speak my language and helped me to realize that they are essentially the same.
MK: Tell me about your work with Stand-up Planet. What has performing for international audiences meant for your work as a comedian and storyteller?
Minhaj: It's enriched my work. Anytime you travel, it's an opportunity to expand your mind. Comedy is the universal language. Even when the stand-up is in another language, you can tell when it's funny. It's the way that they use the microphone, their expressions, how they act out.
MK: Both comedy and film are changing – new formats, new audiences, new artists. How is your work contributing to this change?
Minhaj: The game is changing; it's democratizing. The narrative and the makeup of this country is changing. The first-generation Americans now are from different areas than immigrants from years ago, like Asia, the Middle East, India. These first-generation Americans who grew up in the '70s, '80s, and '90s are coming of age now. Their narrative hasn't been told before. But they understand the American experience. That is my story that I'm telling. We're not only bilingual in terms of language, but in terms of culture too. I speak both English and Hindi and can go back and forth seamlessly. I grew up with McDonalds and Starbucks and steeped in Indian culture at home. It's not divided. There is no separation of these worlds. We're dual-compatible. This dual-experience hasn't been told yet, but it's an American-narrative, just like Norman Rockwell and apple pie.
For a glimpse of Minhaj's work that is a central part of his solo show, Sakoon, check out his story on the Moth: https://themoth.app.box.com/s/h74w08gmtzxnwuidg6su
Check out photos of Hasan Minhaj performing at the New Frontier Story Lab on our Facebook page.
---