Introducing the World's Most Beautiful Woman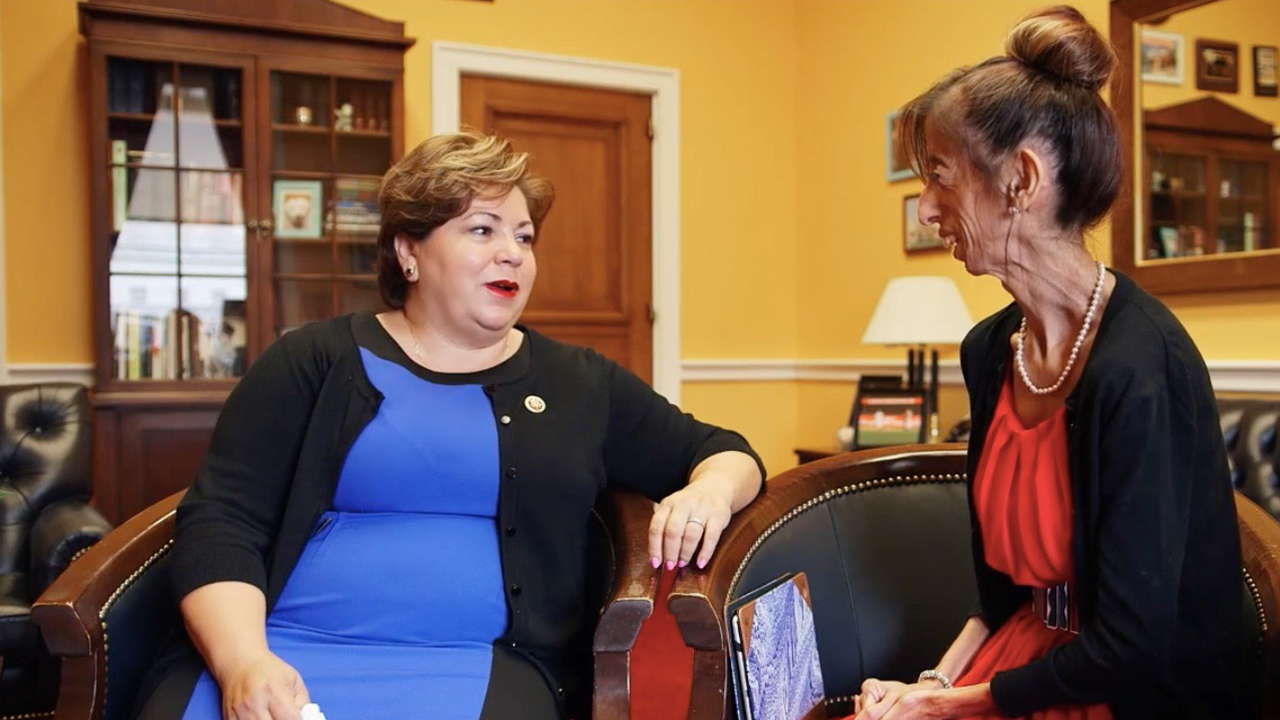 Staff writer Rebecca Reynolds interviews Lizzie Velasquez and director Sara Hirsh Bordo at the 2015 Traverse City Film Festival.
Lizzie Velasquez has fought for survival all her life. Born with a rare syndrome that makes it impossible for her to gain weight, 26-year-old Velasquez has struggled constantly with life-threatening medical challenges with the help of her wonderful, loving family. But no challenge has been greater than Velasquez's fight to get legislation passed to prevent others from experiencing the pain and anguish she felt as the target of cyber bullies, who cruelly dubbed her "The World's Ugliest Woman."
The new documentary, A Brave Heart: The Lizzie Velasquez Story, follows Velasquez on her amazing journey from first speaking up about her own story at Austin's TED Talk to her transformation into an unstoppable, 58-pound activist stalking the halls of Capitol Hill lobbying to get anti-bullying legislation passed.
First-time director Sara Hirsh Bordo met Velasquez at a TED Talk. Previously Bordo had worked in marketing at Paramount and MGM in LA, when she returned to her hometown to set up Austin's first TED Talk women's event. An instant rapport and friendship developed between the two Austin natives. After Velasquez's TED Talk received over five million views in a week's time, it was clear her story resonated deeply with America and needed to be shared.
One day Bordo called Velasquez and said, "I really think I know how to tell your story." Before that call Velasquez's family had always declined documentary and television show requests. However, once the Velasquez family met with Bordo, Velasquez's father said yes, "We've been waiting for her."
The two friends became first time collaborators on a journey to produce an inspirational call-to-action film, which premiered at this year's SXSW.
Filmmaker Rebecca Reynolds interviewed director Sara Hirsh Bordo and Lizzie Velasquez about A Brave Heart: The Lizzie Velasquez Story at the 2015 Traverse City Film Festival:
Interviewing the Brave Hearts from Caroline Schaefer-Hills on Vimeo.
Here are some highlights from Velasquez's point of view:
"Bullying is universal. It comes from a place of hurt."
"If I didn't go out there and do something, I'd be home with the blinds closed, listening to sad music, and feeling sorry for myself."
"You can be knocked down a million times, but you can pick yourself up two million times."
Her philosophy and her generosity may soon lead to her being called "The World's Most Beautiful Woman" – inside and out.
A Brave Heart: The Lizzie Velasquez Story will be released in theaters and on demand on September 25, 2015.
---
---
Regions: Michigan