TIFF 2015: Doc Breathes Life Into Afghan Film Archive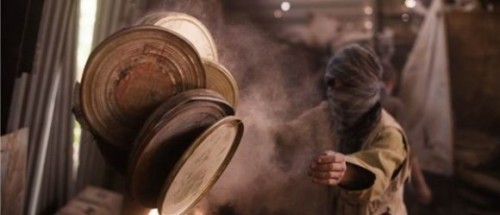 Courtney Sheehan talks with "A Flickering Truth" director Pietra Brettkelly.
Pietra Brettkelly's belief that "cinema is the most important vessel of the last 100 years of all of our cultures," inspired her to document the labor-intensive and passion-fueled project of restoring the Afghan Film Archive. The resulting documentary, A Flickering Truth, contains incredibly rare footage from Afghan films dating back to the first days of cinema in the early 1900s. Brettkelly discovered the archive, founded in 1965 and containing some 8,000 hours of Afghan films, when she set out to explore the history of the film industry in Afghanistan. "I was more interested in what people like me were doing during the decades of conflict, because you don't stop having ideas," she said. "If you're a creative person you still have these ideas. So what does a person like me do in a time of upheaval?"
Brettkelly's previous documentaries include The Art Star and the Sudanese Twins (which premiered at Sundance), Maori Boy Genius, and Beauty Will Save the World. The Independent caught up with her at The Flickering Truth's North American premiere at the Toronto International Film Festival. Here's the trailer:
She first visited the archive in 2012 just as Ibrahim Arify, a new director, was arriving to save it after years of neglect. "He basically said to me, 'Let's discover it together,'" Brettkelly said. Despite Arify's warm welcome, securing permission from the Afghani government to film the archive was no easy task. "It was quite difficult," Brettkelly confirmed. "[For] a lot of my filmmaking, I just wing it and go into places illegally…but with this one I realized since I was dealing with the archive of a country I needed to go down the official road." Political instability in Kabul posed further complications and Brettkelly said that she constantly negotiating security issues.
She also didn't know what she'd find in the archive. Even Arify was uncertain of the films' contents as they set about viewing them for the first time. "What if nothing happens or if they don't find any films?" Brettkelly wondered. "It was sort of like pull a film out of the rubble, or out of a stack, put it in the projector and let's see what's revealed. So I was sort of a little bit worried…am I actually going to have a story arc here? I knew that I very basically wanted to tell the history of Afghanistan and if I couldn't access the elements to do that, what was I going to do?"
But the concern proved unfounded. Arify and his team uncovered a stunning array of narrative films alongside invaluable historical footage. Brettkelly's favorite scene depicts a beautiful woman dressed in orange, "splashing water on herself. When that came up on the screen everybody went 'ahhh' because she's so beautiful, it's really quite erotic." As the only woman in the room Brettkelly said she told her DP, Jacob Bryant, "Oh yeah, women do that all the time. We've got all the time to lie by the river and splash water on ourselves."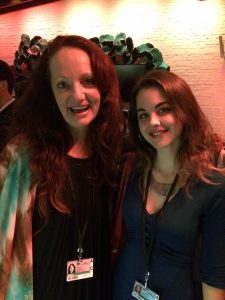 Brettkelly did not find her gender to be a roadblock while filming. "It's a very complex society and by no means are women given the dues or respect they deserve. There's no reach toward equality. But for me as a filmmaker the respect I was given and the support was extraordinary. I never had to justify myself, I never had to say what I was doing or why I was doing it."
Even though filming spanned two and a half years, Brettkelly admitted, "there's a hell of a lot [of films] we never got to." The team continues to reconstruct the archive but security, funding, and facilities prove to be constant challenges. "The electricity keeps shutting down, safety is an issue, Arify was recently evacuated out of Kabul," Brettkelly said. But the team perseveres. "There's all of that restricting them but [Arify] came to the world premiere at Venice and they finally have a telecine unit on the way which means they'll be able to digitize the films. They won't be able to protect the films, they'll continue to deteriorate, but at least they'll be able to capture the images and store them digitally." In order to share the wealth of cinematic treasure unearthed in the archive, Arify developed a mobile cinema: a traveling film festival that mounts screenings of the archive's films across Afghanistan. Arify is "trying to do the mobile cinema twice a year, in autumn and in spring, though they had to cancel it because of security this season," Brettkelly said.
A Flickering Truth does not deploy the conventional documentary devices of talking head interviews and voice-over narration. Rather, its more lyrical approach melds montages of footage from rediscovered films to sequences of men conducting the painstaking work of salvaging dusty film prints in the archive. For Brettkelly, navigating the ethics of responsible filmmaking requires acknowledgment of her own personal imprint on her work. "I think it's naive for a documentary maker not to think that they're changing the situation," Brettkelly said. "I think the whole concept of cinema verite is naive. For me, my responsibility comes down to, can I sleep at night? If I can then I'm kind of ok with my compass. But also I feel a deep responsibility to filmmaking and to my truth that I'm depicting. And that's why I always very clearly have my name at the head of my films. This is my interpretation of what I saw. I'm very aware of that."
The disparity between the everyday experiences of the Afghan people and those in her own country of New Zealand struck a chord with Brettkelly. "I think that the Afghan people are the most hospitable, resilient people I ever met," she said. "I think that they really respected somebody coming and being interested in trying to highlight the preservation of their culture. My hope with my documentary is that an awareness will be raised and some help will go toward them. Coming from New Zealand where it's safe, and green, for me there are really interesting aspects about Afghanistan that I find challenging personally but those challenges are sort of welcome because I come from such an easy life. I do want to make it clear: I have passports, I can leave. That's the luxury of being a foreigner. It's all very well saying that I enjoy being there, which I do, but I can leave. And since New Zealand was one of the countries that was involved in the conflict in the last 13 years and I don't agree with that, I feel some responsibility myself in my own head to balance out what we did there."
In an era when the very form of film is an endangered medium, A Flickering Truth joins a growing canon of films about film preservation and the future of film. Brettkelly discerns a heightened interest in archives in response to the disappearance of the form. "It's really interesting because yesterday TIFF had a few of us documentary makers together and I was talking to a person about how I find it really fascinating in the past few years how many documentaries are coming out that are referencing archives. Whether it's about your own personal history finding granddad's Super8 films or a nation's history, I think we are recognizing that film as an art form is being lost and what a sadness there is about that. In New Zealand you can't have it processed any more, I don't know if you can in Australia, in Europe there's three places. I think we're going to regret losing it to be honest." The fact that so many films in the Afghan archive have survived for so many years is remarkable, considering the physical and political climate. "Afghanistan had extreme conditions: war, the Taliban burning films, the heat, the cold in the winter," Brettkelly observed.
Brettkelly is already in development on her next documentary, which follows the Chinese couture fashion designer, Guo Pei. "When I finished A Flickering Truth back in April, I lay on the couch for two weeks and tried to recuperate. And then I thought I'm ready to think about another film," Brettkelly said. "I went back through my ideas folder and came upon Guo Pei. It was sort of inspired by Rihanna wearing the big gold cape on the red carpet at the Met Ball in New York. I got in contact with her and I've started a film about her as she wants to break into the international market. It's called The Dress and I'm following the production of her finale piece at her July 2016 fashion week show. She's wonderful and we giggle a lot and she's so driven and I admire her a lot."
---
---
Regions: Afghanistan, Canada, New Zealand