Sundance 2016: Where Black Lives Matter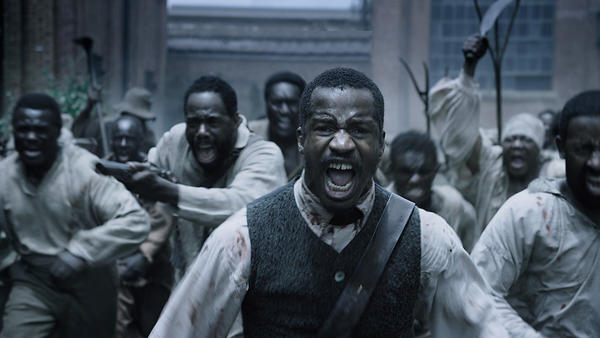 Neil Kendricks praises three films that put African-American lives front and center.
PARK CITY, Utah – Every once in a very long while, a special film or series of movies capture the zeitgeist with a sense of urgency and spot-on timing. At the 2016 Sundance Film Festival, a small gauntlet of potent, new independent films dared to put black faces and lives front and center at a time when Hollywood's lack of diversity is making headlines. These select films prove that stories focused on the nuances of the African-American experience pack the necessary emotional fireworks to simultaneously throw open the door to universal themes and resonate with the audience's undeniable hunger for fresh stories.
Leading the 21st century cinematic charge of the new, black-is-beautiful brigade is actor-writer-director-producer Nate Parker's deeply moving, slave rebellion drama The Birth of a Nation, winner of the festival's much-coveted Grand Jury Prize and the Audience award for U.S. dramatic film.
The audible industry buzz and positive word of mouth sparked by Parker's film spread through the festival like wildfire, turning the first-time director's historical epic into the festival's hottest ticket. Before the festival was over, a bidding war culminated with a new record when Fox Searchlight secured the distribution rights for The Birth of a Nation at the tune of $17.5 million. Cha-ching!
More importantly, Parker's seven-years-in-the-making film proved that a daring artistic work about an often-neglected chapter in African-American history interpreted through the lens of a contemporary black filmmaker could indeed take the festival by storm, winning over audiences with the precision and aim of a politically charged lightning bolt. The analogy of lightning is appropriate since The Birth of a Nation deliberately appropriates the title of D.W. Griffith's still controversial 1915 epic as a symbolic rebuttal to the cinematic pioneer's grotesquely racist narrative that President Woodrow Wilson once described as "writing history with lighting."
One hundred and one years after the release of Griffith's epic, Parker's great indie film chronicles Nat Turner's 1831 slave rebellion, harnessing a more balanced and progressive, cinematic lightning into an emotionally satisfying Molotov cocktail. The Birth of a Nation burns with the quicksilver heat of art bleeding with the messy, uncomfortable truths of neglected history brought to light.
Following on the heels of Steve McQueen's 2013 three-time Oscar winning masterwork 12 Years a Slave, Parker's film is rough and unwieldy during its first hour. But the film's slow-charging pace is a ruse that gives way to an explosive final hour, making The Birth of a Nation arguably the best film of its kind since Glory. In one sold out screening after another, The Birth of a Nation left viewers in tears and stunned silence. Parker received a much-deserved standing ovation when he walked on stage after one of the film's final, sold out screenings at Sundance.
"I felt like [Nat Turner] stood for something," said Parker during the Q&A session. "I felt that he embodied ideas that we set forth in this country; someone whom I feel we've been programmed to forget. We sanitized our history… and we wonder why we still have wounds that need healing." For roughly two hours, Parker's film temporarily cauterizes the wounds scarring Turner's true story of slavery and defiance, largely because of Parker's brilliant and realistic performance. His powerful interpretation of this legendary warrior who fought back holds the film together in a vise-like grip. This historic figure springs into life as a flesh-and-blood man undergoing the metamorphosis from soft-spoken slave to a preacher-turned-wrathful revolutionary. Turner's determination to use force to balance the scales of racial injustice in the hopelessly corrupt system of the antebellum South is riveting to watch.
The Birth of a Nation wasn't alone in its eagerness to show different sides of African-American life than the usual fare we have come to expect at the multiplex. And this must-see film had plenty of company among the bright, indie-minded lights at Sundance.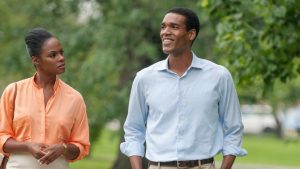 All of the festival's new black films, however, were not exclusively written and directed by black filmmakers. Such is the case with writer-directors Richard Tanne's charming Southside with You and Anna Rosa Holmer's The Fits. Tanne crosses the racial barrier by crafting the charming Southside With You as a socially conscious Valentine about Barack Obama's first date with Michelle (now Obama) Robinson. The film's warmth and easy-going spirit invites viewers to tag along with this amazing couple, destined for greatness. Barack and Michelle spend the day and evening ricocheting from engaging conversations interpreting Ernie Barnes' paintings in an art exhibition to debating whether or not their extended outing is even a date. The film eventually leads to a revealing and cathartic moment when the charismatic and articulate Barack rallies together his fellow, civic-minded Chicago residents with an inspirational speech.
Of course, the undeniable appeal of Southside with You stems from the viewer's knowledge that Barack will not only win Michelle's heart in time, but the young Obama will eventually pave a triumphant path to the White House as the first African-American President of the United States. As the future power couple, actors Parker Sawyers and Tika Sumpter's natural and believable chemistry grounds their respective portrayals of Barack and Michelle with an aura of natural wit, humor and compassion.
Where these two aforementioned films focus on past and present-day, historic figures, Holmer's haunting film The Fits takes viewers on a magical mystery tour of African-American girls reaching out to one another for the welcome solace of friendship. Her feature-film directorial debut paints an offbeat portrait of a pre-adolescent tomboy named Toni, played by promising newcomer Royal Hightower. In it, Toni finds her first real friend and blossoms with confidence coupled with a liberating sense of identity all the while dancing to the syncopated, hip-hop beat of her own drum.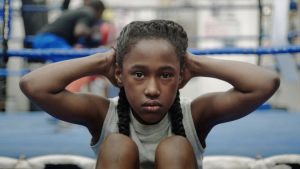 The quirky title of The Fits refers to a strange phenomenon where teenage girls suffer from an inexplicable wave of seizures that leaves the community at large wondering if the water has been contaminated. Don't worry. Holmer's drama isn't set in Flint, Michigan. Rather, Toni's home turf is Cincinnati's West End where she spends her afternoons playfully sparring with her older brother in the community center's boxing ring until she finds her true calling as a member of the local drill team.
The source of the spontaneous malady in The Fits is never explained and that's precisely the point driving the offbeat, original screenplay penned by Holmer and her co-writers Saela Davis and Lisa Kjeruff. Instead, Holmer uses this cryptic condition as a metaphor for the larger, unseen hormonal and emotional changes silently at work in the bodies of her winning, true-to-life female characters.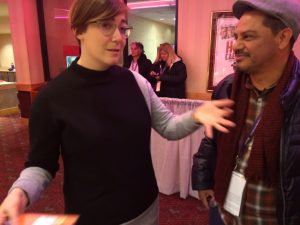 "I had been interested in contagions and hysterics," said Holmer during a post-screening Q&A session. "For me, it was always about making a dance film." Holmer went on to explain that her quietly observant, 72-minute dance film was funded entirely with grants and it was "a rare chance to make a film that doesn't fit into a box."
The Fits is hip to the rituals and behavior of young girls when their parental units and other adults aren't around. They chat, paint each other's fingernails, pantomime their peers, and laugh at their own goofy jokes. And the film's fleeting moments of childhood innocence are refreshingly free of the clichéd tropes of drugs, gang bangers and other social ills too often pinned to depictions of African-American youth. Taking the high road, Holmer shows kids being themselves in her slice-of-life character study spiked with bursts of magical realism. With its spirit of camaraderie among young dancers at the threshold of adolescence, The Fits is a graceful champ projecting girl power to spare.
These black-themed offerings at Sundance 2016 prove that this festival, now in its 31st year of championing the best in American independent cinema, defiantly flies a multi-racial flag of true diversity by setting a place at the table for adventurous filmmakers regardless of the pigmentation of their skin. One can only hope that Hollywood will get a clue and follow Sundance's fine example of inclusion in the future.
---