Sundance 2016: New Frontier's VR Spectacles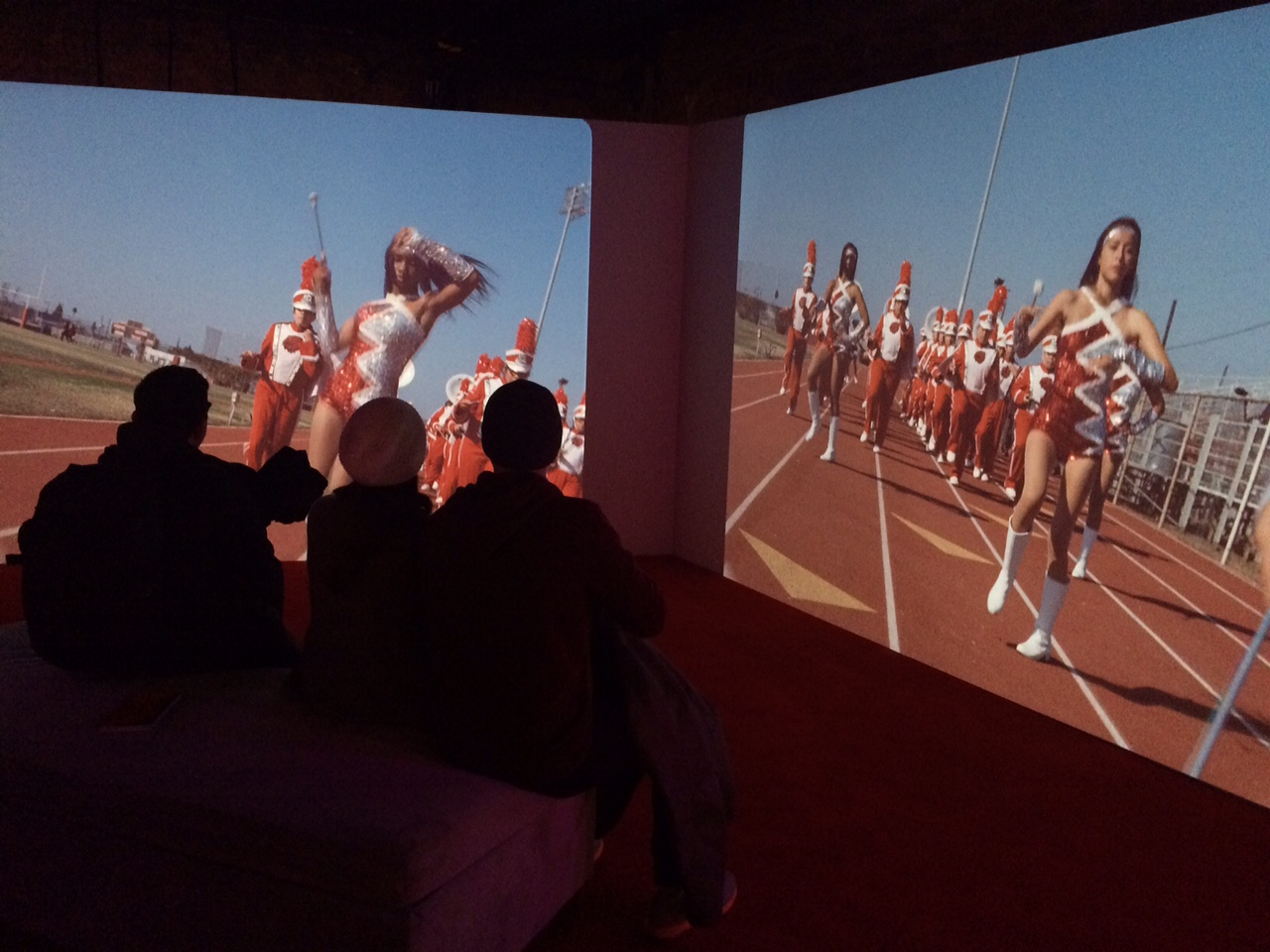 Staffers Neil Kendricks and Maddy Kadish immerse themselves in New Frontier's virtual-reality.
By Neil Kendricks and Maddy Kadish
PARK CITY, Utah – The 2016 Sundance Film Festival had more to offer than premieres and numerous independent films in competition. Marking its 10th anniversary, the festival's New Frontier section upped the ante on the shock of the new with its cross section of eclectic, virtual-reality (VR) attractions.
According to the New Frontier's curator's statement, "presence, experience, full immersion – these have become new buzzwords on our media landscape." Those buzzwords are also the new millennium's mantra and siren song for viewers seeking total immersion in imaginary dreamscapes and gritty scenarios based on the real world.
What were once science-fiction tropes are now reality and an essential part of Sundance's annual carnival of startling sights and sounds. With its ongoing technological advances and gee-whiz appeal, the New Frontier's VR-themed amusement park was a popular draw from festivalgoers eager to get a sneak preview of the brave new world of immersive cinema.
In Ben Vance's Irrational Exuberance, participants wear cumbersome headsets and headphones to interact with a virtual environment set in outer space. Again, one is reminded of those catchy buzzwords ("presence, experience, full immersion") as the computer-generated tableau momentarily envelops viewers in a video-game-like depiction of the cosmos.
-Neil Kendricks
Fantasy is also the driving force behind The Holo-Cinema courtesy of ILMxLabs' think-tank of artists and designers. Special glasses enable participants to enjoy the illusion of a 4D-viewing experience built around the video image of familiar droids C-3PO and BB-8 as they move across a desert-scape of crashed Imperial star destroyers inspired by Star Wars: The Force Awakens.
-NK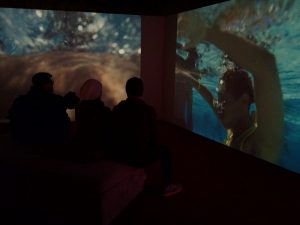 Kahil Joseph's two-channel video installation, Double Conscience, rocks to a hip-hop soundtrack by Kendrick Lamar, punctuated by a montage of images filmed in Compton, California. However, the video's streetwise, urban imagery—at times resembling a war zone—feels vaguely voyeuristic since viewers can safely immerse themselves in the virtual 'hood without really broadening their understanding of the larger social, political and economic forces at play. Nevertheless, the imagery is striking for its strong videography and kinetic compositions.
-NK
Ironically, some of the most entertaining VR pieces, like Lucy Walker's A History of Cuban Dance, were based in the real world. Similar to other VR works on display, viewers donned headsets and headphones to metaphorically dive into the piece's virtual 360-degree environment filmed on location in Havana, Cuba. This roughly seven-minute documentary was a nice, low-key change of pace with its teasing sampler of distinctly Cuban dance styles ranging from Rumba, Salsa and the Mambo to more contemporary trends like Reggaeton.
Throughout A History of Cuban Dance, the voiceover narration gives a brief context to each dance style as viewers find themselves in the middle of a series of spontaneous dance performances. The piece sustains the illusion of dancers shaking their moneymakers around viewers as the film segues from one location to the next. We jump from a circle of young dancers dancing in the streets and couples finding a groove on a rooftop at dusk, to riding shotgun in a vintage automobile along a boulevard on the streets of Havana.
-NK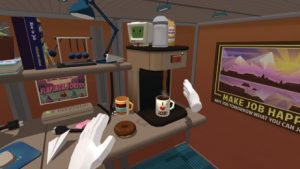 Job Simulator, from artists Devin Reimer and Alex Schwartz, provided much needed levity from the seriousness of the other experiences. With the tone of the movie Office Space and graphics stylized like the 80s, Job Simulator brings users into the world of 2050, where robots have replaced all human jobs. And, according to this world, humans need to re-learn how to "job" with robots as their bosses. Enter Job Simulator.
Pulling the VR goggles over your eyes, users are immersed in an office that could be out of Dilbert. Users see their hands in the space – as white thick gloves – and use them to interact with the VR environment. I made coffee, logged into my computer, shot a paper airplane over the cubicle at a colleague. My robotic boss walked over and told me that I needed to work over the weekend. I went to make photocopies and decided to photocopy my face instead. I thought I could out-smart it. But Job Simulator was one step ahead of me and out popped an orange, 3D model brain!
Job Simulator's interactivity was so much fun because the environment adapts as you interact with it. It is different for each user, depending on each person's actions. You never knew what would happen next.
-Maddy Kadish
In the Eyes of the Animal, by Marshmallow Laser Feast, originally exhibited in a forest in Yorkshire, England. VR users sat on tree stumps as they experienced life in the forest as various animals – a mosquito, a dragonfly, a frog, and then an owl. Although users at New Frontier were not sitting in a forest, the 360-degree VR was the same – an artistic interpretation of the point of view of different animals as they travel through their habitat.  
IN THE EYES OF THE ANIMALS TEASER from Marshmallow Laser Feast on Vimeo.
The work is based on aerial 360° drone filming and remote sensing technology recorded in Grizedale Forest, in the Lake District in England. Each section is dominated by a new color to indicate a new animal. The 9-minute VR experience includes a vibrating pack that users wear which adds a new dimension to the journey.
-MK
Chris Milk's video installation (one of the few that are not VR), The Treachery of Sanctuary, harks back to prehistoric cave paintings in Lascaux, France filtered through state-of-the-art video technology. In Milk's interactive video triptych, participants stand before a shallow pool of water and a bank of large-scale video screens. As participants raise their arms in the dimly lit space, a battery of hidden cameras record their movements. The recorded data is simultaneously transformed into silhouettes projected onto the installation's white, luminous screens.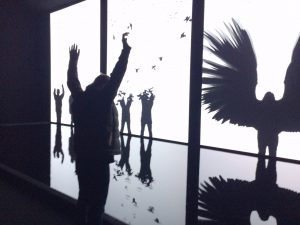 In the installation's first panel, the viewers' on-screen avatars erupt into flocks of black birds soaring into the blinding white void. When participants move onto the second screen, their on-screen silhouettes' limbs and torsos are quickly devoured by dive-bombing black birds. Finally, the cycle of avian transformation comes full circle with the third screen as the participants wave their arms, triggering their on-screen silhouettes to sprout wings and take flight.
Overall, the interactive elements driving The Treachery of Sanctuary proved to be a calming and fun experience for viewers. The concept of the vivid cycle of life, death and rebirth, evokes an air of magic and mystery augmented by the advanced technology used to create the illusion on the large-scale video screens.
-NK
Without question, VR is still in its infancy. Many of the festival's numerous VR installations and projects reflect this burgeoning field's infatuation with the bells and whistles of this relatively new technology. It is only a matter of time before a real breakthrough disrupts storytelling as we know it. Some day, these state-of-the-art techniques will become commonplace. And the skilled storytellers of tomorrow enter this spectacle-driven arena with unique, compelling narratives designed to resonate deeper in the hearts and minds of future participants beyond the cacophony of VR's buzzwords.