10 Filmmakers to Watch: Kate McCartney & Kate McLennan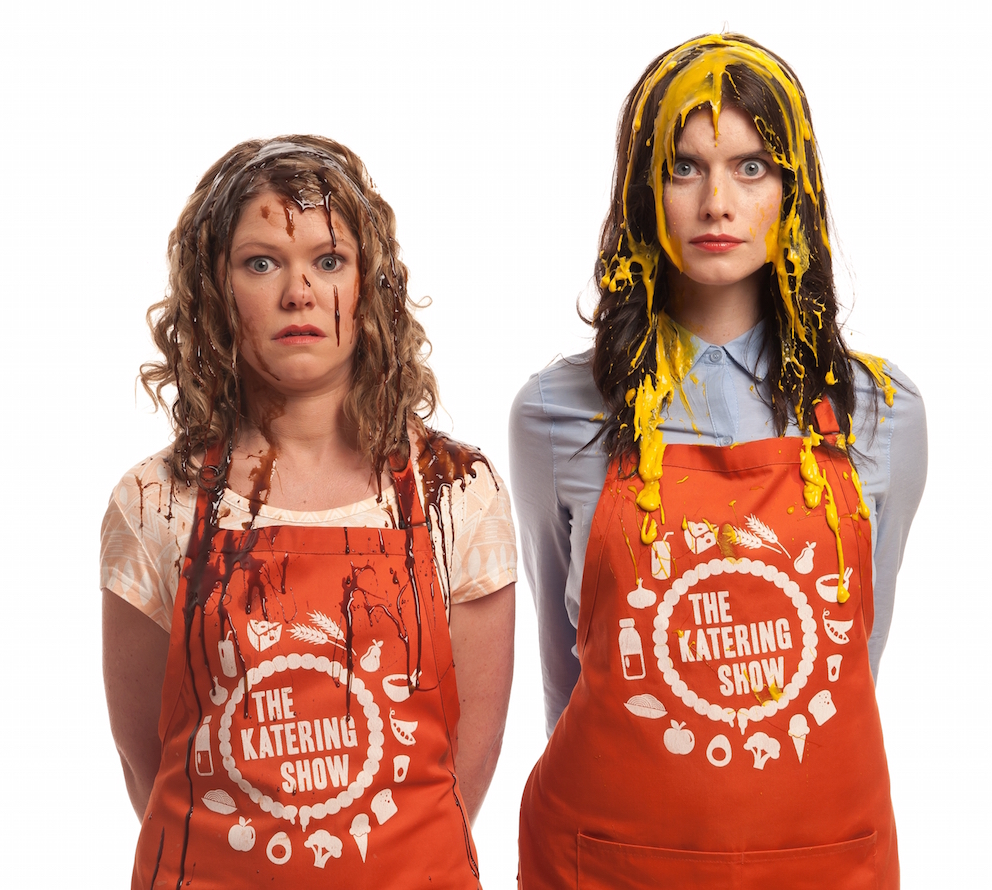 Co-creators and co-performers Kate McCartney and Kate McLennan join our 10 Filmmakers to Watch list for having cooking hilarity to the brilliant level it deserves.
Julia Child may have been pioneered cooking show humor, but co-creators and co-performers Kate McCartney and Kate McLennan have taken cooking hilarity to the brilliant level it deserves. Hence, they join The Independent's 10 Filmmakers to Watch in 2016.
Their web series, The Katering Show, chronicles the journey of an "intolerable foodie" (McLennan), and her anti-foodie food intolerant "friend" (McCartney). Awarded Best Comedy Series at ITVFest, the series features the Kates creating food intolerant-friendly meals and exploring both modern culinary trends and the profound cracks in their relationship. Perhaps the best part is how the Kates poke fun both at the genre of cooking shows, which often try to give viewers a sense of the "culture" with the cuisine.
McCartney and McLennan make The Independent's list of 10 Filmmakers to Watch with a busy 2016 planned: The Katering Show season two launches in April; their narrative comedy pilot, Bleak, will also screen in Australia in April; and McCartney is directing another comedy series for Australian Broadcasting Corporation (ABC). The pair are also developing, as they put it, "a range of other projects that will inevitably feature animals and very expensive locations."
Michele Meek: Tell us about your partnership.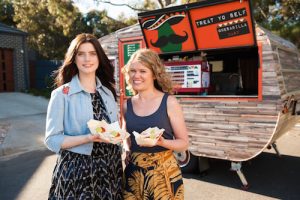 McCartney and McLennan:  We started a creative partnership four years ago, when we created the TV concept Bleak. The idea won Australia's prestigious writer's grant, The Kit Denton Disfellowship. Bleak subsequently became a web series (co-written and directed by McCartney, and starring McLennan) that garnered international recognition and awards. We've since developed Bleak into a narrative comedy TV series concept and the commissioned pilot is due on-air in Australia in 2016.
Since our partnership began, we've continued to write together and have appeared as a popular duo on Australian screens, print media and airwaves, as well as being a scriptwriting duo on other projects. We are easily distinguished from each other by our hairstyles, our postal addresses, and the name tags we have been court ordered to wear.
Meek: What inspired The Katering Show?
McCartney and McLennan:  We had been working on a long project together for about a year and were getting bored – of the project and each other.
Around the same time, McCartney had been diagnosed with very limiting food intolerances, which was something that foodie McLennan couldn't wrap her I'm-a-food snob-I-own-a-smoking-gun-brain around. She kept getting annoyed at McCartney for not being able to eat her homemade chimichurri, and more gallingly, not caring that she couldn't eat it. Realising that there was an idea in this dynamic, we started to blow off writing the other project, and began writing The Katering Show.
Meek: Tell us how people can see the show.
McCartney and McLennan:  Season one of the series is currently available on our YouTube channel Lead Balloon TV, and has also appeared in web and television festivals throughout the world.
The second season will debut on ABC Australia's premier catch-up service, iview, in April before having its YouTube launch shortly after. It will also launch on an American VOD service, but we can't release the details of that just yet.
Meek: How did you finance the show?
McCartney and McLennan:  For both seasons of The Katering Show, we received funding from Screen Australia, Australia's national screen production funding body, and for the second season we also received funding from our state funding body Film Victoria and were commissioned by the Australian Broadcasting Corporation.
Meek: What type of cameras did you use to shoot The Katering Show?
McCartney and McLennan:  The equipment used to shoot the second season of The Katering Show was based primarily on the look and feel of season one, but we expanded on it technically so we could be more time efficient. We were shooting, on average, 11 pages a day, so zoom lenses were instrumental in moving fast and not compromising the comedy in favour of style. We shot on the Arri Amira (which was a major step up from season one's C300) firstly, because we could afford it, and secondly, because it was an infinitely more stable option; considering 90 percent of the show is shot handheld. We shot pro res 422HQ in c-log, and the lenses were Zeiss Compact zooms 2.9. 28-80 and 70-200. The overall style of the series is supposed to resemble a low budget cooking show.
Meek: How did you chose locations?
Because The Katering Show is only loosely connected to actual cooking, we needed more than a kitchen studio set; we needed a location where our various domestic and personal issues could play out. Therefore, we set about trying to find a house location and ended up finding a great house on Airbnb. It had a large modern kitchen that needed minimal redressing to make it seem like a professional cooking show set.
All the other locations were chosen based on what was closest to the house location, closest to the other locations, what was the cheapest and easiest to dress, and on a few occasions, and what was the free-est.
Meek: How did you work together as both producers and actors?
McCartney and McLennan:  We were the directors of season one of The Katering Show in conjunction with on-set director Cameron Ford, who was also director of season two. So by and large, we'd just turn to each other and tell the other to "act better."  This method garnered mixed results.
Meek: It's quite impressive how many views you were able to rack up for the pilot of The Katering Show. How did you build an audience or awareness for this project? 
McCartney and McLennan:  We tried to create a strong social media presence around the project prior to the launch of season one – so creating content for Twitter, Facebook, Instagram and a YouTube trailer that encouraged people to subscribe to the channel. We wanted to create an online community around the project so we made a point of interacting with everyone across these platforms.
However, once the show launched our online community grew and it became a self-sustaining beast; we could take a step back and let the fans interact with each other, which was just as well because McCartney was about to give birth and McLennan was in a pregnancy-induced relationship with a toilet bowl.
For more information about the Kates and to watch the show, see The Katering Show website.
---
---
Regions: Australia & New Zealand