10 Filmmakers to Watch: Complex Movements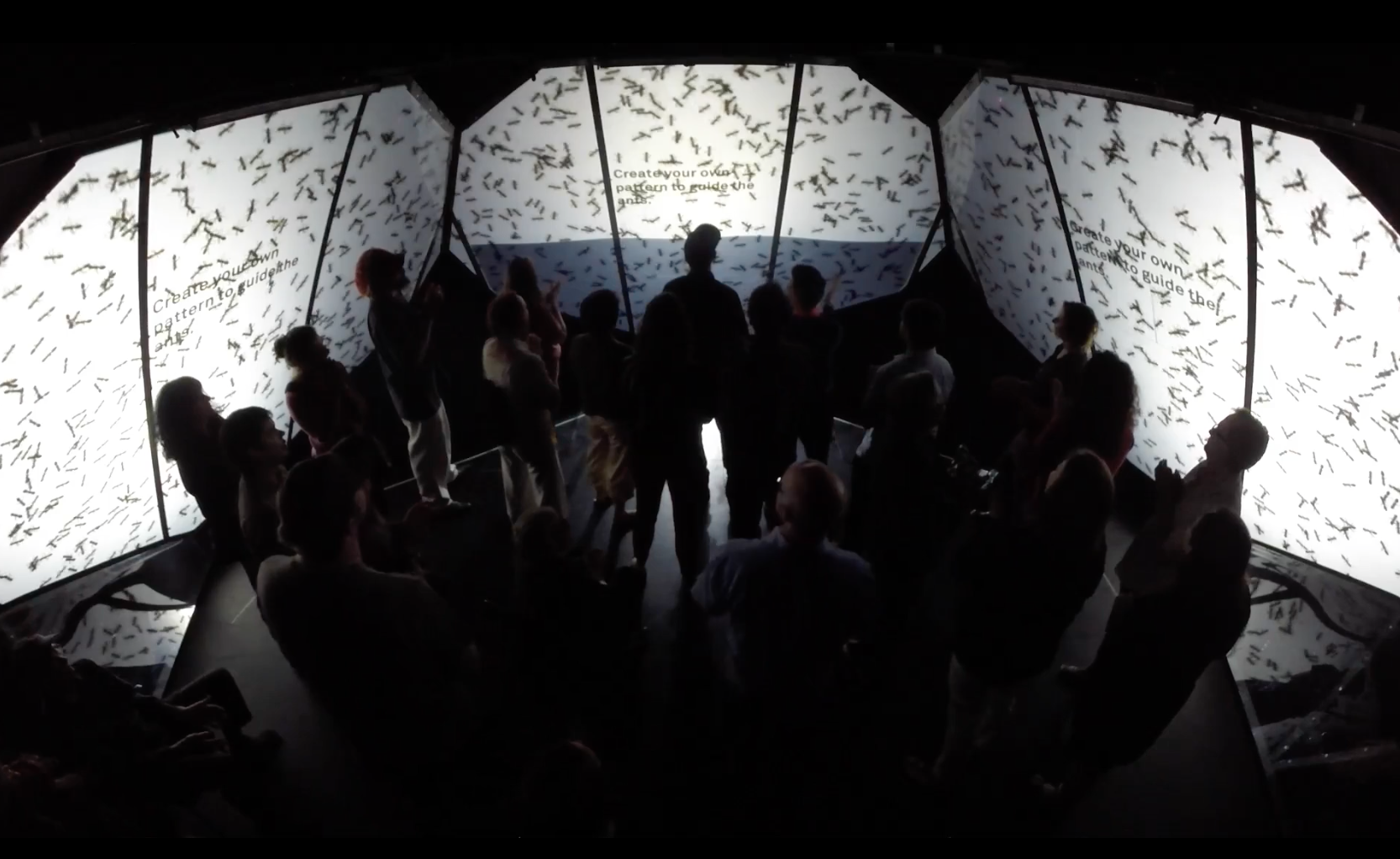 Complex Movements joins The Independent's 10 Filmmakers to Watch in 2016 for their immersive visual and sound experience that incorporates science-fiction, projections, songs, and interactive game elements.
At the intersection of community organizing, design, hip-hop and electronic music, architecture, film, and theater, Complex Movement's latest project Beware of The Dandelions is a science fiction parable in which the audience plays the role of post-apocalyptic survivors and unlocks the untold stories of their community. The project takes the form of a mobile art installation that functions as a performance, workshop space, and visual arts exhibition.
The experience occurs inside a 400 square foot polyhedron Pod structure which holds up to 35 participants at a time. The live performance, film, animation, and generative design elements are projected onto the surface of the pod to create an immersive visual and sound experience that incorporates science-fiction, projections, songs, and interactive game elements.
Joining The Independent's list of 10 Filmmakers to Watch in 2016, Complex Movements brings together a talented group of artists: Wesley Taylor (graphic designer/fine artist); Jeedo/Waajeed (music producer/sound designer/filmmaker); Invincible/ill Weaver (lyricist/organizer/filmmaker); L05 (Carlos Garcia) (artist/designer/technical lead); Sage Crump (producer/cultural strategist); and Aaron Jones (architect).
Beware of The Dandelions tours through month-long installations in communities. They presented the project in Seattle (at On The Boards), and in Dallas (at Fair Park) presented by Ignite Arts Dallas through Southern Methodist University. They are now preparing to present the homecoming of the work in Detroit later this year.
Michele Meek: What inspired Beyond the Dandelions?
Complex Movements: We are interested in making connections between complex science and applying them to social justice movements as well as honoring the work of our communities. We are inspired by grassroots community-led movements in Detroit, as well as Detroit philosopher and activist Grace Lee Boggs, Charity Mahouna Hicks, and Sheddy Rollins Sanchez, all three of whom joined the ancestors in the process of us creating this work.
Meek: How did you fund this film or project? 
Complex Movements: Beware of The Dandelions has received substantial funding from national, regional and local sources. We received national grant awards from Mapfund, National Endowment for the Arts, and Knight Foundation. Beware of The Dandelions was a 2013 National Theater Project Awardee from the New England Foundation for the Arts, and is a 2013 Creative Capital project. We have also been supported locally by the George and Faye Young Foundation in Dallas, the Seattle Council for the Arts, and Creative Many's Resonant Detroit program.
Meek: How have you built an awareness for this project? 
Complex Movements: We've developed a unique community engagement strategy for the project that goes beyond simply touring an art installation or performance, and works towards broader cultural organizing and movement building.
The Beware of The Dandelions community engagement strategy begins with building community cohorts and advisory circles consisting of artists, organizers, and other community members in host cities to ensure local relevance and deepen impact. Through these community cohorts we listen and learn about community resistance and resilience in the face of challenges and exchange stories and strategies between each city and Detroit. The community cohorts co-curate and co-facilitate the activities and workshop that take place during the engagement and work with us to intentionally invite communities that are typically excluded from traditional arts institutions.
Meek: What has been some of your prior work leading up to this project? 
Complex Movements: Prior to Beware of The Dandelions, we collectively designed an audiovisual installation titled Three Phases and a series of handcrafted music boxes for our song "Apple Orchards" (which is the theme of Beware of The Dandelions).
All of us have backgrounds in music; Waajeed/Jeedo and Invincible/ill Weaver have toured internationally for over a decade, releasing several music and media projects including Waajeed's Platinum Pied Pipers/PPP projects and Invincible's ShapeShifters. Collectively, the team has worked on social justice initiatives including anti-displacement, opposing police and state violence, clean water affordability, and food justice. Beware of the Dandelions builds off of our social justice history through our artistic practices.
Meek: Tell us about the technology involved in your project. 
Complex Movements: We've shot most of the live footage used in Beware of The Dandelions with Canon 5D Mark IIs, and we've used green screen work to create character silhouettes for multiple scenes. We use DSLRs for much of our shooting because of the accessibility, flexibility, and quality they offer.
Much of this footage is heavily composited with digitally created elements using Adobe After Effects, Cinema 4D, and Derivative TouchDesigner to create stylized, immersive 3D environments that accompany the story and music. Instead of creating hyper realistic story worlds, we carefully use color, composition, and motion to invoke moods, feelings, and concepts. We have modeled, rigged, and animated digital characters, using photo and video references of real-life community members and ancestors as inspiration.
In addition to pre-recorded and pre-rendered elements, much of the Beware of The Dandelions experience is generated in real-time. Using Derivative TouchDesigner, we have created entire scenes incorporating generative 3D graphics that respond to the live musical performance, as well as interactive segments where the participants (audience members) directly influence what they see and hear in the Pod. The music is all sequenced and performed live using Ableton Live. The characters' voices, for instance, are performed live using real-time vocal modulation, enabling our vocalist Invincible to expressively portray these different characters' perspectives.
All of this generated sound and imagery is then projection mapped onto the Pod, the 3D sculptural form into which our participants enter to experience Beware of The Dandelions.
Meek: What's next for the project?
Complex Movements: The next move for Beware of The Dandelions is the Detroit homecoming later this year, which is a hugely important undertaking for us. Additionally, a few other cities have invited us to present the project over the next couple years – we will be announcing where soon. The soundtrack from the project will be released later this year on vinyl and digital outlets as well.
Beyond this current project, we are looking forward to further developing the video installation mode of Beware of The Dandelions into its own project titled "Movement Memory Maps", which collects and archives local grassroots movement histories through immersive video installations.
We are also excited about cultivating a series of experimental new collaborative projects with several other Detroit artists.
---
---
Regions: Detroit