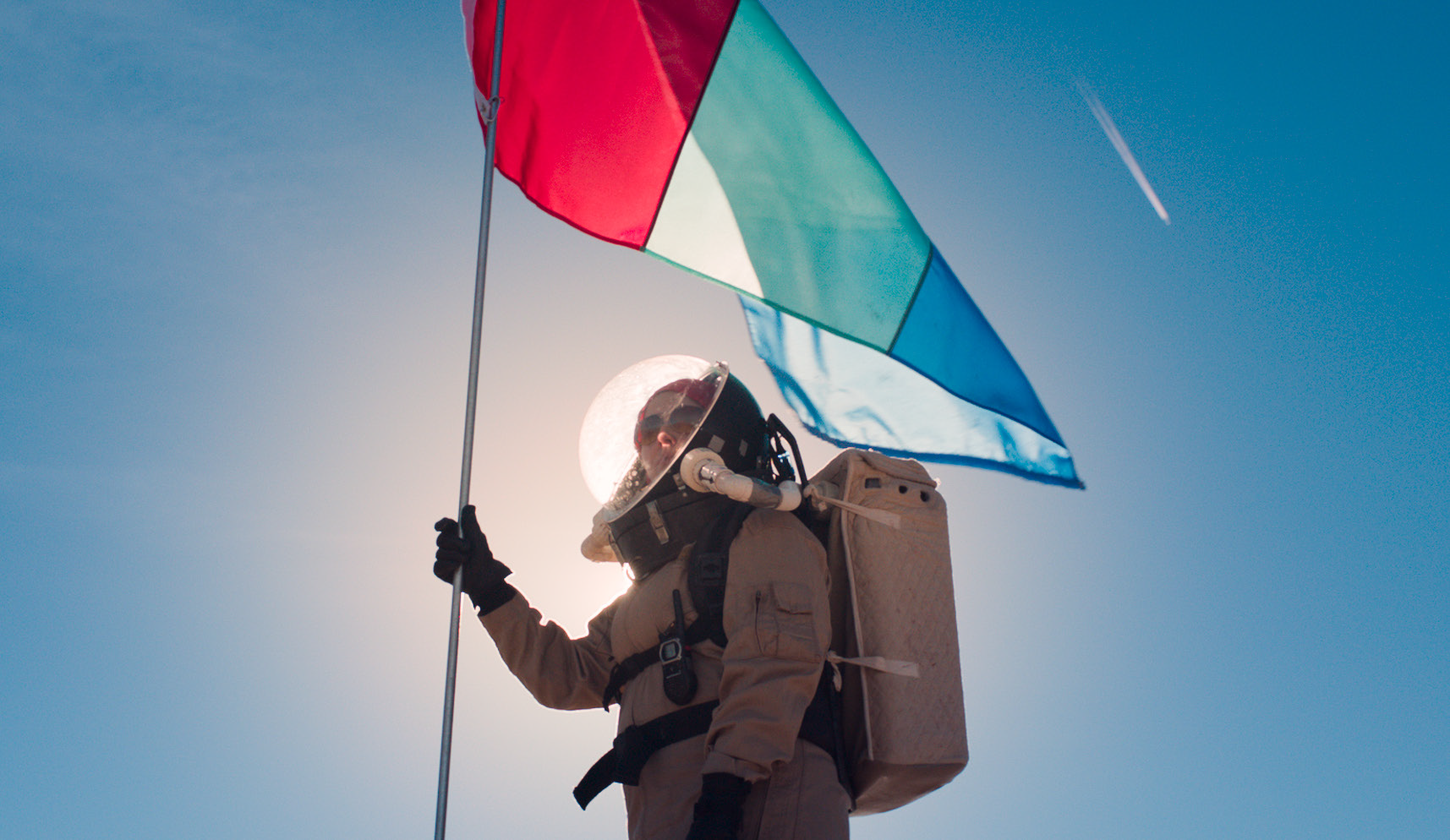 Check out what else is coming up.
In addition to our 10 filmmakers to watch, we want to put a handful of others on your radar with work coming out in 2016 and later.
Khalik Allah
Photographer and filmmaker, Khalik Allah had a big 2015. His documentary, the provocatively titled, Field Niggas, put him on the map as an emerging and risk-taking filmmaker. His documentary, which premiered at True False Film Festival in 2015, paints a picture of the people who inhabit the corner of 125th Street and Lexington, in Harlem, each evening. Allah pairs gritty and poetic visuals with non-sync audio, breathing life into poverty, addiction, hunger, homelessness, and the people that society ignores — or, if you prefer the more PC term, underserves. The film, shot nightly over two years, also played at Sarasota Film Festival (where it won the Terry Porter Visionary Award, an award that honors emerging voices and unique films), Maryland Film Festival, and Montreal International Documentary Festival (winner of Best International Medium-Length Film).
Allah is currently shooting his latest documentary, called Black Mother, in Jamaica. It recently received support from the Genesis Film Fund, a new fund from Pulse Films and BritDoc, to foster imaginative and bold approaches in documentary.
Hunter Baker and Jordan Fein
Cinematographer, Hunter Baker, and director, Jordan Fein, are now hard at work shooting on their first documentary, Three Rising Towers. Baker, who has shot for HBO, CNN Films, ESPN, and MTV, also shot Miles, for release in 2016, starring Molly Shannon and Paul Reiser. The film is a comedy-drama about a male high school student who joins the girls' volleyball team to win a college scholarship. Fein has directed commercials for Volvo, Squarespace, Adobe, and last year was awarded a Panavision New Filmmaker Grant for Bowline, a narrative short which he wrote and directed.
Baker and Fein participated the Points North Fellowship at Camden International Film Festival in fall 2015 with Three Rising Towers. The documentary takes place in the Navajo Nation in Arizona, a perfect setting for Baker to flex his DP-muscles. Baker and Fein, who are co-directors and producers on the film, spent three years getting access to their story, which documents economic and social changes in Native American communities as their struggle to adjust while still upholding their culture. The film is currently in production. "We have unique access to a great story and we've just begun to tell it," said Baker. We will be there when it comes out.
Julie Bayer and Josh Salzman
Directing team and married couple, Julie Bayer (also a producer) and Josh Salzman (also a DP), created their short documentary– very short at three and half minutes– Just Breathe  in 2014 about mindfulness as a way to deal with anger from the perspective of elementary school students. The film, shot in black & white, played at the Providence Children's Film Festival in February 2015 where it won the Audience Choice, Best Short award.
Salzman also shot for two documentaries that played at Sundance Film Festival in 2016 — Under the Gun, from director Stephanie Soechtig, about gun violence in the US, and ForEveryone.Net, about creation of the World Wide Web, by director Jessica Yu.
Just Breathe went viral, popping up Huffington Post, Upworthy, Amy Poehler's Smart Girls, and was on Oprah's Super Soul Sunday program. The duo recently secured funding to develop the concept into a series on mindfulness to address topics such as anxiety, trauma, and grief.
Nicolas Steiner
Playing in the fall of 2015 and early this year, the documentary Above and Below from Nicolas Steiner, is his feature-length directorial debut– and his film school graduation film. Steiner, who was born and raised in Switzerland, studied at the San Francisco Art Institute in 2010, under a Fulbright scholarship.
Above and Below follows five Americans living on the unique extremes of society, showing us seemingly apocalyptic and unknown worlds within our own. The "above" is seen in April, who participates in the Mars Desert Research Station simulating life on Mars in a remote scientific outpost in Utah, and Dave, living in an abandoned military bunker adapted with solar power in the California desert. The "below" are three people who live precariously in the storm drains and tunnels underneath Las Vegas, venturing out for food and supplies– Lalo and Rick and Cindy, a couple. Steiner's outsider perspective finds the humanity in life on the fringe and what it reveals about us.
In 2015, the film premiered at International Film Festival Rotterdam and played at Anchorage International Film Festival, HotDocs, and elsewhere in Europe. Last February, played at Big Sky Documentary Festival in Missoula, Montana and the Portland International Film Festival. It is currently playing in the Millennium International Documentary Film Festival in Brussels, which runs from March 18–27.
Update: The schedule was temporarily interrupted by the tragic terrorist attacks on March 22.
---