Top 10 Academic Programs for Aspiring Screenwriters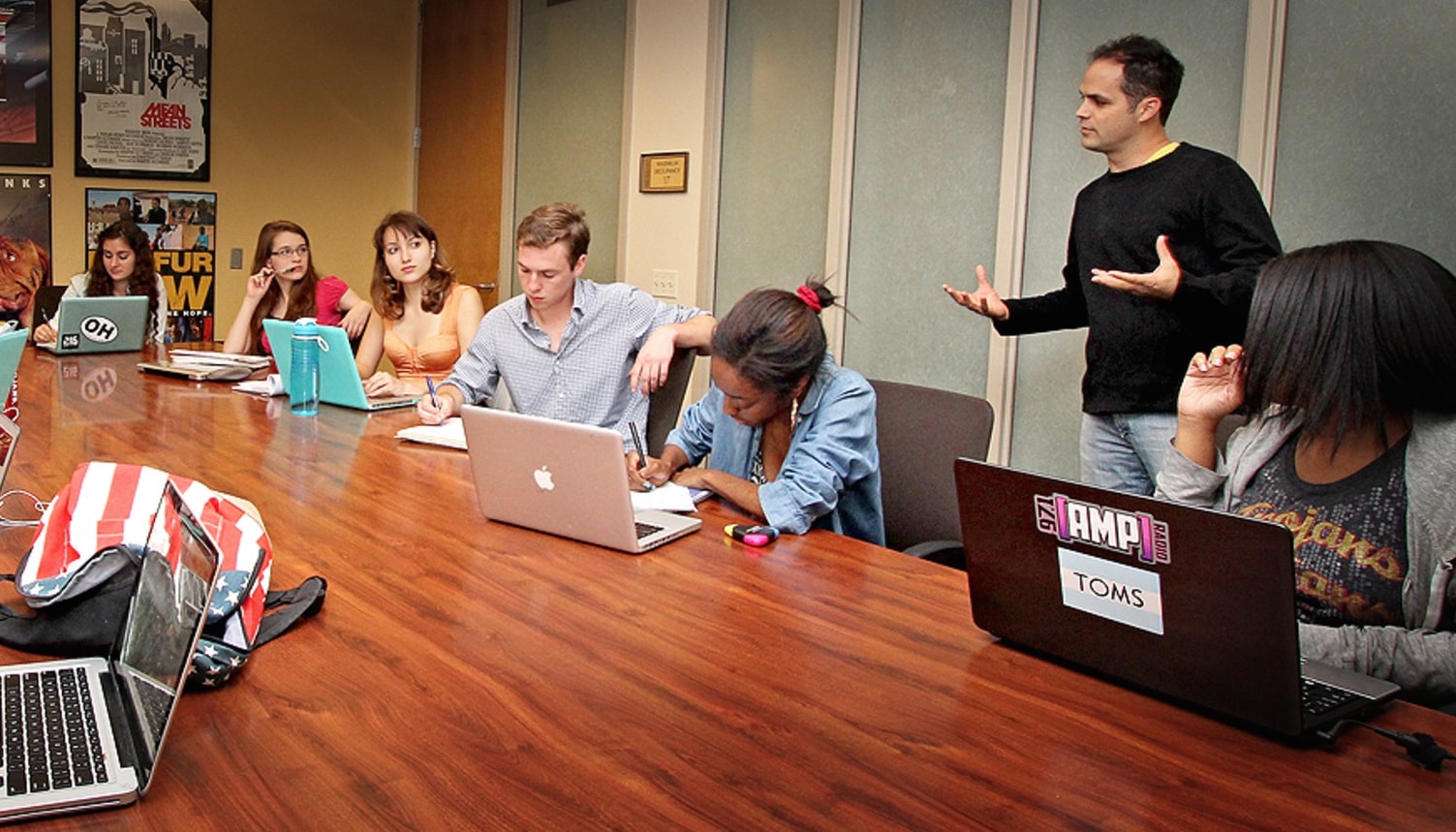 This article on the nation's top screenwriting programs has been updated and revised from the wildly popular original first published on Dec. 20, 2008.
The decision whether or not to pursue higher education is often debated amongst those entering the film industry. It is well-known that neither a certificate, nor a Master of Fine Arts degree, will guarantee a paid job in the field. Thus the pursuit of these pathways presents an inherent financial risk, not to mention the obstacles of selecting and committing to a program.
At the same time, there are obvious incentives that motivate thousands of film students to absorb that risk each year. These incentives namely include a structured work environment, networking opportunities with potential employers, and feedback from peers and faculty throughout the process. Moreover, there are a growing number of options that aspiring screenwriters may choose from to better fit their goals and needs. The Independent highlights 10 of the most notable degree, and non-degree, options for aspiring screenwriters to consider below:
MFA in Writing for Screen and Television
Estimated Tuition: $52,283 per year
Considered one of the most well-respected universities in film education, the University of South California is a strong option for the aspiring screenwriter who wishes to distinguish his or her resume while forging close links to the Los Angeles film industry's top screenwriters, directors, production companies, and studios. Each fall, a mere 30 students are selected for USC's undergraduate program, and 32 for the graduate program, to maintain the small, workshop-style classes that are central to each program's curriculum. Notable alumni include George Lucas, Ron Howard, and Jon Landau.
The graduate program equips students with visual tools for storytelling and prepares students in crafting compelling stories from characters as well as strengthening plot through an Aristotelian three-act structure. Graduate students can expect to leave the program after two years with an original, half-hour comedy television series pilot and series bible, as well as a completed feature screenplay to add to a professional portfolio.
Professional Program in Screenwriting
Tuition: $5,500 for certification
While the MFA program at University of California, Los Angeles is likewise considered among the most prestigious graduate programs for screenwriting, the aspiring screenwriter may find even more reason to pursue its economical alternative: the non-credit Professional Program in Screenwriting.
Over the course of three quarters, students attend a weekly lecture series and eight-person screenwriting workshop. Weekly workshops culminate in two feature-length screenplays for the student's portfolio. While lecture series attract top guest speakers from the industry, including previous guest speakers Billy Ray (The Hunger Games), Nancy Oliver (Lars and the Real Girl), Paul Haggis (Crash), among many others. The $5,500 program fee, individual script attention from peers and professionals, and potential relationships fostered make this program both a competitive and practical option for the aspiring screenwriter.
Students may choose to take the Professional Program in Screenwriting on-campus or online, creating a viable option for those who require greater flexibility in their schedules or who wish to hold a day job simultaneously.
Notable alumni include Francis Ford Coppola, Eric Roth (Forrest Gump), and David Koepp (Spider Man).
MFA in Screenwriting
Tuition: $30,738.52 for MFA
Only six students are admitted each year to the MFA in Screenwriting program at Florida State University's College of Motion Picture Arts, one of the most highly ranked film schools in the nation. Students of the college have won more than 2,000 awards, honors, prizes, and featured screenings at both the national and international level.
As the College of Motion Picture Arts name suggests, screenwriting is based on a foundation of motion picture production. The first semester immerses students in rigorous production training, based on the philosophy that "a successful writer's creative work is informed by production knowledge and experience," as stated on its website.
Students spend their second semester in London, with classes in Film Analysis, London Theatre for Film, and Playwriting for Film. By the second year, that focus shifts to television, fiction, and feature writing. Students leave the program with a full portfolio, including several short screenplays, four feature-length screenplays, a television pilot, and a one-act play.
However, as their website boasts, what really makes this program unique is the continued support, mentorship, and connections offered through their active alumni circle. Perhaps it is this guidance that has led to their 97 percent industry placement rate within one year of graduation.
Notable alumni include Ron J. Friedman (Brother Bear), Josh Tickell (Fuel), and David Robert Mitchell (It Follows).
Screenwriting Certificate Program
Tuition: $2,748 – $3,135 for certification, depending on elective workshop selection
While the biggest film industries in the U.S. are still found in Los Angeles and New York City, Boston has seen recent growth in independent film and television markets. Well-regarded for its communications programs, Emerson College's School of Visual and Media Arts offers a Screenwriting Certificate Program for aspiring screenwriters on the East Coast. Certification is available for students who complete two required workshops and one elective workshop. Elective workshops include the option to work one-on-one with a faculty mentor on a script, or the option to learn business strategies critical to succeeding in the field, among a few others.
Notable alumni include Anna Hamilton Phelan (Amelia), Kate Boutilier (Rugrats), and Alex Tse (Watchmen).
New York University's Tisch School of the Arts
Certificate in Dramatic Writing: Screenwriting
Tuition: $11,204 for certification
Playwriting, screenwriting, and television writing are all introduced over the course of one year, or two successive summers, in NYU's Certificate in Dramatic Writing program. The first half of certification focuses on developing five in-depth story ideas, one of which will serve as the basis for a feature screenplay. From there, students may choose their last two required courses based on interests in playwriting, the half-hour comedy, the one-hour television drama, or sketch comedy writing. Equipped with one full-length screenplay, and two additional pieces based on their chosen elective courses, students emerge with a strong understanding of character, motivation, and conflict.
Notable alumni include Donald Glover (30 Rock), Suzanne Collins (The Hunger Games), and Alexa Junge (The West Wing).
MFA in Screenwriting
Tuition: $48,676 for first-year Fellows
Among the most selective film schools in the U.S., the American Film Institute in Los Angeles offers a two-year conservatory program "designed to simulate the world of the professional screenwriter," according to its website.
Participants in the program, referred to as Fellows, begin their first year becoming familiar with the production process. They concurrently spend their time writing short screenplays, one of which is later expanded to feature length. Second year Fellows move on to writing for television or theatrical films.
Highlights of this program include close collaboration with Producing and Directing Fellows to bring their work to fruition on-screen, a personal workshop setting with close mentorship from a faculty member, and connections to the industry in the main hub of Los Angeles.
The school's website states that 81 percent of alumni self-report having work in the field upon graduation.
Notable alumni include David Lynch (Blue Velvet), Darren Aronofsky (Black Swan), and Jeff Nathanson (Catch Me If You Can).
MFA in Screenwriting
Estimated tuition: $42,576 for year
Loyola Marymount's School of Film and Television extends its MFA in Screenwriting program to three years. The first two years focus on the craft of screenwriting, while the third year complements a student's studies with professional development skills. In addition to this added year, the school's website proclaims five factors that differentiate its program. These include small class sizes, opportunities to build industry relations, students from a range of educational backgrounds, a central Los Angeles location, and high rankings compared to other film schools in the country—though these attributes don't seem out of sorts with the schools included with this article.
By the end of three years, students are prepared to enter the industry or festivals with a minimum portfolio of three feature-length screenplays and two television scripts. Students may also find reason to participate in the school's internship program which leads to a first-pitch event at the Writers Guild of America.
Notable alumni include James Wong (American Horror Story), Winifred Hervey (The Cosby Show), and Melissa Blake (Criminal Minds).
MFA in Screenwriting
Estimated Tuition: $40,868 per year
The two-year curriculum at Chapman University aims to give students competence in developing rounded characters, providing story structure from main tension, culmination through resolution, and developing foundational skills and storytelling skills—while nurturing the student's distinctive writing voice.
Under the guidance of screenwriting mentors, students write content in a variety of mediums—short and long form projects, episodic television and emerging media.
Notable alumni include Andrew Knauer (The Last Stand), Matt Duffer and Ross Duffe (Stranger Things), and Ben York Jones (Like Crazy).
MFA in Screenwriting
Estimated Tuition: $10,110 in-state; $35,906 out-of-state
Located in Austin, Texas, the two-year (including one summer) MFA in Screenwriting program at the University of Texas cultivates students' storytelling for both television and features. With only seven students admitted each year, the program maximizes time spent mentoring individuals and competes with comparative tuition costs of public universities around the state.
Graduate students generate three, feature-length screenplays in core writing workshops supplemented with required courses in Film History, Production for Writers, and Adaptation. A final thesis project with one-on-one mentorship is designed to ensure that every student leaves with work suitable for submission to agents, producers, and studios. Additional distinguishing features of this program include facilitated internship opportunities in Los Angeles as well as a TV "Writers Room" workshop in which students are staffed in a working TV writer's room with a veteran Hollywood showrunner.
Notable alumni include Wes Anderson (Moonrise Kingdom), Abhijat Joshi (Lage Raho Munna Bhai), and Richard Linklater (Dazed and Confused).
MFA in Narrative Media Writing: Screenwriting
Tuition: $38,409 total program cost
Georgia's burgeoning film industry is proving increasingly lucrative. During the last fiscal year alone, more than $2 billion was spent by filmmakers in Georgia. The state's generous tax incentives, and competitive infrastructure also demonstrate a commitment to continued growth of its booming entertainment sector. In congruence with these trends, last year the University of Georgia announced the beginning of a new two-year, low-residency MFA option for aspiring screenwriters. The degree is available through the Grady College of Journalism and Mass Communications, home to the Peabody Awards.
According to its website, this program is ideal for "television writers interested in exploring new and inventive forms—going well beyond the half-hour sitcom or the hour-long drama." Each 15-week semester program kicks off with a demanding eight-day campus residency packed with writing workshops, daily seminars, and craft lectures, as well as panel discussions by visiting professionals in the industry. Students then return to their home communities to complete the distance-learning component of that semester. While the program is still too new to have cultivated notable alumni, it offers prospective students a different educational approach through the blend of residency, mentorship, and online education.
We would love to hear about readers' top picks—and why those picks—in the comments below.
---