All for One, One for All: Laps
NYU Film Students Band Together to Create Award-Winning Short Film Laps
PARK CITY, Utah — It takes a small army or village of dreamers united by a common purpose to create a short film with something relevant to say.
This hard-won lesson has been taken to heart by writer-director Charlotte "Charlie" Wells, producer Joy Jorgensen, and editor Blair McClendon. This posse of three filmmaking musketeers, enrolled in the Masters of Fine Arts program at New York University's Tisch School of the Arts, put their heads together to create the short film Laps. It premiered at the 2017 Sundance Film Festival.
This extraordinary six-minute character study of a young woman (played by Thea Duncan Brooks) dealing with a sexual assault in a crowded New York subway took home the festival's Short Film Special Jury Award for Editing—and for good reason.
"The best thing about film school for me personally is finding these people whose vision I'm so excited about," says Jorgensen, 27. She spoke with a hoarse voice, brought on by cheering for McClendon, who won the editing award the night before. "I want to lay myself in front of a train for them. Just the feeling that you want to fight for this person and help them bring it to life, and that they'll do the same for you."
The feelings expressed by Jorgensen (originally from Atlanta) prove to be mutual for the three MFA candidates who are nurturing one another in the trenches of film school.
Prior to filming Laps, Wells and Jorgensen worked on a short film directed by her director of photography Gregory Oke. Anyone who has gone to film school is familiar with this process of paying it forward to create do-it-yourself, indie cinema.
"In that sense, we're rotating roles and helping each other in any way we can knowing that the work we put in will be reciprocated on the next one," says Wells, 29, a native of Edinburgh, Scotland who now calls New York home.
The "next one" turned out to be Wells' short screenplay for Laps. Wells wrote the script in a third-year directing class taught by Sundance alum, Todd Solandz, the New Jersey-born writer-director best known for his dark comedy Welcome to the Dollhouse, the Grand Jury Prize winner of the 1996 Sundance Film Festival. Flash forward 20 years after the premiere of Solandz's groundbreaking film, and the veteran filmmaker is passing on his knowledge of telling cinematic stories to a new generation of artists eager to throw their collective hats into the competitive ring of filmmaking.
"(Solondz) is a fantastic instructor and I've been very lucky to have learned from him over the course of the past couple of years," says Wells. The filmmaker is currently in her final year of NYU's MBA/ MFA program as a Glucksman Institute Fellow and BAFTA New York Scholar. "He challenges students to be able to articulate what their story is. That is the hardest question to answer and the one that he is most rigorous about making us be able to articulate."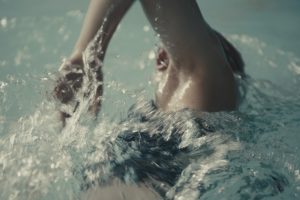 More often than not, the best cinema expresses stories through visual storytelling rather exposition-heavy dialogue. In fact, there is hardly any dialogue in Laps. We follow the film's female protagonist from the rigorous workout of swimming laps in a pool to finding her being groped by a stranger on a crowded and claustrophobic subway train.
Emphasizing extreme close-ups and a shallow depth of field, Wells' intelligent and compelling mise-en-scene coupled with Oke's documentary-style camerawork create a disturbing level of intimacy, immersing viewers in the on-screen action. Inside the cramped quarters of this subway train, onlookers appear oblivious to the woman's plight—or these fellow subway commuters have simply become jaded to the daily parade of weird and unusual sights that one encounters in the Big Apple. No one wants to get involved. The film's nameless main character may be in a crowded public space, but she is on her own.
To find the right visual strategy for this story that is an all-too-common experience for women in big cities, Wells and her cinematographer found inspiration in the subway portraits of photographer Michael Wolf's series Tokyo Compression. The work was published as a book by the same name in 2010. Wolf's close-up portraits of Japanese commuters emphasize sweaty faces and hands pressed against the glass windows of crowded subway trains. Their fatigued expressions register mostly an unspoken air of resignation as the photographer's camera confronts their visible angst head on.
Taking visual cues from Wolf's fine-art photography, the three-person crew of Wells, Jorgensen, and Oke ventured into the New York City subway with a Canon 5D Mark III digital camera for the project's three-day shoot in May 2016.
"Inevitably, we got on the subway and you have to react to your environment," Wells says. "It was useful going in with a shot list, but we weren't always able to stick with it. But having a plan helped us go in there and be very specific about what it is we needed."
It's ironic that the filmmakers found that their fellow subway travelers mostly ignored the filming. The general indifference to their guerilla-style filming enabled the crew to work quickly without any production problems.
"Part of the interesting thing about filming (in the subway) is in many ways it proved the point of the film," Jorgensen says, "which is New Yorkers are so immune to all sorts of things happening in front of them that they don't pay attention. They don't really care what you are doing."
Last September, McClendon came on board as the film's editor and worked with a rough assembly of the footage. McClendon's editing chops helped to shape the film's final form as the filmmakers raced to make Sundance's deadline for short-film submissions.
"Charlie is a very specific filmmaker," says McClendon, 25, "which is quite useful when you are editing with somebody as opposed to a more general instruction like 'I want it different.' Charlie is very good at articulating what story she is getting at.
"The useful part of the program is it draws people for a lot of different reasons. Now you're bringing together a range of different influences that are put together into this weird mixer to then produce this third thing, which is whatever the next film people are making. It's a group of people who are excited by each other's vision and they're willing to go to bat for it."
---