Daniel Lombroso: Profile of a D.C. Filmmaker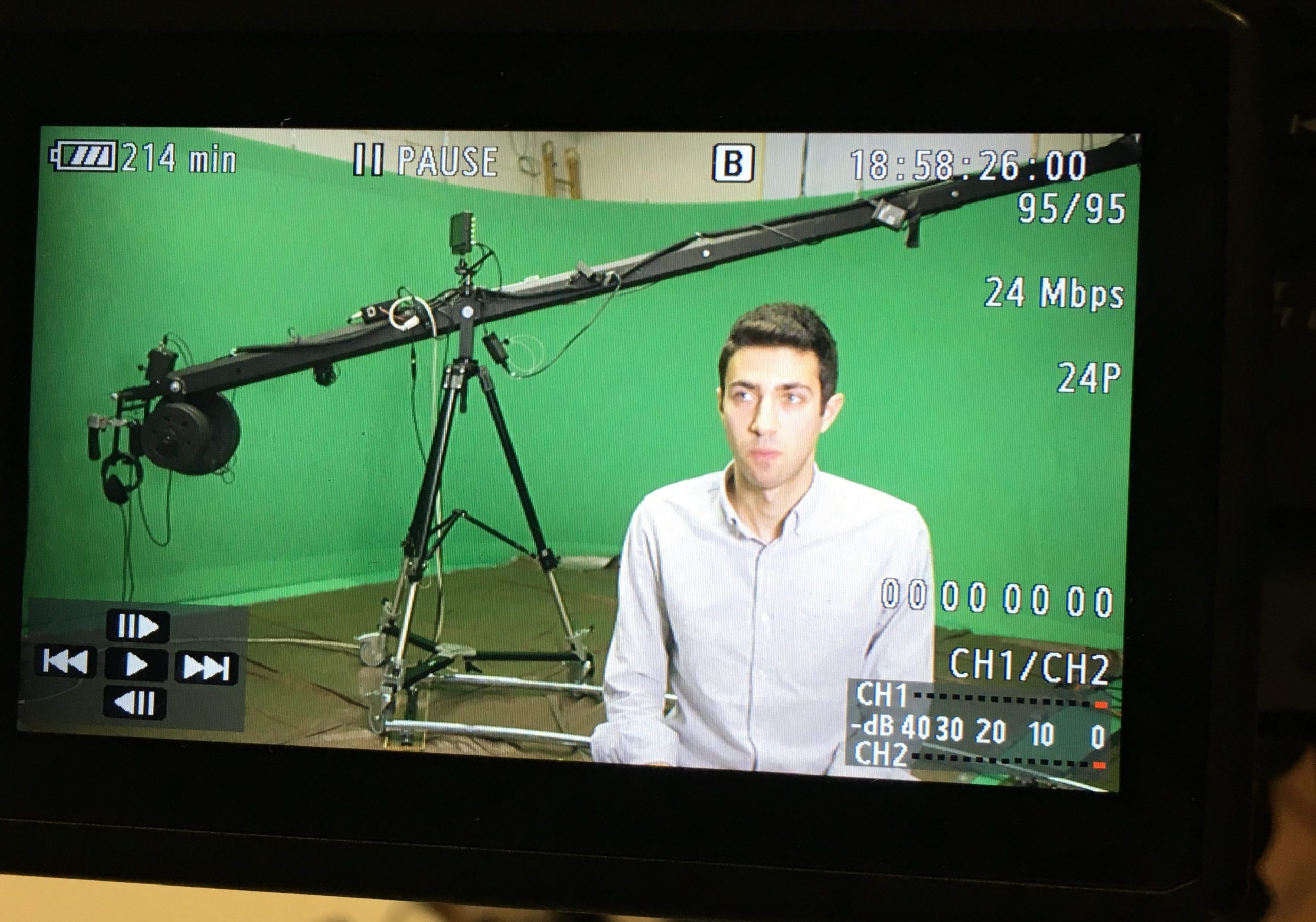 Mike Sullivan Profiles D.C. Filmmaker Daniel Lombroso on His Path Toward Becoming a Documentarian
An American kid from New York, a devout Muslim from Istanbul, and a group of Syriac Orthodox Christians….  It sounds like the beginnings of a tasteless joke, but in actuality it's the start of a filmmaking career that would eventually include Alt-Right extremists, Left-wing liberals, militant Catholics, and more.
Daniel Lombroso grew up in New Rochelle, New York. He was a movie lover: a huge fan of Coppola, Spielberg, Kubrick, and the like. He picked up a mini-DV camera at age 14 or 15 and began making movies and music videos with pals. Doubtful that a film career was practical, Lombroso majored in political science at McGill University in Montreal. He recalls thinking of film, "It is time to get rid of this ridiculous hobby."
Turns out, this "ridiculous hobby" was difficult to shake. In fact, it grew into a consuming passion that often forced his formal education to the back burner. Instead of focusing fully on his studies, Lombroso spent most of his time making films. He used his friends and "really terrible actors" he found on Craig's List—all the while learning how to create movies. "Eventually my films just got less and less terrible," Lombroso recounts. Today, Lombroso is an Associate Video Producer for Atlantic Studios, the video division of The Atlantic magazine. He has made seven short-form documentaries and dozens of other types of videos.
While still in Montreal, struggling to juggle filmmaking with political science, Lombroso arrived in Istanbul, Turkey—the right place, it turned out, for dovetailing these disparate pursuits. It was the final semester of Lombroso's junior year, and he was spending it studying abroad. Lombroso intended to focus on photographing and blogging about Turkish politics. While there, he met a devout Turkish Muslim named of Mehmet Aziz Yirik, a student getting his Masters in neuroscience at a college in Turkey. Yirik had liked Lombroso's blog and enlisted the young filmmaker in a project of photographing Syriac Orthodox Christians living in the southeastern part of Turkey. Direct descendants of the Assyrian Empire, this ancient religious group was one of the first to adopt Christianity in the region; their numbers had declined to less than 20,000. Lombroso was intrigued, but wanted to go further. He suggested a documentary instead: "So most of my friends are partying and I'm in Turkey making this documentary. A portrait of this dying community."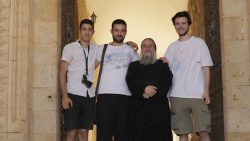 With a budget of $2,500 (donated by Yirik's friends and family), a crew of two, and a translator, Lombroso shot 7 to 8 hours of interviews and b-roll for Mountain of Servants .Then, back in Montreal, with what remained of his budget, he hired an editor and sound designer to help him to complete the film. It was 2014. Lombroso was 20 years old; it was his senior year.
Lombroso screened Mountains of Servants in 2015; it won many student film festivals and was selected in professional ones too. At the same time, he applied for a fellowship at Atlantic Studios, using his documentary as the centerpiece of his application.  He was accepted, was a Video Fellow for a year, and is now an Associate Producer at Atlantic Studios.
Atlantic Studios is a growing group that has about 12 producers, animators, fellows, and managers that create content for The Atlantic's website. Lombroso says, "Web video is this huge growth area across all media," and The Atlantic has embraced the new audiences that web video and social media provides. Among the various informational explainer videos, hosted pieces, and animated content on the site, the short-form documentaries are their most high-end offerings.
After the latest presidential election, Lombroso and the other content creators at Atlantic Studios looked to find the stories other outlets weren't telling. That pursuit led Lombroso to unique people and to the creation of three new documentaries. Lombroso profiled Richard Spencer and his Alt-Right movement in Rebranding White Nationalism: Inside the Alt-Right, Jon Ossoff in Can the Left Rebuild in the Deep South?, and Michael Voris and his Catholic news organization in Church Militant: A Right Wing Empire in the Making.
Lombroso combined an interrogation of the extremes of nationalism with religion. In researching Voris's Alt-Right Catholic news outlet (formally St. Michaels Media), Lombroso discovered many layers to Voris and his media world, ones that went beyond simple "pro-Trump" politics.  Over just a few years, Voris has grown his audience from 500,000 to 1.5 million and his operation from 4 employees to "a 35 person powerhouse," as he says.  Indeed, Church Militant, has grown substantially, producing online content through their website, Facebook, and Youtube.
Lombroso reached out to Voris quickly and directly: "To me, those are the most important, those first phone calls. You're just getting to know them. There's no pretense or anything."  As a filmmaker and journalist, Lombroso treats his subjects fairly, even if he personally disagrees with them. In this way he can gain better access and more interview time. Lombroso was forthright with Voris, asking in their first conversation, "What do you see changing about America? What does the liberal media get wrong when they cover you?"
I asked Lombroso what it's like spending time with people whose opinions and ideas strike many as so ugly and misguided. I wondered if it was hard to keep personal emotions in check. Lombroso says, "To me, nothing would be gained by antagonizing them. It's much more interesting to understand why they hate Jews or hate African-Americans or hate Muslims. I want to unravel these people and show them for who they are."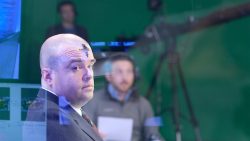 Lombroso explains that when creating short-form documentaries, the process is generally broken up into two or three weeks of pre-production (research, pre-interviews, scheduling,) three days of production on location, and six weeks of post-production. The budget for these projects is so tiny that Lombroso often serves as the entire production crew: "Sometimes I hire a second cameraman, but it's usually me by myself." Luckily in the case of Church Militant, Lombroso was able to take advantage of the lighting set-ups in the studio where Church Militant produces their online video content. This gave the film a more cinematic look. "That was pretty sweet," he says.
Lombroso's documentaries run about 10-13 minutes, but the filmmaker does not feel constrained by the shorter form. He sees it, rather, as a way to learn and improve his craft: "This is such a great way to work my film muscles, if you will. You really have to know your story, really have to know the details. It really helps you grow doing the shorter form."
What's on the horizon for Lombroso? "Between docs I do these smaller things to keep me busy and get The Atlantic out there." He has experimented a bit with still-life animations in the Wes Anderson mold for a small explainer video about North Korea. And, he's taking Church Militant on the festival circuit.  His next doc? "The most I can say is that I'm doing a piece in Israel this summer.
---
---
Regions: Istanbul, Turkey, Washington D.C.