Women in Film Portraits: Kaliya Warren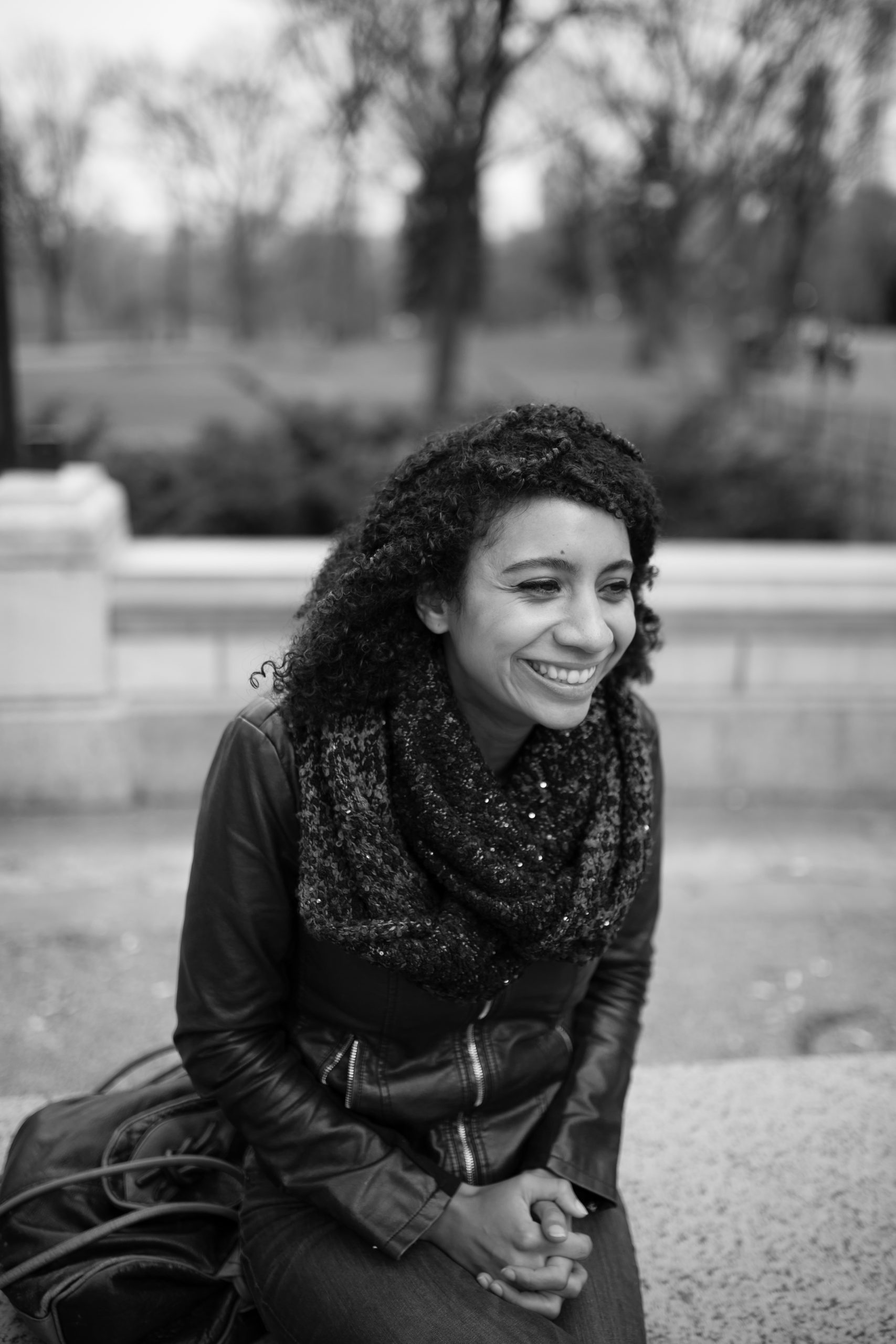 Lauren Sowa's February Series Installment Profiles the Emerging Writer/Director of Expatriates
Thanks for taking the time to speak with me, Kaliya. You're a writer/director in development on your first feature. Could you tell me a little about that project and where you're at with it?
My project is called Expatriates, and it's a road trip love story that follows two multiracial dirt bike riders from Egypt to Cape Town. It's not autobiographical, but it was inspired by the people I've met and experiences I've had while traveling abroad. I've spent a fair amount of time in East Africa, and I've rarely seen it portrayed on screen as I've actually experienced it. When I was in Uganda a few years back, I met a group of guys taking a similar dirt bike trip, and it just seemed incredibly cinematic. I thought it would be interesting to show that type of journey from a female and multiracial perspective.
Last year, I did a location scout and 2nd Unit shoot with a motorcycle club in South Africa (Woodstock Moto Co, an amazing group), to get a feel for filming with the bikes, and the types of landscapes available in South Africa. Since then, I've filmed several more narrative scenes with actors, and now I'm in the final phase of packaging everything together as a Proof-of-Concept. The script is in a good place, so the next step is pitching to independent financiers and production companies.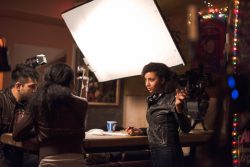 What other female filmmakers working today inspire you?
One of my favorite filmmakers today is Andrea Arnold. I first became aware of her work with Fish Tank, and I was blown away by American Honey. It's everything I could ever hope to make in a road trip film. She has this way of making her worlds feel very lived in and natural—at the same time, she's clear that her work is very much written and crafted, as opposed to improvised. American Honey is so visually stunning, while still being a very honest, relatable character study. That's the kind of effect I want to achieve with my first feature.
Ava DuVerney is also an incredible inspiration. Obviously, I haven't seen A Wrinkle In Time yet, but I am excited by her decision to put, as she says, a "little brown girl" at the center of a genre epic. When I was a kid, I was mainly interested in making fantasy films, and I would daydream about protagonists who looked like me at the center of them. When I saw the trailer, I realized I'd never actually seen that in real life before. Representation matters.
Would you recommend film school to a young filmmaker? How did your training shape you?
Film school can be extremely helpful to a young filmmaker. However, it is also true that this choice can result in a remarkable amount of debt, which shouldn't be taken lightly. If you do go, I'd recommend seriously investigating scholarships and non-loan financial aid.
I think the main misconception about film school is when people say they'd rather learn "by doing, instead of by being in a classroom." If you're doing film school right, you're learning by working on as many student sets as possible. And what's great is that you're able to experiment in an environment where you're allowed to fail, where you have amazing mentors to advise you, and where you have peers and collaborators to give you feedback. When I went to NYU, I had a work-study job making copies for Spike Lee, and Susan Seidelman (director of Desperately Seeking Susan) was my thesis professor. You don't get these kinds of opportunities in many places. Now I'm a member of a production company, Illium Pictures, founded mainly by NYU alum (including fellow Women in Film Portrait subject/rockstar Natasha Kermani). If you can't afford film school, I'd recommend crewing on student film sets to become part of that community, which is probably the most valuable gain from it.
What has been your greatest challenge?
Typically, my greatest challenge is breaking the second draft of my scripts. I usually start out with something that's more autobiographical and raw. The fun, but also the challenge, is in getting out of your head to see what truly works as a story on it's own, whether it's happened to you or not. You have to be objective and kill your darlings. Once I get on to further drafts, it's wonderfully freeing. By then, the script has truly become a work of fiction, just with the emotional base of that early draft. But, that initial rewrite can be pretty difficult to push through.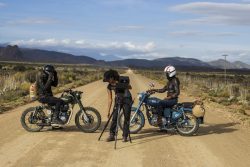 How does being a woman impact you in your field?
At the moment, I think it impacts me the most in my client-based or "for hire" work. Directing is a tough field regardless of gender; clients want to see that you've directed an exact version of what they're looking for before you're signed on. But I've found that the burden of proof tends to be higher for female directors. Some male directors might be given the benefit of the doubt based on the quality of their other work—even if it's a different genre than what the client is looking for. But that's pretty rare for a female director, which makes it hard to progress. The "twice as good to go half as far" mantra definitely applies. You don't have room to make mistakes. It's a very subconscious thing, how people hire directors and how they give them opportunities. I think for a long time it has naturally been easier for men to see young men as versions of themselves. It's just a natural, subconscious thing. So, I think it's extremely important to have female mentors of color who are in positions to help.
What advice would you have for someone starting out in your field?
This might seem self-evident, but don't try to make a movie unless it's really something you want to make. Too many people are focused on making a movie instead of this movie. Your first feature is going to take years. From writing your first draft, to securing financing, production, post-production, and God-willing, festival tour and distribution. You're going to have to talk about it over and over again, from pitching to Q&As.  So, it better be a script you love with all your heart. Why try to fix a story issue in post-production that could've been fixed in an early rewrite? Not to mention, trying to sell a movie (either in pitching or the finished product) becomes a whole lot easier when you're starting with a good script.
If you could speak to yourself ten years ago, what would you say?
I would tell myself to focus equally on production and screenwriting skills. A lot of undergrads come out of film school with either a strong short or a strong feature script. Realistically, you need both to be able to direct your own feature. I had a great short right out of school, but the contacts I made from it needed a script to pair it with. Conversely, there are lot of wonderful screenwriters who need shorts to prove they can direct their own scripts.
I'd also tell myself to focus more on camera. Since our school's directing track was pretty separate from cinematography, I didn't get much camera experience until a client asked me to DP a piece I was directing. I started to shoot a lot more from there, and it's helped me grow immensely as director.  I've become better at communicating with DPs on my narrative work, truly understanding what's visually possible, and what resources it will take.
How has the political and social climate of the past year affected your work?
I was pretty far along in writing Expatriates in 2016, but this past year has made me recognize the importance of representation even more. The male lead, Tadej, is half-Pakistani and half-British, and has been raised Muslim. He's a complicated character—a sort of Casanova adventurer, but also a caring physician with Doctors without Borders. With our current administration's attitude towards Islamic countries, I think it's more necessary than ever to show three dimensional, non-stereotypical portrayals of Muslims.
Now our President has indiscriminately referred to African countries as "shitholes." My script, in response, provides a positive and diversified perspective on East Africa. It shows that countries in Sub-Saharan Africa each have their own distinct identities and cultures.  They're more than places of war, poverty, or disease. There's a massive variety of class and social experience, and an incredible amount of beauty to be found.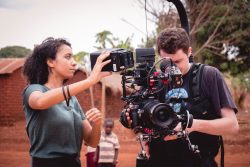 I also recently directed a branded doc on maternal and reproductive health in Tanzania for Bloomberg Philanthropies. There's an extremely high rate of maternal death there. So, in filming the doc, it was all about navigating a fine line. I wanted to do justice to a serious issue, but I didn't want to portray Tanzanian women as stereotypically "sad African victims." In everything from my lens choices to how I positioned the women in frame, I wanted to portray them as beautiful regal queens (who are unnecessarily dying) as opposed to objects of pity or condescension. I wanted to give them a voice.
What is a lesson you've learned or realization you've had recently?
The script is first. It makes it so much easier to champion your project, to talk about your project, to want to move forward with your project, when you feel like the story is one that you really need to tell.
I am realizing now that when people see scripts or films I've done, they've already put them into a niche in their head – like, a "black people" movie. While, I am happy to have the support of all of these people of color rising up, I also think a lot of the things in my work are universal, so it's strange to be put in that box. I want to make movies that I want to see.
Visit the Women in Film Portraits homepage and find links to articles in this series.
---
---
Regions: New York City, South Africa