An Evening with a True Artist: Werner Herzog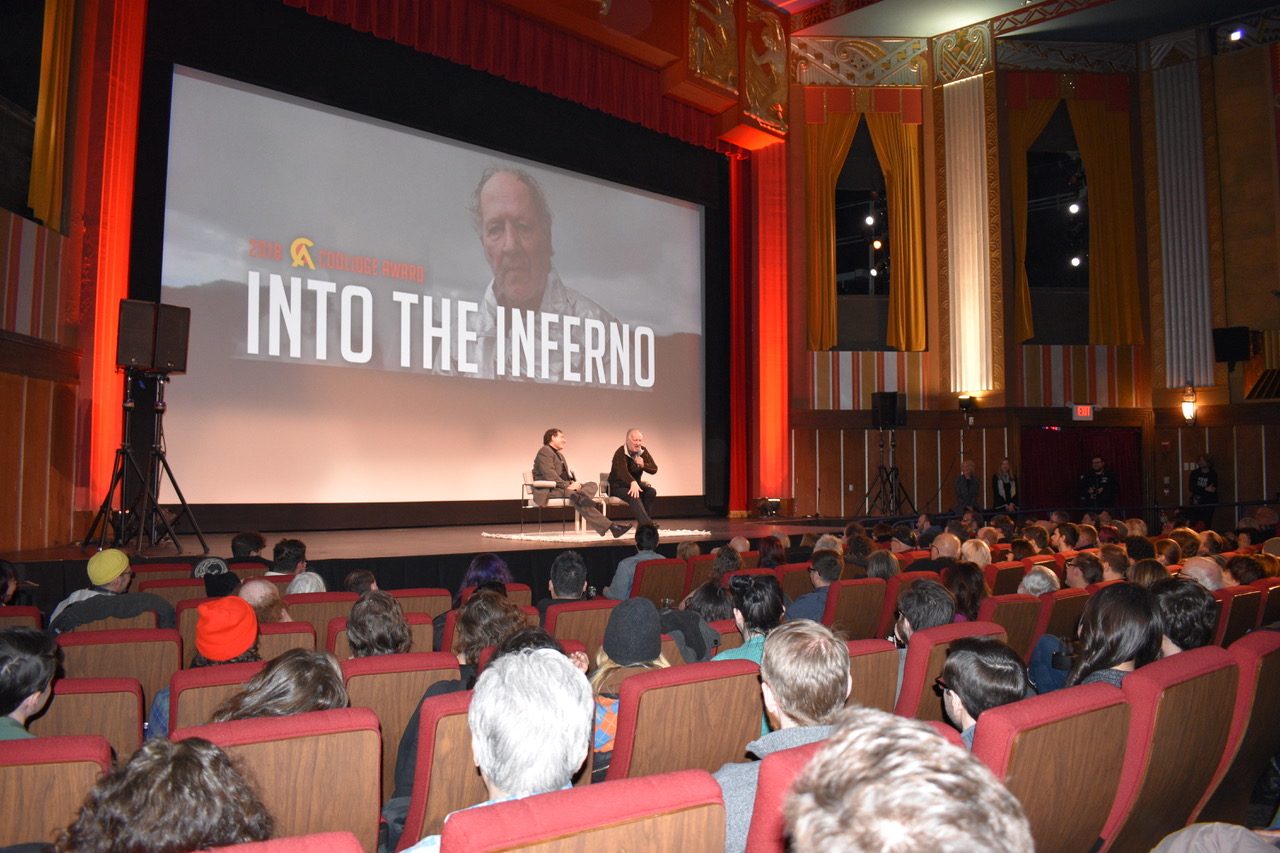 Filmmaker Werner Herzog receives 2018 Coolidge Award
Werner Herzog is a filmmaker who, like Alfred Hitchcock and Orson Welles, is perhaps more well-known for his reputation and personality than his films. Prior to last Thursday, I was only peripherally aware of Herzog. As a movie fan, I knew who he was. I'd read about his projects and his legendary battles with actor Klaus Kinski, but I had never seen any of his films. When I learned he would be honored with the 2018 Coolidge Award for his unique filmmaking career, I did some internet research. Herzog has made over 60 movies, both documentary, and fictional narratives, and was once hailed by no less than Francois Truffaut as "the most important filmmaker alive." He has also written more than a dozen books, directed as many operas, and, as an actor, has appeared on The Simpsons, Parks, and Recreation, in Jack Reacher. A pretty eclectic list.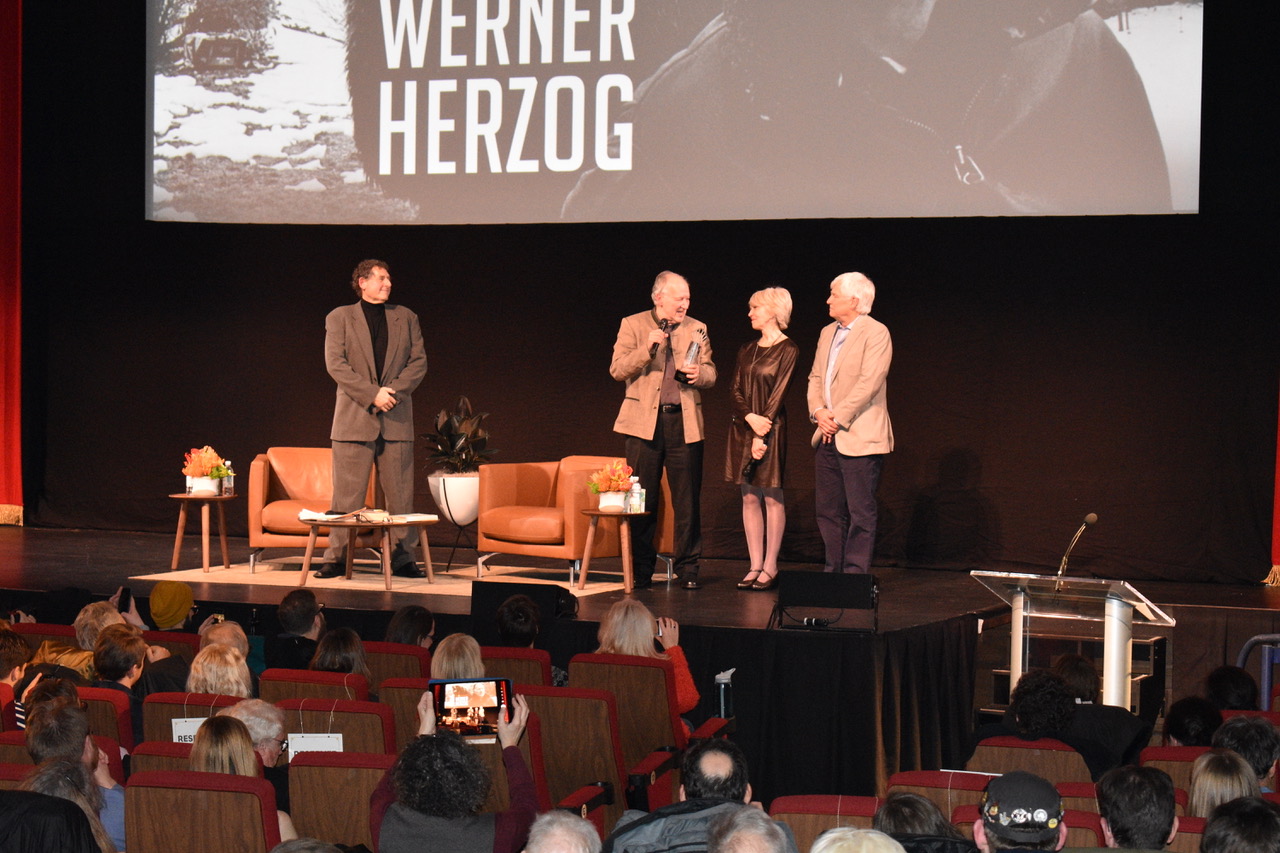 I asked some friends and colleagues if they had heard of Werner Herzog. Some had not. For others, the name rang a bell: "Didn't he make that movie about the guy who was eaten by a bear?" (Yes, Grizzly Man, 2005) "Wasn't he in a movie where they pushed a giant ship up a mountain?" (Yes, Fitzcarraldo, 1982) "Didn't he once eat a shoe?" (Yes, Herzog lost a bet with filmmaker Errol Morris and had to eat his shoe as payment. See Les Blank's 1980 short film Werner Herzog Eats His Shoe for more on that topic.) This guy seemed pretty interesting. I figured The Coolidge Award ceremony would be the perfect opportunity to learn more.
The Coolidge Corner Theater in Brookline, Massachusetts, commenced giving this award in 2004. Their website describes it as "a celebration honoring a film artist whose body of work is recognized as consistently original and challenging."  Previous winners include actress Meryl Streep, Director Jonathan Demme, Editor Thelma Schoonmaker, and Animators The Quay Brothers. For the Thursday afternoon screening and Q&A, I had anticipated a small audience consisting mostly of film students, hipsters, and arthouse film fans. I was surprised to see that I had been exactly right and completely wrong at the same time.
A sold-out crowd was on hand to see Into The Inferno, Herzog's 2016 documentary about volcanoes. A short Q&A with the Director was scheduled immediately after the screening. The crowd was young and old, male and female, black and white. Collared shirts and tattooed sleeves were equally represented. In speaking with the audience, I found some considered Herzog a genius or "their favorite filmmaker ever," while others (including me) were merely curious about whether this movie matched the reputation of the man. The 74-year-old Herzog— tall and thin with stern Germanic features and inquisitive eyes—gave a short introduction to the film. His clipped speech and Eastern European accent have a distinctive, lyrical quality, which he seems to use to full advantage. It's not surprising he's acted as narrator for many of his films.
Into The Inferno begins with a striking aerial shot. Slowly, we travel up the face of a black, craggy mountainside, Russian choir music on the soundtrack. Then, faintly, through the fog and in the distance, we see tiny human figures standing at the top of the mountain. We travel up and over these minuscule individuals until we are staring straight down into the fiery center of an active volcano. It is a shot evocative of The Lord of the Rings, but it isn't a Hollywood creation of pixels and polygons. It is real. It is the Vanuatu Archipelago in the Galapagos, one of only three places on the planet where you can stare down into an open wound in the Earth's crust to see the twisting and churning liquid rock that is beneath. Herzog would later describe attaining a shot such as this as "directing the landscape." I became a Werner Herzog fan with that one shot.
For the next hour and forty minutes, Herzog and volcanologist Clive Oppenheimer take the audience on a journey across the globe—from Antarctica to Iceland to Indonesia and with stops in North Korea, Ethiopia, and a few isolated islands in the South Pacific. During the film, we learn not only about the science of volcanoes but also the mythologies that surround them, the lives that depend upon them, and the propaganda that employs them. It is quite a journey. If you have a chance to see this film on a large screen, do it.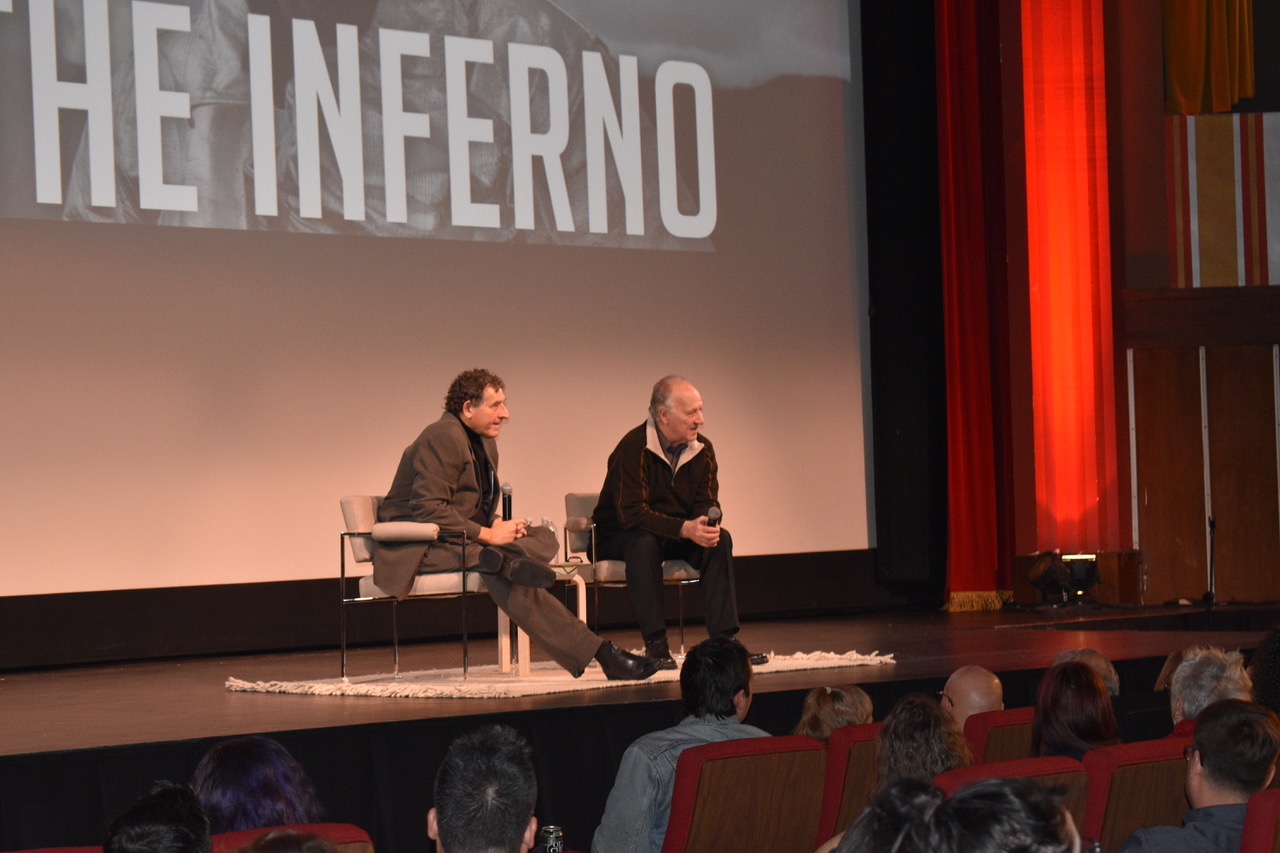 The Q&A session that followed was moderated by Herbert Golder, Professor of Classical Studies at Boston University, and a collaborator with Herzog on ten of his films. It was during this time (and in the longer session, also moderated by Golder and held later in the evening) that I genuinely began to appreciate Herzog as an artist.
Herzog seems to accept his reputation and carry it gracefully, without playing into it or forcing it upon others. There is a definite edge, a sharpness in his voice; he is a person who will not suffer fools. But, there is also a willingness to discuss, a desire to share, and a sense of humor. Maybe he has mellowed with age. He spoke about the genesis of the volcano project, the cinematic qualities of lava, and his "excitement about science and passing on that excitement to an audience."  Asked about faith and spirituality in his work, he said, "There is something transcending in the images I have created. [Something] behind, beyond reality and facts is resonating. It makes some of my films different than others." I am compelled to share a shortlist of some other memorable quotes, ones that seem to capture the personality of Herzog:
"If the Internet goes down, the only ones that will survive will be the Amish."
"Leaving a nomadic existence behind is one of the arch sins of humankind and will lead to our demise."
"One more question. A lady. The men have spoken too much,"
"I'm not a cinephile. I like the beautifully orchestrated drama of Wrestlemania."
"I'm a thief without loot."
A lengthy, successful career in the arts cannot be built upon a reputation alone. There must be substance among the style. And, in the case of Werner Herzog, the substance underneath the myth is incredible. If you like smart, interesting movies, and you've never had an opportunity to view a Herzog film, seek them out. If you've avoided his work because of crazy stories about the filmmaker, ignore those tales and find his films. I look forward to seeing more of his work, and I was encouraged by what he said at the end of the night, "I'm a filmmaker, and I enjoy what I do. Here's a threat. I will come back with another film next time." I can't wait. We need more films from artists like Werner Herzog.
Over the next several weeks, The Coolidge will be showing six films as part of their Herzog Repertory Screening. For a schedule and more information go to http://www.coolidge.org/node/22065.
For information about the Coolidge Award and the Coolidge Corner Theater visit www.coolidge.org.  For more about Werner Herzog visit www.wernerherzog.com.
---
---
Regions: Massachusettes