Women in Film Portraits: Caroline Mariko Stucky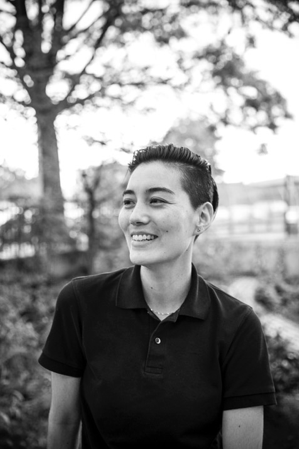 Lauren Sowa's March Series Installment Profiles an Award-Winning Swiss-Japanese Filmmaker and Cinematographer
Caroline Mariko Stucky is a Swiss-Japanese independent filmmaker with a fierce passion for American culture. For Caroline, film, which she interprets as the world of the image, is the ultimate language. It surpasses the kaleidoscope of spoken languages that informed her childhood. In this interview, I speak with Caroline about coming to the United States and about taking on a predominantly male creative role.
Hello, Caroline. Thank you for agreeing to be featured in this series. Can you share with readers where you are from and what brought you to the United States?
I'm from Switzerland—that is, the French part. And I'm half Japanese. It was school that led me here. I finished 18 months of internship in Germany, in a rental house, and I wanted to see something else, so I came to New York to do a short program in a film school. And then I fell in love with New York and wanted to stay here. So, I did some more studying here. And now I live here.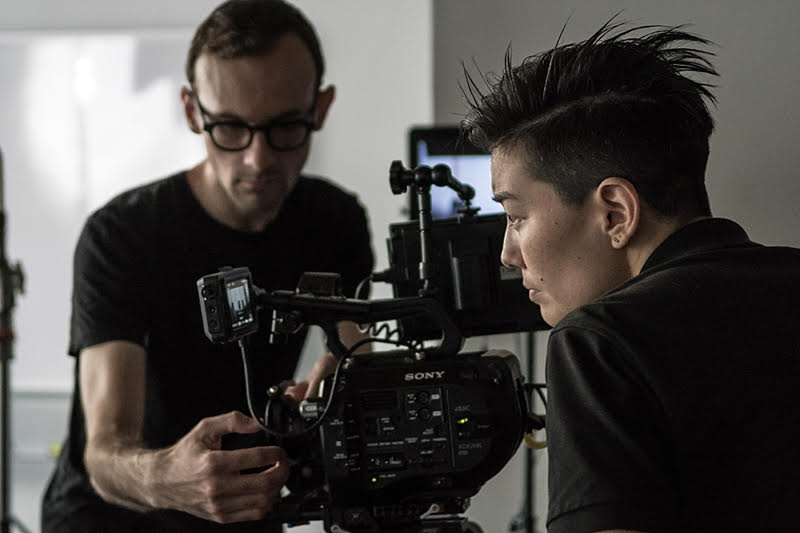 Can you talk a little about the process of securing your visa as an artist?
The process of applying for an artist visa for the United States is a lot of work for someone at my level. It's very stressful and costly, especially if you hire a lawyer to help you. But I think that choice is really worth it. I find that there are more opportunities here than in any other countries where I've worked. As cinematographers, we are usually in the shadows, but applying for a visa is all about proving that you are a recognized artist and bragging about your work. This does not come easy for me. It was interesting to come out of my comfort zone; I had to ask for recommendation letters, and this actually got me some work!
 So what do you like about being a Director of Photography (DP for short)?
I love to think about many different things at one time. And I think, being a DP, you really have to know what you want and then know how to get it and also be able to adapt to the circumstances. Like, if an issue occurs, then you can quickly find a solution. I love to work with gaffers and AC's and with the actors also. That's something I love. When something happens between the camera and the actor. I love those kind of moments, also.
So, as a DP, what's your most important relationship on set?
 On set? I think it's to be completely in sync with the director. If the director trusts you and you trust the director, and you're able to work together, that's the most beautiful thing. If you have a good vibe with the director usually everything is going to go well on set. But if you feel like there are some ego problems, or you don't have the same taste, then there might be some moments where something is not going to work.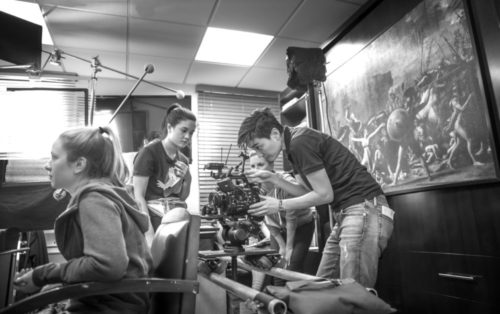 The visuals are essentially the DP's responsibility. Still, how do you balance your vision with the director's?
So, I think that there are many different kinds of directors, and if the director has a clear vision, my job is to make it happen. To make it a reality. Sometimes the director has less of a clear vision and doesn't know where to put the camera or doesn't know that maybe with some lighting and some movements, we can tell the story in a bit more of an interesting way. Then I suggest some stuff. But I think that the main goal is that the director is happy, so I focus on that.
What is a lesson that you've learned lately?
I've learned to say no. There are some abusive people in this industry. In the past, my instinct was to stick with a project, to see it through to the end. This had me stuck in negative situations. And I've come to realize that it is actually okay to walk away. People stay in projects usually because they need the money or they need the title. But, if it makes you sick, it's not worth it. So, now I think, "It's just a movie," and I move on. People should not feel guilty for having these boundaries. What we love to do, we shouldn't suffer from it.
That's such an important lesson to learn and it's a hard one to learn.
You're desperate to do more, and then you think that if you walk away or you say "no," that people will stop liking you or wanting to work with you. But actually, sometimes it's better to release yourself. This creates openings for more generative work.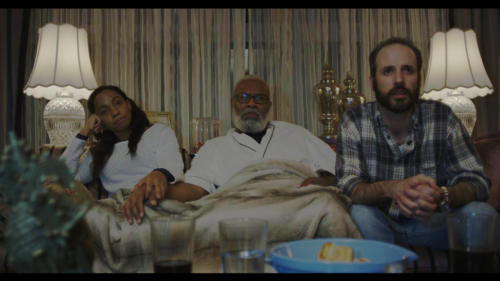 Do you find it hard to get jobs as a female DP?
Yes, absolutely. I think a lot of people think that cinematography is a man's job. And I think there are no jobs that are male or female. Except maybe, opera. If you are a soprano or a baritone, you can't be the other one. But, yeah, I think people trust a man, a male cinematographer, more than a female cinematographer, for some reason.
So much has changed in our culture in the last year. Have you experienced a difference on set or in the job search since the #MeToo movement?
Personally, not really. I am still mostly hired by women. I love working with other women. Usually, what develops is a collaborative and supportive work environment. But, strangely enough, the worst abuse I have experienced on set was at the hands of a woman. No gender is immune to exploitative behaviors. What I have noticed in this moment, though, is that people talk more openly about their experiences and speak out more easily when they notice that something is not right. I think calling out abusers might be the strongest way to stop harassment.
I also noticed that men are slightly more comfortable having more women on set or working with women in higher positions, but I don't see a drastic change. Social media, at its best, really helps to showcase people's work, and I think young men are now used to seeing women hiring or directing. Perhaps at a subconscious level that helps people give all women more of the respect they deserve.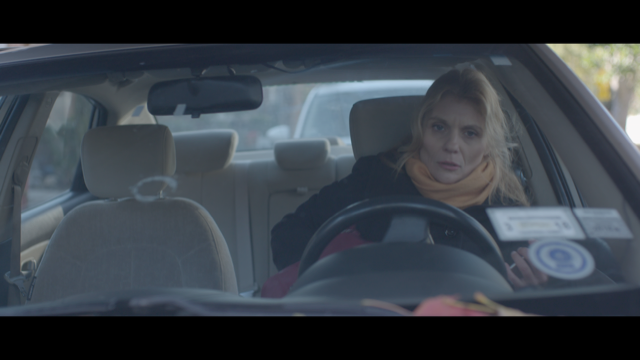 How is it to balance your time between multiple projects?
 That's a very good question. I think I'm still in a stage where I have to work as much as I can… whatever comes to me… which makes me really tired. When I don't have to work, I try to rest as much as possible. I want to be ready when opportunity presents.
What advice do you have for your fellow female DP's?
Be patient. Work hard. Keep working hard. Never, never give up. Be patient. It's important to work with the right people—first because it's more fun. But also because then the work is going to be better. So if you can, try to choose the people you want to work with. It's a little bit like the lottery where sometimes you lose and sometimes you win.
What does Rachel Morrison's Oscar nomination (the first female cinematographer ever) mean to you?
My first reaction was this weird, deep feeling of relief. It means absolutely everything for me and other female cinematographers and filmmakers in general, that Rachel Morrison is nominated for an Oscar. I feel like Rachel illustrates, perfectly, that women can do equal work in a field highly dominated by men. She is proof that it's not your gender but your work as an individual that counts. I read an interview she gave for the NY Times Magazine where she says, "Cinematography speaks to everything that women do inherently well: It's multitasking, it's empathy and it's channeling visuals into human emotion." It really is about time that women's work in film is more recognized, and I hope her nomination will open doors more naturally for other women to be hired in male-dominated departments.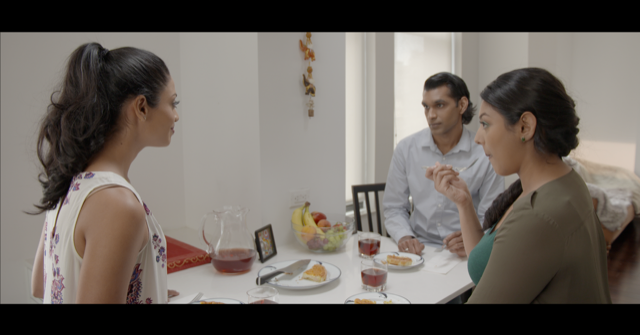 What are you working on now? 
Right now, I am wrapping post-production for a promo video I shot for a half-hour show called "Carry Me," written and directed by Alison Bartlett. Otherwise, I am in pre-production for a short film, Con Spirito—a character study of Elizabeth Bishop. The film tells a story of rebellion; it is written by and stars Alex Sarrigeorgiou. I am also in pre-production for the pilot episode of Paramour No More, created by and starring Melody Cheng. It is a series about a woman who works for a New York agency that helps its elite clients end the affairs of cheating spouses. Just after that, I will be filming the second part of a feature film that takes place in Detroit. Solomon, written and directed by JB Armstrong, is a story of relationships, preconceptions, race, and faith that explores the life-changing effects of a meeting between two very different people from very different backgrounds.
---
---
Regions: New York City